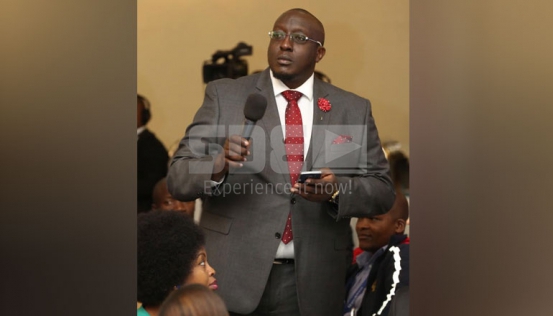 President Uhuru Kenyatta's events man and official MC, Big Ted, is on a weight-loss journey.
In a video that is doing rounds, Big Ted has revealed that he weighs 156 kilos and is determined to cut down to 90kgs.
Big Ted underwent a gastric bypass surgery in a hospital in India.
"A few months ago, I met this doctor who came to Kenya and we started talking about various things. But one of the things that bothered me most was the issue that I've been trying to take care of for a very long time, which is managing my weight.
I am a big boy. I'm six-foot, four and I was 256kgs. I underwent a procedure which has helped me lose 5kgs in 4 days.
My ideal weight is 90 kgs and I'm working towards the 90 kgs through healthy lifestyle, a very well-calculated and thought process of what I'm consuming. I am on the way to being a healthy guy," Big Ted said.
He will not be the first celeb to lose weight. Last year, celebrated radio presenter Kalekye Mumo also shed 40 kilos after a strict diet that saw her stay away from carbohydrates for 8 months.
Related Topics