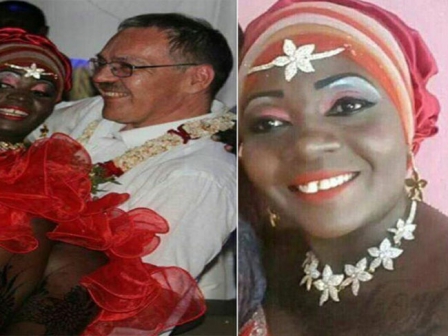 Coast-based singer Nyota Ndogo recently walked down the aisle with her Danish lover, Henning Nielsen at their home in Voi.
But that's not what got Kenyans talking. Her make-up did!
Her make-up looked awful since it did not go well with her skin.
Nyota Ndogo confessed that there was a problem and blamed it on her photographer.
Speaking to Heads Up from her secret honeymoon hideout, she said: "I saw the pictures and comments. It was quite hilarious. My photographer did not come with enough lighting equipment and I ended up looking darker," she said.
She however is not complaining about the negative publicity.
"I'm glad that everyone is talking about me. Not only in Kenya, but the entire East Africa. A whole week of free publicity is amazing," said the singer who was rewarded with a Volkwagen Touareg.
She however refused to address her ongoing feud with elder brother and fellow musician, Juma Tutu.
Juma accused her of sending detectives to beat him up. He also accused her of using their sister as a housegirl and getting married to a 'sponsor.'
"I love and respect Juma because he is my elder brother. He is blood. I really don't want to talk about this. Thank you," she said.