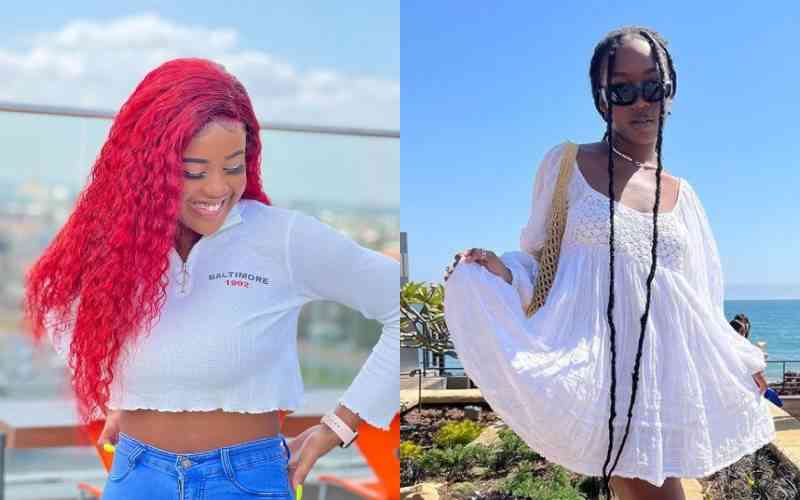 They do it for fun and make a living while at it. It could be by eating crisps from the bedroom like Elsa Majimbo or faking being hospitalised after eating spiders and bats like King Muguka. The influencer fad is quite a social voyage.
With the rise of the digital space came a new job, influencer marketing. We have seen brands using individuals who have a considerable following on social media to push their products to their audiences in a whole new way.
Gone are the days when one had to sit behind a desk every day to generate income. With a considerable number of followers on social media, a good camera, and compelling content, you can easily mint millions from the comfort of your own home.
Last month, popular influencer Azziad Nasenya was flown to South Africa on a luxury venture.
She was among continental celebrities who visited the country for the DSTV Delicious International Food and Music Festival, in her right as an independent content creator.
Aside from the common big entertainment names, fast-rising content creators Cindy K, The Only Lit Boy, and Mary Erica also joined the prestigious platform that featured Grammy Award winner Burna Boy and South Africa's Sho Madjozi.
Having bloomed into the public limelight after jumping onto singer Femi One's 2020 Utawezana dance challenge, a viral video attributed to the song's big success, Azziad has not looked back.
When her rate card went public, it was revealed that she charges an advertiser Sh100,000 for a TikTok video and a similar amount for an Instagram feed.
While a TikTok video went for Sh50,000, an Instagram story and Instagram Live deal would see a client cough up Sh50,000 for each.
Christened Kenya's TikTok Queen, she got continental recognition by getting nominated for the South African-based Starqt Awards for her creative TikTok videos.
Right now, Azziad, a journalist by career, is among the highest-ranked influencers across Africa, with her monthly digital marketing pay rated at an approximate Sh500,000.
According to Instagram planning and marketing tool Hopper HQ, she made it into Africa's 2021 rich list, coming at 28 in the continent.
Then there is Elsa Majimbo who rose to fame with her funny online videos. Her videos were centred on her life and thoughts about how she handles things and situations in a satirical and funny commentary while lying on a pillow, eating potato crisps and wearing tiny sunglasses.
By 2021, she had signed a deal with an international brand and also got endorsement deals from Fenty and Ivy park, brands owned by Rihanna and Beyonce respectively.
Joy Kendi is also known as one of the biggest content creators and influencers in Kenya; she is praised as one of the pioneers of the influencer trend in Kenya.
With a strong following on Instagram and YouTube, Joy shares lifestyle content based on beauty, fashion and travel. She has landed lucrative deals with big brands in the beauty, travel and fashion industry.
David Moya is a TikTok sensation that rose to fame with videos of him dancing to Mi Amor a song by Jovial. He is hired by boyfriends and husbands to serenade their wives or girlfriends during birthdays and anniversaries. This has seen him being flown to different countries, from Nigeria to China.
Brian Kimazi is an advertising creative and social media influencer known for his humorous tweets and keen sense of fashion. With a large following on both Twitter and Instagram, he predominantly shares content around lifestyle topics such as travel and fashion.
This has seen him land lucrative deals with top brands in the country. Then there is Just Ivy, who was recently awarded the Influencer of the Year award. The list is endless.
It can be almost anything. From hospitality issues like travelling and adventure spots, a new tech product coming into the market, the hype around sports and athletics, working with an artiste on his next music video release, or even an event that an establishment wants to popularise.
Local social media influencers using YouTube, Instagram, TikTok, and Facebook apps drive most of their campaigns through short video displays, most of which are engineered through mobile search.
"There are many ways social media influencers can make money but as much as it sounds like an open field for all, it is not an enterprise anyone can thrive on. Sometimes it takes popularity and fame, others speciality in one's knowledge in a given field.
"It is not about winning followers through clout-chasing scandals and then pitching the number to clients as your strength to get a gig. This is a business. It must take some form of professionalism," says Kevin Osundwa, a marketing strategy expert.
"From sponsored posts, branding partnerships, affiliate marketing to tips on 'how to', a client will always be keen on your reach and its relevance to its product or targeted campaign, one's following as well as engagement levels. It is lucrative, yes, but it is not a walk in the park," says Kevin.
He says it takes a dedicated person who is well-versed in the trends and everything happening in a given environment to make a good influencer.
"In the local market, many micro brands have been using music celebrities and actors to push their product's visibility for increased sales by using them as brand ambassadors. They work for say a long-term partnership and such deals are lucrative.
"However, for the influencer who is just making a statement via numbers and levels of engagement, that might just take a one-off deal," says Kevin.
Influencing by itself might not be a mainstay as a career. For most, it is a quick gains tap-and-go whose big stars can only be seasonal.
The social media kings like Kenny Kaburu and Stephen Musyoka who began it all when social media came into full force in the 2000s via Facebook are rarely counted among the big shots now but still retain considerable influence.
This venture calls for total devotion to rolling in the numbers and keeping your networks alive all day, every day.
According to a poll carried out in 2019, children would rather be YouTubers than astronauts.
Up to 1.3 million in the UK want to make their income by creating social media content. With many looking at influencers as their role models, they themselves want to become influencers and post content that is sponsored and that is making them money.
Many Gen Zs and millennials are even going out of their way to create the impression that they are already making money off brands by creating advertising content themselves; the same that they post on their social media pages trying to leverage and appeal to would-be advertisers.
In an industry that has no official regulator, some international brands such as Diageo have been asking influencers to carry a rider phrase on their paid partnership placements with them.
In 2021, the global influencer market was estimated to be worth $13.8 billion (Sh1.6 trillion)
However, the desire to tap into this influencer windfall has created a desperate situation for some who purchase fake followers.
According to research carried out by Odipo Dev in 2019, 92 per cent of Kenyan influencers who use Instagram have fake followers; this figure is limited to those with over 10,000 followers. About 15 to 41 per cent of their engagement is fake.
According to Odipo Dev, fake followers and engagement are sold openly in online marketplaces, with prices ranging from as low as $5 (Sh606) to $100(Sh12,124).
Some individuals and companies have been asking for as little as Sh5,000 for 10,000 fake followers.
However, most Kenyan vendors are resellers of accounts often created in Asia or Eastern Europe, according to Odipo.
A 2018 report by the New York Times reported that buying views is a rampant practice. A website owner interviewed sold 15 million views and reportedly made a tidy Sh20 million.
The business of buying fake views is not just limited to individuals desperate to be visible and digitally influential to attract advertisement deals. Big content companies are also paying for it.
In 2012, major music recording companies Sony and Universal records were stripped of 2 billion YouTube views after they were flagged as dead or fake views.
BBC'sNewsbeat found that you can buy 10,000 video views for a mere $30. The shame hits home when social media apps expose the 'fakers' by stripping them of numbers.
Related Topics