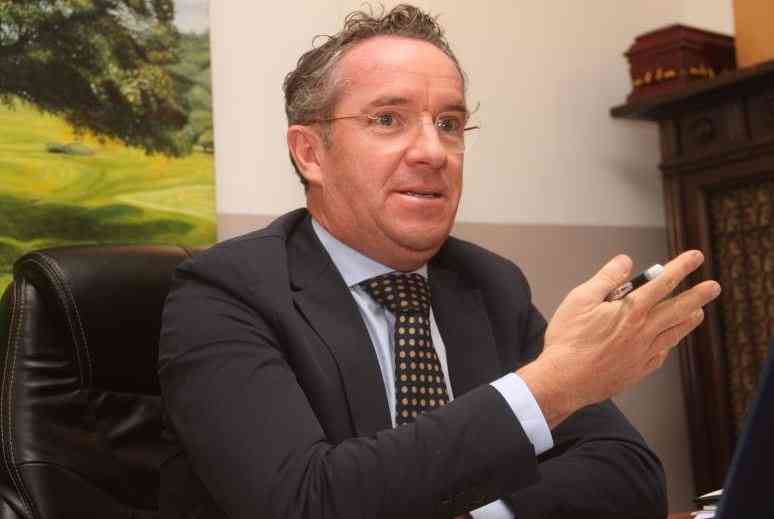 It is a sombre environment, the kind that sees, daily, the deepest grief a human can experience. And yet, this is where Paul Van Brussel, comes to work every day.
We are in his office, adorned with stained-glass windows, and wall and shelf accessories here and there that are a testament to his work. He is seated behind his desk, and behind him, on the upper, far right side, is a cupid-like golden angel playing the flute, while another one on the upper left side plays the violin. Urns sit on a raised shelf to his left.
He never thought he would end up working in a funeral home. Growing up, his dream was to be a pilot, like his father, who had been a pilot in the air force.
A Belgian national, Paul is Flemish, but he studied Marketing and then Hotel Management in the French-speaking part of Belgium, working in bars and restaurants thereafter.
His father came to Kenya in 1993 and was working with the European Union, and Paul followed him here shortly after, in 1995.
There was a racecourse in Nairobi owned by a Belgian and he worked there for 10 months before meeting John Stuart Lee, who had founded Kenya's first funeral home, Lee Funeral Home, in 1987.
Lee had been in the main police force in the UK and had worked for the coroner's office in a hospital, where he said in a previous interview that he had been dealing with pathologists and undertakers every day.
"Because of Mr Lee's background, he was asked by people in this country to take care of funeral arrangements for their beloved ones. He would do that out of the holding room of Nairobi Hospital," says Paul.
The City Mortuary was in a dismal state, and the people working with Lee did not want to go there themselves, so the idea to start the home came to him.
"Sir Charles Njonjo was the CEO of Nairobi Hospital, and he called Mr Lee one day and asked Mr Lee to build a 'Funeral Parlour' next to Nairobi Hospital as he was impressed with the work Mr Lee had been producing out of the Holding room of Nairobi Hospital," says Paul.
Lee Funeral Home has been a tenant of Nairobi Hospital for many years. Njonjo was also never a director there but was good friends with Lee and called once in a while to check on him and the home.
Today, one of the benches in the little chapel at the home has a plaque in memory of Njonjo, and a portrait of him hangs at the home's office.
When Paul met Lee at a restaurant on the racecourse he was working at, Lee asked him if he would be interested in working with him at the home, and Paul decided to do it, which was towards the end of 1995.
"I started as an Operations Manager, basically dealing with embassies. We would do repatriation. The deceased has to go back home and we would do it for different embassies. That was my job initially, and even now I deal with local and international cases and manage the team in the daily running of the funeral home," he says.
He had to deal with a major disaster soon after that - the August 1998 terror attack, which he says was not easy.
A rumour that has persisted to date was borne of that incident, the rumour being that the funeral home stores bodies in Industrial Area. Paul says it is a lie and that the home has no facilities there.
He explains that one of the embassies placed their deceased separately in Industrial Area where they had a refrigerated storage facility in case of a disaster. The embassy had decided to separate its staff to ensure no mix-ups, as it was difficult to identify who was who.
"We went with our vehicles to pick the remains from the embassy's storage facility in Industrial Area and brought them to the home, and then repatriated them back to their country," says Paul.
He explains that even the law does not allow them to move the body without the family's permission.
"Before there is a burial permit, you cannot touch that body. You cannot move it, you cannot dress it, you cannot do the makeup, you cannot wash the body. If there is no burial permit you are not allowed to manipulate the body or even remove it from the body bag until the government pathologist has established the cause of death," says Paul.
Big disasters like the 1998 bombing are always difficult for him, and they have also had to deal with others like the Westgate attack. Suicides and the deaths of children are also among the most difficult.
"When a very elderly person passes away, that is quite natural, but when you get a child who falls from the ninth floor in some apartment and that baby is the same age as my son, like two weeks or three weeks difference, that is tough," he says.
"There was one who did, and he was like 18 months or something and mine was 18 months. I was crying in my office, imagining if it had been my child. I do not know why people do that when you try and put yourself in their shoes. That is very hard."
One may get used to seeing a dead body, he explains, but one never gets used to the grief of the families. It is also never easy when it is friends or acquaintances.
Paul has been the managing director and a shareholder of the home since 2000, and sometimes he wonders what his life would have been like if he had not worked at a funeral home.
"I always wonder how I would have been as a person not having worked in a funeral home, as opposed to having worked in a funeral home for 26, 27 years. Would I have been a different person? I am convinced I would have, but how? Better or worse?" he poses.
"I was in hospital in 2019 because of appendicitis and I had to stay there for more than 10 days for the wound to heal. When my children would visit, when they were leaving I would cry, and I realised that I had not cried for at least 10 years. The last time had been when my father passed away 15 years ago. I was like, 'How come? Is this because of the funeral home or why?'"
Seeing families happy that their loved one's final send-off went well, without a hitch, however, makes him glad. Spending time with his own family also helps take the edge off, and he has a business on the side.
"It is a very interesting job, but it is very sad as well to be dealing with death day in and day out. That is why I started a bar and restaurant on the side because I needed something else in my life, and I was also trained in the hotel industry and I worked a lot in bars and restaurants as a student in Belgium. That is how I ended up starting Que Pasa in Karen 14 years ago," he says.
Six months ago, the home also started doing pet cremations for smaller pets like cats and dogs.
"We collect the pet from the place where the pet has passed away, which is usually at the vet or their house, then we cremate them in a dedicated crematorium for pets only and then the ashes are processed, put in a pet urn," he says. "Once the ashes have been processed and put in the urn, then we deliver them back to the house."
He explains that collecting the pet and delivering the ashes back is not just a nice service, but something that they have to do.
"Because we do not want people to come in here with their dead dog in a blanket and someone thinks the dog will be placed together with their loved one. We do not store any pets here. If a pet cannot be cremated immediately, then we do it the next day, and we store it in Hardy, Karen, in a dedicated refrigerator for that."
The home started offering the service because people would ask for it. "Very often, the reason why people are asking is that they are renting and not living in that house permanently," he says.
Time has brought some interesting changes to the funeral industry, which Paul has witnessed.
"The amount of cremations by Kenyans increases every time there is a dignitary or prominent person decides to have a cremation, such as Charles Njonjo, Bob Collymore, Kenneth Matiba and Jonathan Macharia (SK Macharia's son)," he says.
"When those prominent people have a cremation, very soon after you get a spike of people going for cremation, then it goes down, and when the next prominent person is cremated, there is another spike. Fifteen or 20 years ago, cremations were rarely done. That is a big change."
Another big change is that people are more environmentally conscious and want to ensure that the way they leave earth is done in a green way.
Related Topics