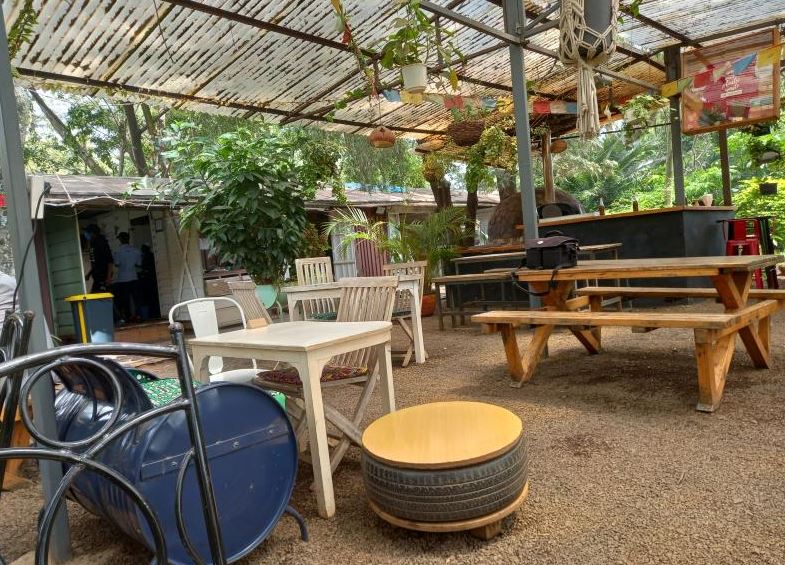 It is June and the chilly weather is just kicking in, calling for a warm cup of coffee. Nairobi, on the other hand, is not short of coffee houses worth your fancy. But one eatery in the city is worth a peek.
Pallet Café, located along James Gichuru Road might look like any other on the block, that is until you take a seat and wait for service. As expected, a lady or a gentleman will approach you to take your order. And that is the point of departure from your usual eatery.
At Pallet, the waiting staff is deaf or hearing impaired, yet through sign language, they will not only take your order but keep a trained eye on you throughout your visit, looking for discernible clues on how your meal is going, or to fill your other fancies.
On a cold Thursday morning last week, I made my way to the leafy suburb, eager to try the famed hospitality at the garden cafe. The ambience is on point. Old bottles, baskets and pieces of coloured fabric hang on the roof with little intrusion.
There are plenty of potted plants, pleasing to the eyes and easy on the mind. Recycled materials have been shaped into inviting pieces of furniture, including an old sewing machine table complete with the foot pedal.
I try the little I know of Kenyan Sign Language whose ABCs are pinned on a wall. "Are you expecting another person?" Sharon, one of the waiters, signs. "One," I indicated with my index finger before I ran out of signs.
Still, it was not difficult ordering a Macchiato and some bites as all I had to do was point out the preferred order on the menu. Thumbs ups are common.
But my mission here was also to meet the proprietor, Feisal Hussein, who took the bold move to employ deaf and hearing-impaired staff when the café opened in 2019.
The former aid worker prefers to keep things low key. He had been watching me as I ordered my drink, and having never met before, none of us could tell one from the other. I wait for him to finish a meeting before our brief rendezvous.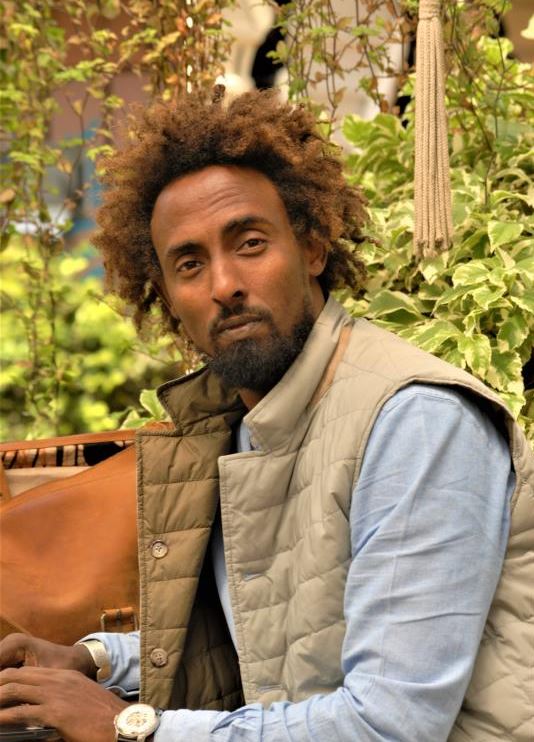 He is dressed in a light blue shirt and a beige, sleeveless jacket, the biting morning cold notwithstanding. His deep gaze is complemented by his well-tended mane. He is not your typical hotelier. He hates stereotypes.
"I want to be happy. But to be happy, you help others." His sentences are short and crisp. Like a prophet of old oozing wisdom with every word that comes out of his mouth. He is so soft-spoken that I lean closer not to miss a word.
"You came here and did not know what to expect. Look at you now. You look happy. I earn more happiness than money."
He compares his work at the restaurants (apart from Lavington, he has branches in Gigiri and Diani) to building a house where the foundation is key. "These people are the foundation of this business. They are deaf but they are the reason many people come back here," he says.
The deaf know they are under scrutiny from diners. It is not a bad thing. It means they must offer the best service to satisfy customers who may not talk back to them. And according to Feisal, there are no opportunities here for one to shout.
"Shouting comes out of anger. We give you no reasons to get angry. By the way, did you know you can get cancer by being overly angry?"
Still, some felt he was stepping out of line with his pick for deaf waiters. Some were potential business partners who quit early on before the project took shape. It was the fear of the unknown, says Feisal. Fear of possible repercussions should the business head south.
"I took on those who looked unemployable," he says of his team, now numbering 80 in the three establishments. In Kenya, it is estimated that close to 600,000 are deaf or with impaired hearing.
"These are people who will not sit across the desk holding impressive papers. Again, didn't they serve you? Did your order come on time? And you got more than you came for. You got peace," says Feisal.
Continuing with his gems of wisdom, Feisal says life presents equal opportunities to all and it is up to each one to choose what to do with them. Those who left made a choice, whether it made them happy or not. Feisal chose to fly with the eagles.
"Look, it rains everywhere. It is what you choose to do with the water that matters. Some collect it for later use while others let it go down the slope and cry later. Sometimes you have that one chance to grab the opportunity."
Feisal's fingerprints are everywhere in the business and unobtrusively so. Apart from the physical design, he crafts every menu served here, giving careful thought to the health of the diners. "Being a leader is more than a title. Dip your hands in the work."
We finish our interview (and my coffee) in time for Feisal to jump into yet another appointment, but not before he reiterates his deep interest in empowering the weak and downtrodden. "I do this so that one day I might just tell my grandchildren how to find happiness."
Related Topics