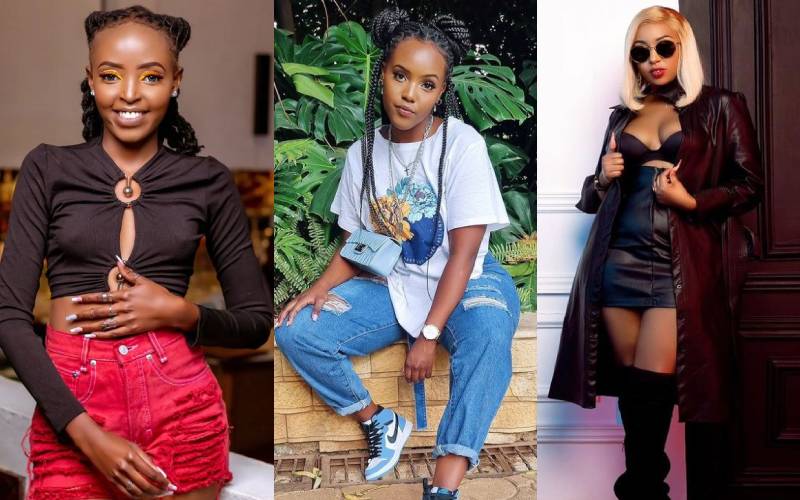 Mungai Eve
This Gen Z starlet has become an overnight online journalist sensation. Her breakout ensued when she covered the Gengetone Festival skirmishes where 17-year-old Shanty unjustifiably passed on, on to documenting the "Sheng Masters" Mbogi Genje's feud with Madocho of Gotta City in real-time. Her continuous stories of public interest through her one-on-one interviews and humility have stolen Kenyans hearts like a thief in the night. She joined YouTube in January 2020 and has grown her channel to 356,000 subscribers, 56m views, generating multiple hits, likes, shares and attention capital to date. Her nose for drama and news, connections to cultural influencers, reflex for breaking news; and her instinctive sense to say the most leftfield things have platformed her to be one of the most relevant online media publishers of Kenya's local showbiz arena. "I earn Sh1.5 million monthly salary," said the 21-year-old YouTuber. She also claimed that the Sh100,000 Off-White Jordan sail shoes she wears occasionally are "authentic," yet she has no idea she is wearing "mtumba". It is this innocence and work ethic that has endeared her to Kenyans.
Nikita Kering
The golden girl that can do no wrong was at it again. She released her first full-length project - A Side Of Me - and we wanted more of her to be honest, but it was more than enough nonetheless. Nikita recently proved why she is global star material after scooping two Afrima Awards in Lagos Nigeria, displaying her class in the singing department. In a country whose entertainment is plagued by the belief that you need to be dramatic, sensational, vulgaric, and shameless, Nikita provides the cup of hope for many young women that you can also be talented and successful without being a dirty brand. And we shall hold her to the international standard she has set for herself. She is miles ahead of these bimbos that believe nudity, debauchery, and trendiness is what sells.
Amber Ray
Faith Makau, more popularly known as Amber Ray is a Kenyan socialite and entrepreneur that has risen from the ashes to the zenith of Kenyan pop culture. Previously only known for dating Vera Sidika's fiancée Brown Mauzo, the honey-glazed royalty of Ukambani has wowed Kenyans with her capacity to be a slay queen, own fancy things and live the "soft life". When probed on how she made her millions, her refute is "God has blessed her". She drives around the city in her Toyota V8 Prado and Jeep Wrangler with custom plates, and has become a hero on social media after her viral co-wife relationship with a prominent Nairobi businessman, Jimal Ibrahim Marlow, took the front seat and served Kenyans the spicy tea they so desperately waited for. Amber symbolises the perks of what being a slay queen can give you if you play your cards right.
Makena Njeri
Mentioning the accomplished journalist-actor on this list was as controversial as her being identified as a woman on this list. Makena has been in the limelight since her stellar acting days on the Kenyan sitcom Tahidi High, onto maturing to becoming a brilliant reporter for a major international station, BBC. Makena made headlines this year with her personal life choices going viral on the internet. Firstly, the androgynous set Twitter ablaze when she openly revealed she is Pro-LGBTQ and is indeed in a sexual relationship with a woman. She went on to start her inclusivity initiative "BOLD" which trended for a while, and later, her break-up with beautypreneur Michelle Ntalami again made the news. As much as she tries to enjoy a private life, multiple allegations keep clouding her such as women claiming to be part of her love roster, and Kenyans who keep leaking her lifestyle when she is seen outside with literally any woman. The curse of being a celebrity is that privacy is foreign, Makena, we thought you knew.
Lilian Nganga
Good girl gone bad, or bad girl got busted? Following a toxic relationship with Machakos Governor Dr Alfred Mutua, Lilian shocked the world when she left him in his wake for an artiste we all love, Juliani. Juliani is no stranger to capturing the hearts of women of stature; maybe he knows something we do not. But how fast and bravely Lilian ran to his arms confidently and assuredly, speaks volumes to the woman she is: A non-complicit, fearless, and thick-skinned lady hidden behind an innocuous smile. As human beings, we all have the right to choose who to love and engage with, but when you bring a man in power to his knees in the manner that she did, our right to opinion is to state she is a "savage", and no wonder she had us all bamboozled at her audacity to leave situations she felt no longer served her.