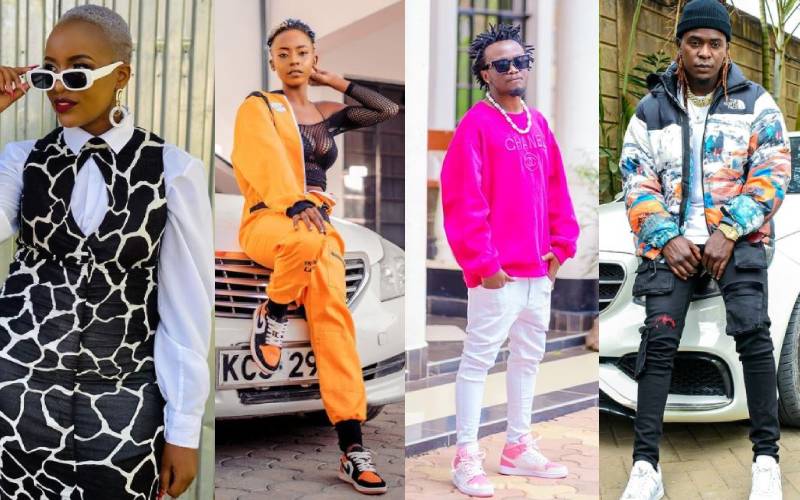 Just the other day, South Africa's celebrated rapper, Nasty C made it clear that he would not work with Khaligraph Jones due to their different styles of music.
That aside, Kenyan entertainers are outdoing themselves and have amassed a massive following. Today we compile fantasy collaborations that would get fans talking.
Khaligraph Jones, Octopizzo, King Kaka and Nyashinski
These four are the unofficial most sought after rappers of our time. In no particular order, having two of these rapgods in a hit is an automatic match of muscle. Their egos are topnotch when it comes to working together. Coupled with their cultic massive number of fans, this would be a natural hit. Physically, they are friends, but lyrically they are sworn enemies.
Octopizzo, aka Don Papichullo, takes no time in throwing jabs at Khaligraph. And recently Khaligraph Jones released Champez, which Octo seemed to warm up to. Probably this is a sign that something is in the offing from the two.
There has always been an uncorroborated musical tension between Khaligraph and Nyashinski. The former released an alleged subliminal jab aimed at Nyashinski a couple of years ago.
What Hip Hop fans deserved for a very long time was a Khaligraph Jones, Nyashinski collaboration project, and the collabo should come to fruition already.
In Khali's single Yes Bana, he calls out Octo and Nyashinski for refusing to work with him, and it should be noted that they also fight for the crown of who is the king of Hip Hop in Kenya.
So, collaboration amongst these four musical heavyweights will go down history books as one of the hottest Hip Hop projects.
Jua Cali and Nonini
Nonini and Jua Cali are among the pioneers of mainstream music in Kenya. These two artistes have always managed to come up with lyrically hard-hitting tracks. On the down-low, there has always been a rumour that the King of Genge, Jua Cali, and the Godfather of Genge, Nonini, are enemies. Nonini once told Standard Entertainment that their beef was actually a creation of the media. And their problem was because they never recorded collabos together. So to quash the non-existential beef, these two should hit the booth and give us a serving.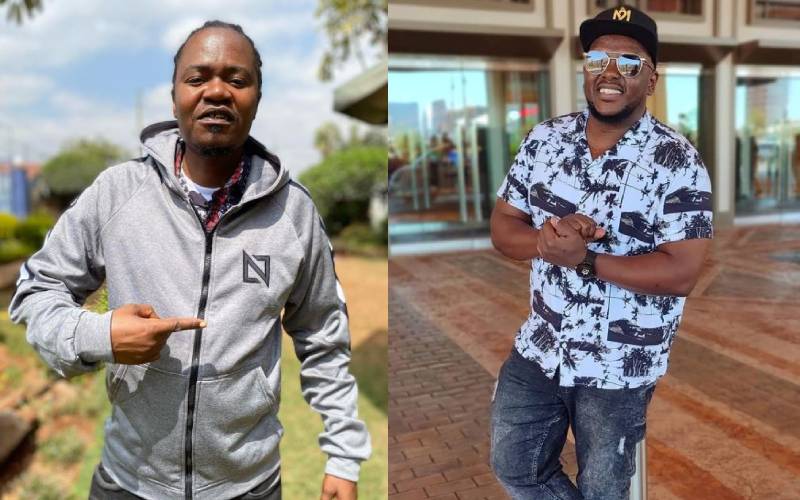 Bahati and Willy Paul
Kevin Bahati and his longtime nemesis Willy Paul would make a fire collabo. The two 'gospel brothers' make fun of each other every now and then. But with their ginormous following, without a doubt, this would be a dream come true for most people. Their beef has been raging since the day Bahati accused Willy Paul of stealing his songs, but as the two say, this is always a creation of the media. Perhaps it is time for them to cement their bromance by hitting the booth.  
Wakadinali and Buruklyn Boyz
Drill, a Hip Hop subgenre, has found global prominence in the past decade and is taking root in Kenya, thanks to artistes such as Buruklyn Boyz and Wakadinali. Buruklyn Boyz is one of the hottest drill groups thanks to a series of consistent releases in the past year that have shaken up the game.
On the other hand, Wakadinali have been described as underground Hip Hop acts; their hits Lockdown, Extra Pressure, Joho and Nyara Nyara have received great airplay and recognition. This is the moment when Wakadinali takes their unique sound and style mainstream.
These two groups are taking Hip Hop to another level. They are drilling differently.
Femi One and Octopizzo
The female rapdom is not as populated as with the male side. Femi One has proved a hard hitter; notable for bars, catchy words and relevant lingo. Femi has been one of the most consistent female rapper, a brilliant freestyler, and her unique style of rap would blend properly with Octopizzo. They are both entertaining, relevant, up to date, and cynical at the same time.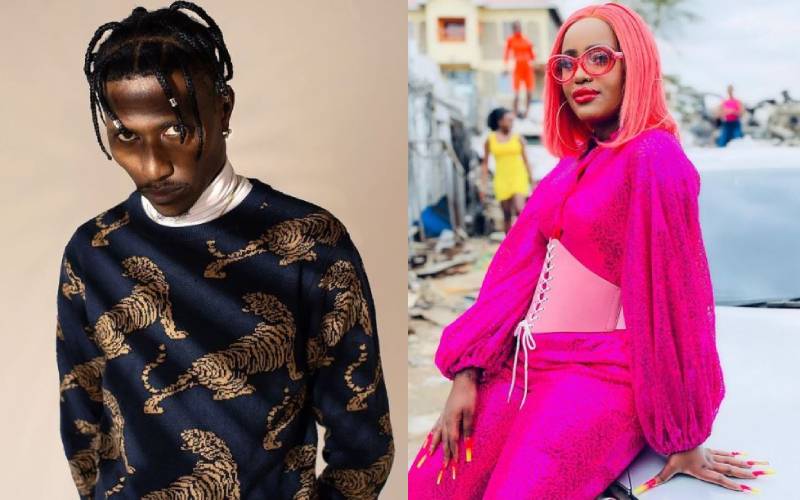 Sylvia Ssaru and Femi One
These two femcees have proved their mettle in dropping bars. Ssaru came to the limelight after the music video Nyama went viral. Since then she has been outdoing herself. Though still in her teens, Ssaru writes the kind of ominous music that speaks directly to the masses who appreciate her unflinching honesty.
On the other hand, Femi is the illest femcee whose music contains clever allegories, pleasantry, humour and immense punchlines. These two would be good ingredients for a superb buffet of bars.
They have already worked together in Jipin Anthem, a condom commercial, but this does not count.
Silverstone Barz and Dyana Codds
When Khali Cartel 3 dropped, most of us were introduced to Silverstone Barz. Just like her second name, this lass has some dope bars. She refers to herself as the punchline queen and I have no qualms with that. On the other hand, under the mentorship of Zozanation Dyana Codds hit the streets with her raunchy and ratchet bars. She has since held her ground and slowly cementing her name in the industry.
King Kaka and Domani Munga
In these streets, King Kaka needs no introduction; he is a master poet and drops well-thought verses, while Domani sets himself apart from the crowd due to his delivery and bars upon bars. 
Boutross Munene and Steph Kapela
Kenya has no shortage of rappers and budding 'shrapgod' Boutross and Steph Kapela are a force to reckon with. Boutross is an excellent entertainer and a storyteller while Steph infuses singing and rapping in his songs and the outcome is always awesome.