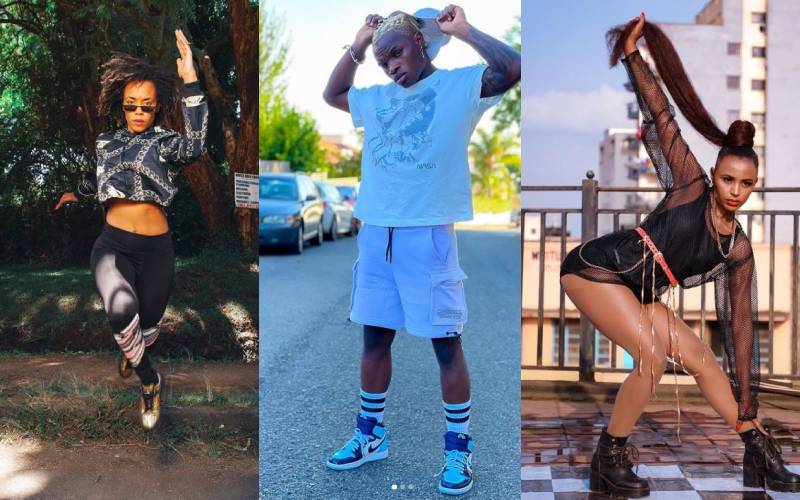 Dancing in Kenya has been an allure over the years. The advent of TV's, social halls and urbanisation all started to come together in the 80's and this meant that dance as a leisure activity could grow especially among the youth.
The '80s era was the first generation to enjoy the fruits of international recognition and 254 already had the likes of Ayub Ogada, Them Mushrooms, Kayamba Africa, Daudi Kabaka and more regional stars to thank in globalising Kenyan dance and music.
Of course, traditional dance was more infectious in the bundus, although it was not commercialised.
Globally, pop stars like Michael Jackson had the world in awe with their show-stopping moves as broadcast TV and videotapes made figures like him more accessible. 
"At the time, clubs like Annabelles, Lips, Boomerang and Beat House were spots for young people to do their thing. They embraced dance," says dance legend Cracker Munyao.
"We looked up to such people because at the time, coloured TV was the greatest thing to happen. Being in the news was seen as an achievement," says Cracker.
Kenyan music was more rooted and refined and genres like Daudi Kabaka's Twist rocked parties and weddings making it the Kenyan identity in terms of popular dance.
"Guys like David Muriithi (a DJ) really helped grow dance in Kenya. There was no social media and you had to look for these things. Dance happened in schools, colleges and clubs which were few and far between," says Cracker.
In the '80s, the media began to allow more dance coverage particularly VOK (Voice of Kenya). Clubs would hold dance competitions to nurture talent further.
"There was a famous gig at the Carnivore called Malibu. The winner would walk away with an air ticket and this allowed me to tour Europe in the '80s. The government was not very supportive but there were good investors, so that helped," says the dancer.
Modern times
Today, in a bid to earn an income, stay out of crime and avoid drug abuse, youth are taking up dance as a hobby and career.
"When I was dancing, it was just my passion that motivated me. It was a pass-time activity, but it could also pay," says Fashion designer David Avido of his early days as a dancer for Chopperz Dance Crew.
It was through his dancing days that he grew his network and got exposure.
Ezra of FBI shares a similar story. "I met all the members in school; we treated dance as a fun thing and we created a bond. We went on to win dance competitions in France, worked with corporates and got government sponsorships to host our own gigs and to give back to the community. I can say dance is very important," he says.
And as dance grew through to the 2000s, with media supporting the same through dance shows like Dance 360, Dance O'Mania, and other talent shows, it was obvious that many youths in Kenya had turned to dance for a good cause.
Fast forward to 2021; social media is a game-changer for dancers to market themselves. Here is how some crews and individuals have ridden on the dance wave to become public figures.
Art in Motion
Among the most celebrated dance crews in Kenya is AIM. The group consisting of Githenduh, Mbugua Gachie, and James Wachira met at Kenyatta University. Through posting their dance routines across social sites such as Instagram and Facebook, the crew formed in 2015 was on-the-ground famous up to 2017, when they would now get industry attention. Initially, they were backup dancers for singer June Gachui. Their star would shine as they worked with acts like Le Band behind the scenes. Their major breakthrough was working with SA rapper and Nasty C in 2018. Since then, their work ethic and consistency in posting videos online has paid off, through starring in commercials for companies such as Much It and Telkom. Partnering with celebrities like Nasty C, or choreographing moves for Sauti Sol, Xenia Manasseh, Karun, MDQ and Le Band only further spells their growing significance. They also carry out dance workshops for dance enthusiasts and schools. Today, they can easily be recognised at parties, thanks to a blossoming social media presence.
Movaz Wamborosaji  
The latest internet sensation in 254 is Movaz Warombosaji. The clique of three went viral in December last year after a track called Danjer Dinji surfaced on the internet, featuring sensational Amapiano singer Brandy Maina. Besides dance, they are also musicians. Movaz have been grinding for a fair chunk of time, but their notoriety was inevitable after the song featuring Brandy was released with a video on YouTube.
The song is an international banger, with South Africans seen flooding the comment section courtesy of the smooth groove and Swahili sweetness on the record. Since then, the spotlight has shone on them as they are getting the perks of stardom, with bookings coming to them.
Matata
The Norway-based Kenyan group of four won hearts with their level of creativity. Infusing a Kenyan flavour into their music and dance routines, the European-based team has amplified Kenyan culture to the world after their debut single Mare Mare hit the net. Frustrated by their dance visuals being flagged due to copyright claims, this inspired the boys to make their own music to dance to and the rest they say is history.
Tileh Pacbro and Dance 98
When the corona pandemic hit in 2020, the resilient Tileh Pacbro and his crew Dance 98 were ready as anyone can be. They had videos that dated back to 2015, hence consumable content for the masses was not an issue. However, when the rubber hit the road in 2020 and lockdown was enforced, 2020 proved the most critical for Tileh as his talent came to the fore, with videos for Justin Beiber's Yummy and Cardi B's Coronavirus videos going viral. Tileh has accumulated 20 million views and over 400k subscribers on YouTube alone. He has become TikTok famous and it is proven methodology that having him perform on your song will boost your clout tremendously. The Dance 98 founder has made a lot of his wealth from teaching people how to dance, and being paid to advertise and feature on various projects.
 Chiki Kuruka
The Dance Shagz founder has been an inspirational female figure. Using her voice and platform to instill positivity, Chiki's Dance Shagz has been able to bring dance to people's homes virtually. This was a much-needed solution to a gap only a trailblazer like Chiki could catch. Known as a dance lover, Chiki has made a name for herself through radio and being Sauti Sol member Bien's ride-or-die. She is a force to reckon with in the dance world according to reputable sources. 
Aggie the Dance Queen
It has been four years since Sauti Sol's short music video crossed over to the mainstream due to excellence by a female choreo star called Aggie. She took charge of the video and spurred it to great heights overshadowing the stars Sauti Sol and Nyashinski. Previously, many wondered how Sol would oust their 'Lipala Dance' on the Sura Yako music video, and then compete with the easy to learn Odi Dance that accompanied Gengetone. The answer was Aggie The Dance Queen.