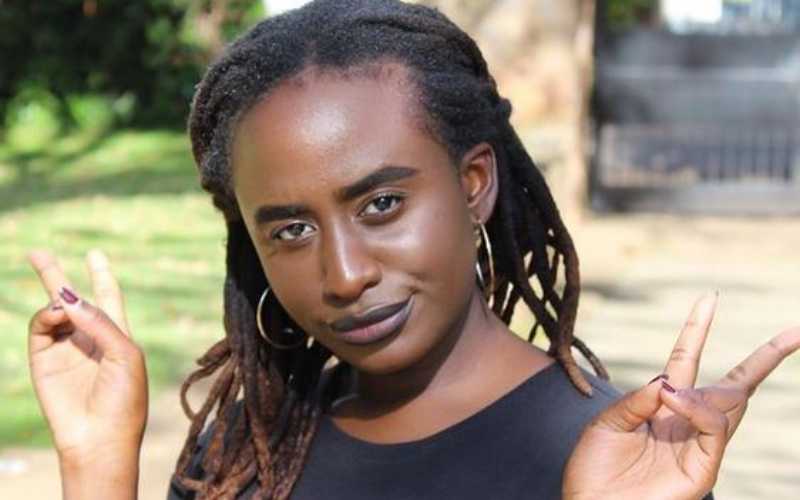 The year 2021 is at its halfway point, and with musicians surviving on hope, one particular group has only used this as fuel to perpetuate their unprecedented run of superiority in music and pop culture – Sol Generation.
Sol Generation is the heir collective to Kenya's pristine and arguably Kenya's most successful boy-band, Sauti Sol. The record label consists of artistes Nviiri The Story Teller, his charismatic side-kick Bensoul, and together they have become the Batman-Robin combo shaping the Kenyan music commercial soundscape and aesthetic.
So far in 2021, the camp has already produced an entire EP 'Kitenge' for Nviiri, and today, Suda, also known as Bensoul has been credited as a Grammy-Award winning song writer releasing his second EP 'Medicine'.
"One thing Ben and Nviiri will do is out-work everyone in the room. I come to work and can find them working on other people's projects, and leave the office, they will still be at it. They have so many great songs, and I enjoy working with self-driven individuals." Sharon Onyango Obbo, executive producer at Sol Generation Records states.
Behind every great musician, is a superpower team, synonymous to team sports, behind every star player, exists an extraordinary group of individuals. Whether it's the players, coaches, training staff, faculty, it's a combination of efforts, events, work ethic, infrastructure and genius all converging a synergy that catapults the star-players.
In SG, the group began in 2018, but a rigorous process of meetings, selection, and grooming took place, and the result was Nviiri and Bensoul, being the perfect runners to carry on Sauti Sol's glamorous legacy for another ten years.
However, the 'Niko Sawa' and 'Nairobi' singers are who they are today because of the trust and ethos they have established with a large team, that includes the Berklee College Of Music Masters graduate, Sharon Onyango Obbo – Executive Producer at Sol Generation Studios and Record Company.
"I'm just a music lover from day one. I'm passionate about making music and good music." Sharon scoffs at being one of the most integral people at the record label.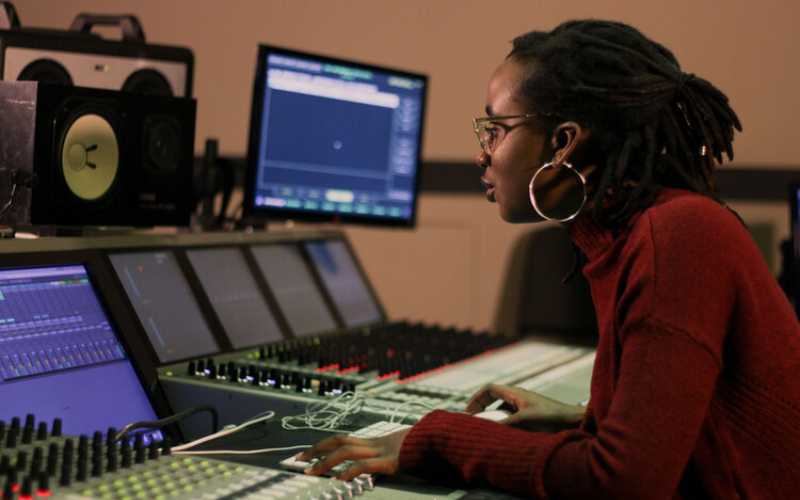 The daughter of prominent political journalist Charles Obbo reveals she has been through the typical friction African kids undergo  - 'African parent syndrome' of choosing a path that is in the creative realm, because its 'rebellious'.
Her dad is a political journalist hero in home country Uganda, while her mom works in Finance.
Able to afford a quality education, she was sent to Royal Holloway University in the outskirts of London to attain a Bachelor of Science (BSc) in Economics, something she incorporates in her career path as an artiste and music executive.
"I always loved music from a young age. I was always the kid that was infatuated by how songs were made. But by the time I was finishing my IB in Aga Khan Academy, I didn't know what I wanted to do so one of my teachers advised me to go do what I'm good at as a safe bet." She gladly obliged, packed her bags and left Kenya in 2014.
Through conversations with friends she had in Aga Khan Academy, she says some of her confidants pressed her about how her folks were forking out significant amounts of money on piano classes with a chance that she might never use the skill. These are some of the underlining things that challenged her to pursue her passion despite earning a degree in Economics.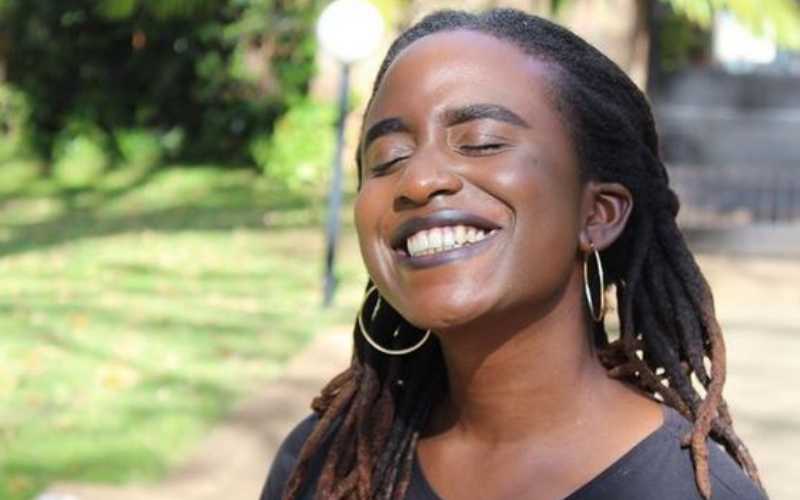 Speaking about her time in London, the artiste describes it as a cultural melting pot where she would pretty much be forced to concentrate on her books and minimize social life, mostly due to the geographical position her school was in.
"I was in a shags, country kind of setting. My school was based in an area like Rongai and then the fun parts were in Nairobi, or Westlands. Bearing in mind there's that distance, it left me no option but to find pleasure in where I was, plus no one has that kind of money to go back and forth as a student in a foreign country," she says jokingly yet humbly acknowledging the situation.
Interestingly, while she was studying economics, she was making beats in her dorm room during her leisure time, and selling them for about Sh 2,500 to Sh 4,000 to make some extra cash.
"My beats were basic. I was using Garageband and every producer can relate to their first beats being trash. I can't believe how far I've come honestly." She laughs.
After returning to Kenya with her doctorate in Economics, the automatic thing to do would be to go find a job, however, she just wasn't in the frame of mind.
Instead of job-hunting, she found herself craving loud music, being entangled in wires, and doing something she loved rather. It didn't help that her close friends were also locally and internationally making music, charting their careers in creative spaces such as music production, advertising, and so on – this she says really motivated her as she was also back home meeting like-minded people in the scene such as Vallerie Muthoni, whom she has produced for a couple tracks including Durag.
"Chilling and vibing with Vallerie was a dream come true. She really showed me the ropes to the music business. She may be young, but she is really professional, and she introduced me to a word I never knew existed. It was so humbling and empowering at the same time to be rolling with such a bad ass." She takes her hat off to the supportive role Brown Suga Vallerie played early in her career.
Her parents thought she was going through a phase when she would be linking up with her friends that were handling PA projects for companies at places such as Two Rivers, or weddings, and for some weird reason, she found that more appealing than solving equations and business plans for huge corporations.
"My mom wasn't angry that they had just invested so much money on my education. She was happy I could secure a Degree at least, but she motivated me and considered my future. All she wanted to know was, was I getting paid?" Sharon recalls.
At the back of her head, Sharon could remember the discouraging yet honest talks of the Kenyan music industry is for broke artists, yet only the 'chosen few' prevail. Also, she was doing pro bono jobs earning peanuts but she was determined to prove herself she is making the right decision.
The moment of truth was when she sat down for clutch talks with her parents on what she decided to do, is it find a job, or to go secure her Masters. They compromised and she joined Berklee College of Music in Valencia, Spain, where she undertook a Masters program in Music, Music Production, Technology & Innovation in 2019.
Following the pandemic, she would have to return to Kenya and complete the course remotely and eventually graduate the same way.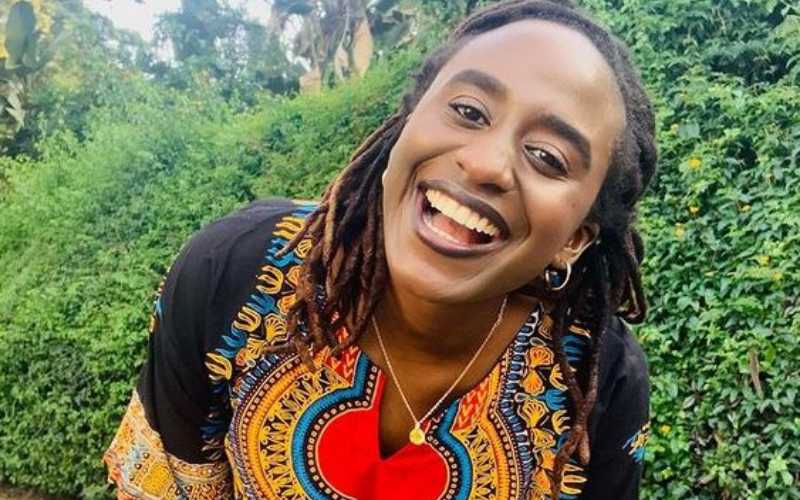 She then hops on a Webinar where Bien Aime Barasa, her now boss was speaking, and afterwards, she sent him a DM on Instagram, only for him to organically reply. She had sent him beats to listen to and a job application as a producer, but Bien was already so impressed by her credentials, she bagged an Executive Production role at Sol Generation.
"It was so random and a matter of luck. I couldn't even believe that he saw my DM. It's Bien and you don't expect him to click on your DM. You can imagine how many of those he gets in a day. I had never spoken or met him before." She says.
Upon being invited to countless recording sessions of Sauti Sol's fifth studio album Midnight Train, and jam sessions with the boys, Sharon has established herself through sheer persistence and hard work.
She has done logistics, budgeting, and sound engineering for major anthems by Sol Gen artists Nviiri and Bensoul, collaborating with the creative team who she calls friends now, and hopes to realize the Kenyan music industry's potential to a professional, opportunity-filled, and prosperous industry that can compete internationally.  Anything is possible.