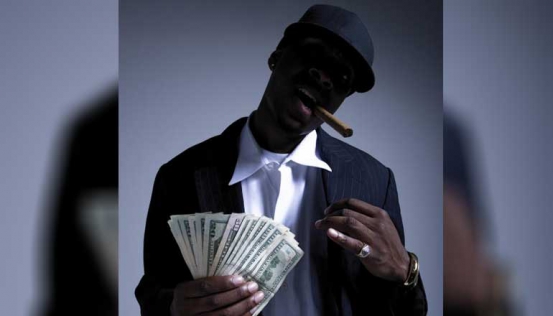 Early this week, a young girl aspiring to become a model travelled from Mombasa to Nairobi after she received a call that an advertising agency wanted to give her a mega modelling contact.
The previous day, someone had contacted her through her phone with what would be treated as good news. He said once the deal was sealed, she would feature for international commercial brands and even act as a video vixen for international artistes. All she needed to do was pay Sh50,000 to facilitate the process.
At 19, this was the best news a girl who has already appeared in two music videos had ever heard. With the cash, she landed in Nairobi and met the said deal broker in a hotel, where he received the cash and promised to meet her in a few hours. That is the last she heard from him.
At the time of going to press, the young girl, who is waiting to join campus, was still stranded in Nairobi with no cash for food leave alone money to travel back to Mombasa. Since, the con agent who is said to be a fashion photographer has gone missing.
Over the years in Kenya, thousands of young but vulnerable men and women have continuously found themselves thrust into the unforgiving vagaries of life.
Such unfortunate circumstances often befall this group of our population soon after clearing their high school education, or when pursuing college or university education.
It's at such times that these young people find themselves with few options of what do with their life. So, they will rush into doing almost everything that's thrown at them. More than often, some of the prepositions made to a good number of them are used as baits to entice them into doing some things without giving it a second thought.
Thousands of these young minds, who mostly have an inner belief that they have all it takes to be great beauty queens and kings and fashion and brand models, are lured to sign up into unscrupulous agencies set up by exploitative people without knowledge that they are only being ripped off.
Most of these agencies lure these girls and boys into registering with this or that agency, promising them all manners of "greatness" in the modelling field.
Some agencies charge exorbitant fees as registration fees of between Sh3,000 and as high as Sh40,000 with the full promise of assured jobs, which mostly are a hoax and a shortcut to extortion, leading to an endless circus.
Others receive payments on behalf of models but delay payments or divert them to other purposes other than remuneration, while others collude with advertising agencies to under-pay talent for various assignments.
However, it is not just the inexperienced models that fall into such traps. Even the most established always find themselves captured by the snares of the shifty "business" people.
Take the beleaguered former Miss Kenya 2016 beauty queen Roshanara Ebrahim for instance. According to her, she has in many instances been short-changed by incompetent modelling agencies. In mid-February this year, Roshanara went public with allegations that a Kenyan modelling agency, Bella Agency, had "disappeared" with money belonging to models, herself included.
A post on her social media pages read in part: "I'm sorry but I've had enough of fake modelling agencies in Kenya. To all my friends, the story here is Minta Bella disappeared with cash from Bella agency, that's why models aren't being paid..."
She told Pulse on phone that it was a common practice for modelling agencies to fleece vulnerable models.
"Kev said his partner ran away with cash and therefore can't pay me. Moses (from Strut It Africa) owes so many people including myself. I doubt he'll ever pay though he says he's trying. Kev can't commit because Bella ran away with the cash. Models should speak up. They need to learn to stop taking nonsense and stop allowing themselves to be misused," she alleged.
However, when Pulse reached out to Kev, he insists that he no longer works in the modelling industry.
"I stopped dealing with models a long time ago. I am now a filmmaker and everybody knows it. I left the company to somebody else. But the matter is being handled by the right people," he said when reached on phone.
Olive Waithera, Miss World Kenya 2015 second runners up, says that she has been a victim of failed modelling promises.
Dr John Nyamu, the Miss Earth Kenya franchise holder feels that various parties in the industry should register an association or society for self-regulation.
"This will be recognised by the government and will lobby for what they need from the government. The government cannot do things for people without them stating their needs. For models, they should insist on a legal agreement before accepting the offer for service," he opines.
Blame...Blame...Blame
Tony Chirah, a Kenyan modelling talent executive and the founder of the Kenya Modelling Fraternity, says that the cause of apathy in the Kenyan modelling industry is as a result of the "sad" legacy left behind by successive pageants, fashion shows and modelling events in the last two decades.
"Pageants (and agencies) should be licensed right from the smallest to the largest following serious criteria that safeguards common interests of our (Kenyan) society and not just the "Let's do Mr This or Miss That or Other", that have assumed a tradition of taking Kenyans through an emotional whirlwind while trying to decode what they really stand for," he says.
Are contracts legal?
Wilson Malaba, the Secretary General of the Kenya Casting Agents, Models & Talent Welfare Association, says that agencies and franchises must make sure that agreements signed with models are legally-binding.
He says: "Legal contracts are always signed but they are mostly drafted by the advertising agencies and franchise holders without any input of the talent. Therefore, they are mostly skewed to favour the drafters and not the talent who should be the main benefactors. Some cases are in court for arbitration after some agencies abused the legal contracts that they had entered into with the models. Contracts should consist of the input of the casting agents and models to ensure their rights are safeguarded in whichever contract they enter to avoid exploitation and abuse."
He adds that lack of a regulating authority for the over 40 agencies in Kenya hinders transparency and the general conduct of the country's modelling business.
"We have in a number of occasions approached the government through the Ministry of Sports, Culture and The Arts and even presented our code of conduct with an aim of having it adopted in order to help with the situation.
However, modelling was and is still viewed as an elite career and that's why the government has not given it the kind of focus that is given to music, sports, culture and other arts. It's high time the government gave this sector some seriousness and support that it deserves," he says.
Lately, we have numerous agencies that have been exploiting young girls promising them heaven and earth. A year ago, a photographer went around Kenyan universities asking girls to audition to be featured on the Pulse cover.
Each of the girls was being asked to pay Sh2,000 to be registered. When we got wind of this, the con photographer who had gone to Kenyatta University trying to recruit models there disappeared.
Sexual advances
Down in Mombasa, tens of models called the Pulse desk complaining about a said modelling agency whose owner had fleeced them off posing as a connect point between them and advertising agencies. Some girls even confessed having gotten desperate to the point of giving in to his sexual advances.
"The truth is that he has even slept with most of us as girls here are desperate to get a modelling breakthrough," one of the victims said.
The agency would even go ahead to lure girls into club promotion deals and fail to pay for their services some conning them into sex.
Most of the girls who do club promotions are paid Sh1,000 per night with the agents involved pocketing Sh4,000 for each from the product owners.