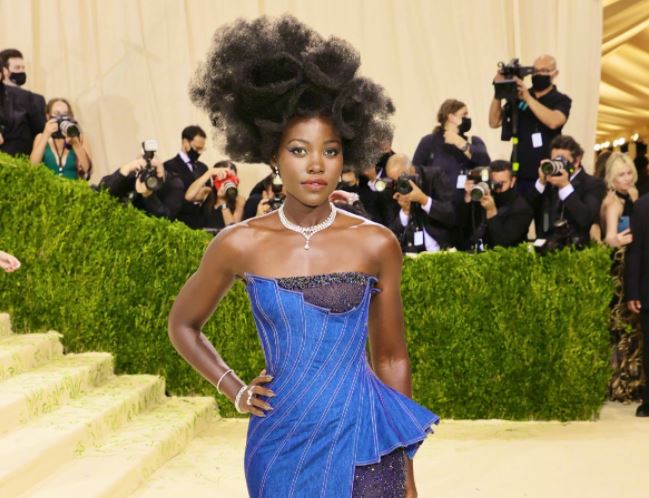 Oscar-winning actress Lupita Nyong'o has made a humbling recognition for her team behind her glam look when she attended her fourth Met Gala.
The actress stepped out in a Versace jeans couture with a striking afro texture-inspired mane, making her look like a denim goddess.
Lupita took to her Instagram page to thank her long-time glam conspirators that worked on her dazzling look.
"It truly takes a village. A heartfelt thank you to the most incredible #MetGala2021 team," she wrote before tagging her list of celebrity stylists on the behind-the-scenes photos.
Amongst those tasked with her outfit marking her return was celebrity stylist Micaela Erlanger, who responded to her post stating, "Love you. It felt so good to be reunited."
Make-up star Nick Barose was tasked with her face beat and did well to bring out her strong angular brows and lined red lips for that fierce finish.
Vermon Francois was responsible for the afro technique that was outstanding on the red carpet. "Working on Lupita's afro has always been my ambition and seeing it in reality in something else'' he said, revealing that conceptual artist Lorna Simson inspired the look.
The striking hair matched the sculptural nature of the Versace Denim dress and diamonds combination, which completed the stunning look.
Lupita then sarcastically teased that the Versace-dressed celebrities held the most stunning table at the Gala. Some of the celebrities dressed by Versace included basketball star Stephen Curry, Donatella Versace, and controversial hip hop star Lil Nas X who did a three-look strip on the carpet in different Versace outfits.
"There's the Met Gala and then there's the Versace Met gala. The best table of the night," Lupita noted.
Amongst those who got a special invite includes Lupita's sibling Fiona Nyong'o.
Known as fashion's biggest night, the American-themed Gala attracted several celebrities at the steps of the Metropolitan Museum of Art.