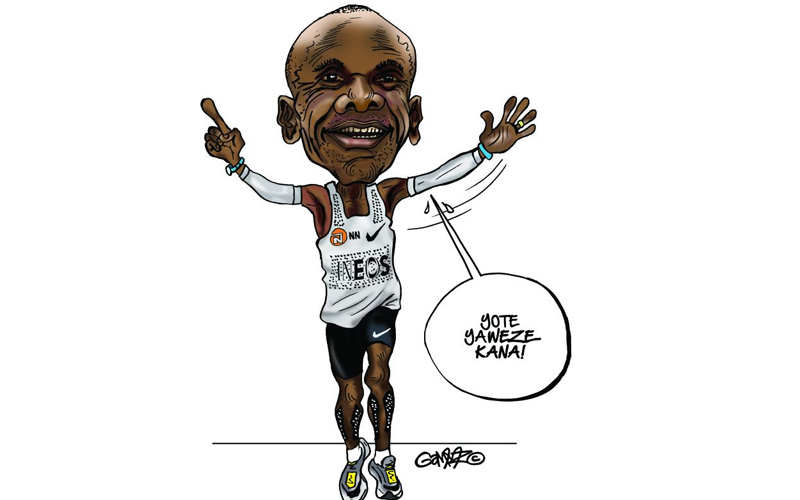 In September 490 BC, 2,509 years ago, a Greek messenger called Pheidippides literally ran into the history books. The Greeks were at war with the invading Persians at the battlefield of Marathon, a nondescript little town in Greece.
The Greeks beat off the Persian invasion, and Pheidippides was sent to take the good news to Athens. He raced from the site of the battle to Athens, 42 or so kilometres away, taking a couple of days to get there.
So exhausted was he on arriving in Athens that, after shouting out – presumably breathlessly; "We have won!" he collapsed and died on the spot.
When the modern Olympic Games were first held in 1896, the organisers decided to include an event that would connect the games to Ancient Greece, which had invented the original Olympic Games in 776 BC. And so the modern marathon was born, run over 42 kilometres.
In human history, no human being had run the distance in under two hours. Over time, the record for the marathon has been whittled away to just over two hours, mainly by Kenyans and a handful of Ethiopians.
So it was extremely satisfying to see Eliud Kipchoge go where no human has gone before – in very well-choreographed settings, he ran the marathon distance in 1 hour 59 minutes 40 seconds, an astonishing accomplishment regardless of the circumstances.
Kenya erupted in unrestrained joy. Our political squabbles were temporarily set aside, as we united in celebrating Kipchoge's achievement.
Our usual ethnically-minded politicians quickly forgot that Kipchoge is a Kalenjin, and everyone lauded him for the great Kenyan that he is, and for the humble world-beater that everyone says he is.
But the ethnic murmurs were not far behind. Shortly after Kipchoge's run, one of Kenya's political gadflies, an opposition loudmouth piped up on social media demanding to know why Kenyans were celebrating athletes instead of celebrating "Nobel Prizes like Western countries".
In his ethnic hatred, the politician forgot that every nation winning Nobel Prizes also celebrates its athletes.
In this little outburst lies a harbinger of doom for Kipchoge if he ever follows the route favoured by retired Kenyan sportsmen – entry into politics. Some excited villager even quipped; "Kipchoge for governor".
Beneath our faux-patriotism lies unpoliced tribal mentalities that manifest themselves in the ugliest ways possible. If Kipchoge, bless his humble heart, decided to contest the Webuye East parliamentary seat at the next election, he would be subjected to enough ethnic hatred to make him run for cover faster than he ran in Vienna.
If he chose to run for Kibra MP, the tribal vitriol that Kenya's self-appointed guardians of tribal interests would throw at him – complete with long-winded justifications on social media – would make the skin on his face melt away. Just ask McDonald Mariga.
This is Kenya. We don't care what your education qualifications are. Your intentions in running for MP are irrelevant, and your background in charity work and helping the unfortunate is a pointless distraction that you should share only with your relatives.
Pick up a blank piece of paper and hold it up – that is the list of Kenyans that give a hoot about your abilities as a person. Resist the temptation, Kipchoge. We love you as an athlete, but don't even think about politics!