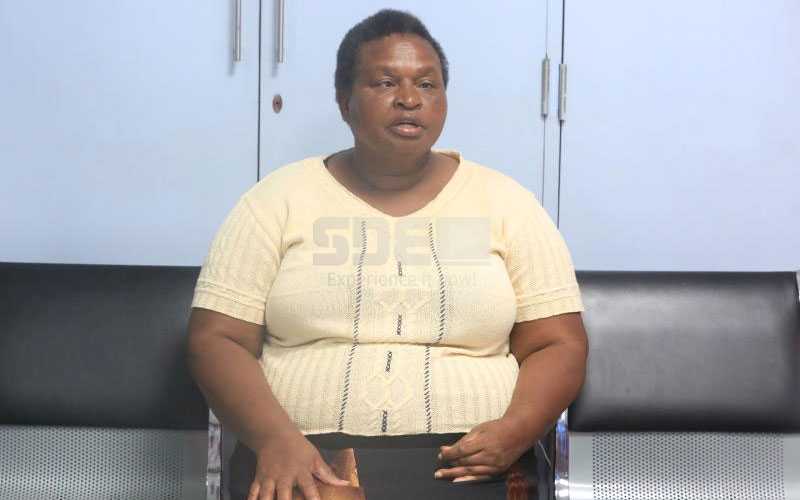 Beatrice's husband died in mysterious circumstances and unknown people want her to vacate their Sh40 million piece of land
She claims her neighbour, a prominent businessman turned politician is behind the threats
Beatrice Njoroge, 60, is a widow living in fear.
She claims she has received several death threats from unknown people who want her to vacate her land in Ongata Rongai.
Speaking to The Nairobian, Beatrice says that they bought the land with her husband in 1986 and currently, the value of the land stands at Sh40 million.
She revealed that drama started after the burial of her husband, who died under mysterious circumstances.
"My husband, Lawrence Njoroge, was working at Posta offices in Nairobi. On the day he died, a neighbour just knocked on the door and told me my husband was found dead after he alighted from a matatu not far from home. The post-mortem results didn't reveal much, but I suspect he was poisoned," she says.
"Just days after we buried him, I started receiving death threats and warnings that I will be arrested. At some point, I was told to vacate the land. I am old and don't have the energy to fight. But I have the documents to prove ownership of the land," she said.
Beatrice claims that one of the people eyeing her property is a renowned businessman-turned-politician who is a neighbour. She claims he has teamed up with some locals and officials to frustrate her.
She also claims that in June 2012, she was attacked and sustained serious injuries.
"My left hand was paralysed and my eye got bruised. The suspect, who was my neighbour Evans Ngino Mwangi was charged," she said.
In a letter seen by The Nairobian dated 30th March 2015, the Office of the Director of Public Prosecutions amended criminal case 2761 of 2012 against Mwangi from assault to attempted murder.
"The matter has been placed before the Director of Public Prosecutions who has directed that the charges be amended from assault and causing bodily harm to attempted murder with an alternative charge of assault and causing bodily harm," the letter reads in part.
For more than five years now since the death threats began, Beatrice has forwarded the claims in various offices including office of the President, Inspector General, Public Prosecutions, Rongai Police Station and the Independent Policing Oversight Authority (IPOA), among others. But she says no action has been taken to date.
"Every time I visit Rongai police station, top officers buy me chicken and githeri, then escort me back home thinking that I don't know someone is after my life," she claims.
When contacted, the Ongata Rongai police boss Ringera Mutiga said the case was under investigation.
"She will be assisted once she tables all the evidence," he promised.