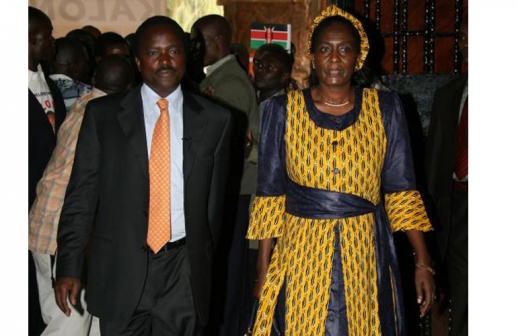 Not much has been heard of Wiper Party leader Kalonzo Musyoka's wife, Pauline Kalonzo ever since she was admitted to Nairobi Hospital in 2015. Pauline is allegedly suffering from an undisclosed ailment, which reportedly is the reason Kalonzo has been missing in some of NASA's political engagements, as he has to accompany her for treatment abroad.
According to sources at Nairobi Hospital, Pauline was first admitted on a Tuesday evening on December 29, 2015 after doctors advised her to stay in hospital for further checks. The former veep and his close family members were spotted at the hospital the following morning.
Doctors then said Pauline, who is a senior employee at the Central Bank of Kenya, was in a stable condition and was to be discharged after the tests. But soon after she sought medical treatment abroad.
"Lately, she has not been quite consistent," said a source at the Central Bank, where she has been working for a very long time. "She comes to work occasionally, though she never sticks around for long."
Kalonzo married Pauline in 1985. The couple has four children.
Despite her husband's high political profile, the shy woman often preferred driving herself in a Toyota Corolla.
Pauline is so laid back that even gospel musicians Size 8 and Willy Paul in their 2013 hit song, Tam Tam, claimed they didn't know the name of Kalonzo Musyoka's wife.
Even when her son, Klein Kalonzo, graduated from the University of Nairobi School of Journalism and Media Studies, she didn't accompany her husband for the graduation ceremony.
Shockingly, it seems even Raila Odinga doesn't know Kalonzo's wife. Last December, during a Wiper Democratic Party delegates meeting at Kasarani, Raila goofed when he referred to an unknown
"Mheshimiwa Kalonzo na bibi yake naona yule pale amefanya kazi mzuri zaidi, pongezi sana maa kwa yale mbayo umefanya sais Odinga. The remarks were directed at a woman who was seated next to Kalonzo.
He however corrected himself and said, "Pole sana huyu sio mama, aah pole...pole...Nilikuwa nasema Mama Pauline amefanya kazi mzuri, kusimama na sisi na mimi haswa."