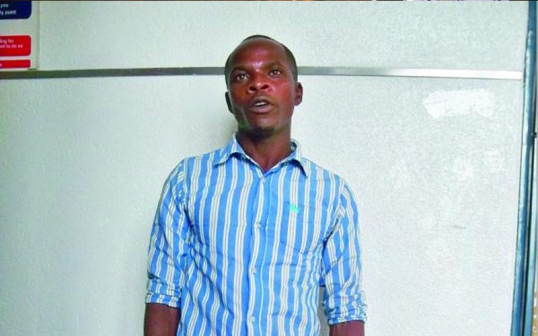 David Okwach Osebe, 25, is a troubled man. Desperation is pushing him to do the unthinkable; sell his kidney to the highest bidder.
The  civil engineering diploma graduate told The Nairobian that his efforts to secure a job for the past four years have not borne any fruits.
He is now on the verge of giving up and hopes that someone will step forward to buy one of his kidneys to give him a start in life.
 "I am willing to sell my kidney so that I can get money to make ends meet. I come from a very humble background. I was raised in Homa Bay and later moved to Nairobi for greener pastures. But securing a job is becoming a tall order," says Okwach.
"After finishing my studies at Kisumu Polytechnic in 2013, I couldn't secure a job. A friend of mine hosted me here in Nairobi, but eventually got tired of me. My siblings are also jobless and are all looking up to me. I am desperate. I feel bad that I cannot even feed myself, let alone my siblings," he adds.
Okwach says that early last year, he secured a contract with a leading auditing firm in Westlands and even received an appointment letter, but days later, he was called by the senior contractor who claimed he was too short, young and not mature enough to supervise other workers and he was dismissed.
 "I was heartbroken when I heard the news," he says.
The man who resides in Kawagware says that last July,  a friend tried to persuade him to travel to Somalia in search of work, but he was scared and turned down the offer.
 "We communicated for some time and he later revealed that he had landed a good job, though refused to offer further details. He then asked me to meet him in Busia and promised to give me Sh100,000 to help in the preparation of my travel documents, but I still refused," he said.
Okwach says the decision to sell his kidney was inspired by a friend of his.
 "Last December, I met a pal who told me he was heading to India to donate a kidney to his cousin, but he has never returned. Last month, I received a call from a person who claimed he was in India and offered me Sh1.3million for one of my  kidneys. I suspect he got my contacts from my friend", he said, adding that, " I was ready to travel to India, but I didn't have travel documents. He was offering a Sh800,000 down payment, with the balance to be cleared after the surgery to remove the organ," he revealed.
But the buyer went silent and a desperate Okwach decided to advertise the sell of his kidney on Facebook.
"After making the post on Facebook, a Sudanese called me but he was offering very little money. He also insisted on deciding where the surgery was to be done, as well as the doctor in charge of the operation. He didn't sound very genuine," reveals Okwach.
 "I am doing this for the sake of my family. I'm ready to risk my life and live with any arising complications. The money will enable me start a business and kick-start my life," he adds.