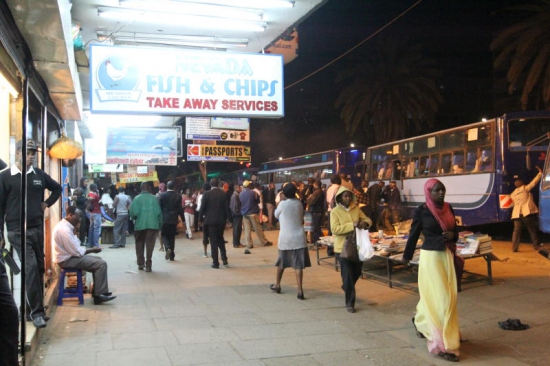 Their day starts just after sun set, when most parts of the city prepares to go to sleep.
And yes, like nocturnal animals, they have adopted themselves to the dimly lit streets and the rigours of the city.
Amina Mwende's day starts at night. To be precise, 11pm.  And like many of her colleagues, she goes to sleep when the 'city is waking up' around 5pm. Her's involve selling food on the streets of the Central Business District.
"We prepare most of the food at home and then transport it here in hot pots. Beverages like tea are stored in flasks," Mwende told The Nairobian from her operating area near Gill House.
"But as you can see we also have utensils for doing snacks, say for instance, fried eggs or chapati."
The mother of three says most of her clients are weekend revelers, security guards, street families, conductors and matatu drivers.
"The business is always good on Friday nights and weekends. This is because there are very many people in the streets on such days," Mwende explains. "Unlike conventional snack joints selling chips and chicken, many people prefer my place because you get real food like chapati and vegetables for as little as Sh60."
Amina says she occasionally rubs shoulders with drunkards who eat only to fail to pay. But that is just another day in the office.
"My clients defend me in such cases and will always tell such a guy: 'Wacha ujinga, lipa chakula ya mathee!" explains Amina who has been vending food in the CBD for seven years to fend for her children. "Operating at night is nice because Kanjos are not as active as they are during the day, although they are still there."
Unlike Mwende, Elamu Kisia is presumably deaf and dumb, which forces him to conduct his business of selling sweets and cigarettes around the Ambassadeur bus stop using signs. He answers our questions by writing on a piece of paper.
"I have been hawking around the Ambassadeur bus stop for the last 21 years," Kisia scrawls on a small paper. "I have two children and one is in secondary school, but Kanjo don't know that. They regularly arrest me and take me to court where I pay fines."
Alongside Kisia are many vendors selling maize, fruits, boiled eggs and many wares.
Innovation, enterprise and sheer energy is the stock of the Nairobi night vendor. The phrase 'have your hands full' has never seemed so practical, until you run into Victor Kimani.
But  on most evenings when Nairobians in their hundreds are filing out of the city headed for their homes or clubs, Kimani is usually kneeling beside a charcoal jiko, blowing his lungs out while trying to stoke the dying embers of his old charcoal burner.
"I prepare my coffee from around 7pm after my mother has finished cooking supper. After everything is ready, I leave for the city by nine o'clock since I make the mandazis and chapati during the day," says the 21-year-old street vendor from Kayole whom we met a few minutes to midnight, coffee urn weighing heavily on him on one hand and Styrofoam coffee cups and mandazi on the other.
  Daniel Muita is another hawker who prefers operating at night, selling confectioneries, cigarettes, airtime scratch cards, biscuits, handkerchiefs and condoms, from a make shift stand made of card board boxes. 
The 25-year-old deaf hawker is dressed for the harsh nocturnal breeze. Puff jacket, gloves, a black woolen scarf and a black bobble hat pulled all the way to the ears.
He says that although he would wish to operate during the day, he was unable to deal with the fierce competition from other able-bodied hawkers.
"Hawkers need to shout to attract customers. I was really handicapped in this department. That's why I opted to work at night," he animatedly notes down on the piece of paper
"My daytime hawker colleagues say Muthurwa Market is far from the city centre, and most city employees are unwilling to make the trip there to purchase wares," says Joyce Akinyi, another street vendor who operates at night.
Joyce can only be described as a 'Jane-of-all-trades'.
Besides the white jiko-cart full of sizzling smokies and sausages she also sells flavoured condoms and illegal smokables.
 Unlike day time hawking, nocturnal trading has its share of challenges like Kanjo and thugs.
"Although I might make up to Sh2,000 per night from selling Sh10-per-cup coffee, kanjo usually make unprecedented raids and take everything," Mutai the coffee vendor claims.
"Some of my colleagues have also been cornered by thugs and lost the entire night's collection."
While politicians only talk about making Nairobi a 24-hour economy during the day and then hit slumberland, these brave souls are making it a reality.
  Do you want a 'spliff' or brown sugar?
Some of these vendors, we soon learnt, sell more than just sweets and the multi-flavoured condoms on display.
"When me and my friends feels like taking a 'spliff' (bhang) or a bite of weed cookies, a certain guy among these vendors is always at hand," a young female reveler revealed who identified herself as Jennifer said. "Where he gets the stuff from nobody knows."
Our attempts to purchase these contraband confirmed her allegations. The vendor we approached promised to deliver in a few minutes, meaning his stock was depleted.
"There are also rumours that they can even get you brown sugar and other hard stuff, but since I don't use them I really can't tell," the young lass told us.