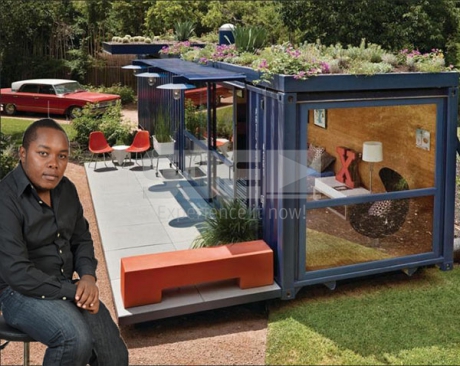 Everybody wants a home. A home is the ultimate goal of a successful life, or at least that's the corner tradition has boxed us into. And nowadays, fewer people travel back to their rural villages to build homes. Few live in them anyway. Others take mortgages to realise this dream. But how about living in a container? Yes, those shipping containers ferried on trailers can now make homes, and cheaper ones at that.
Joseph Kibera is in the business of constructing such structures, ranging from offices to homes. The mechanical engineering student dropout did numerous short courses in computer aided design, building and construction, as well as welding, and now boasts what could be a booming business in the making.
"Houses are extremely expensive. We try to cater for that middle income market who own pieces of land but can't afford to build a regular house," said Kibera. He says that what he offers is an innovative and cheaper alternative.
A simple 20-foot container office goes for Sh600,000, while a 40-foot container office costs Sh850,000. " The cost of a one-bedroom, self-contained house ranges from Sh450,000 to Sh700,000, while a  two-2 bedroom, self-contained house costs between Sh650,000 and Sh950,000. The prices difference is caused by the type of interior finishes, location, preparation, balconies and transport cost," said Kibera.
"They are portable, affordable and hassle-free. If you want to sell the land, you can relocate your container somewhere else," he added.
In one of the plans he shared with City Biz, Kibera is planning to build someone a four-bedroom, self-contained house which he says will be done in no more than two months. Container houses, he says, normally take two to three weeks, with the shortest taking 10 days and their different costs "is caused by the type of interior finishes, location, preparation, balconies and transport cost," said Kibera. He added that he can also make bungalows complete with bedroom balconies by combining several containers which are cladded to prevent electric shock when power is installed.
"Container fabrication is not fully accepted in Kenya, but we have high hopes for it. So far, we can't complain. The reception is fairly fine," said the head of Home Clad Interiors that was founded in 2010.