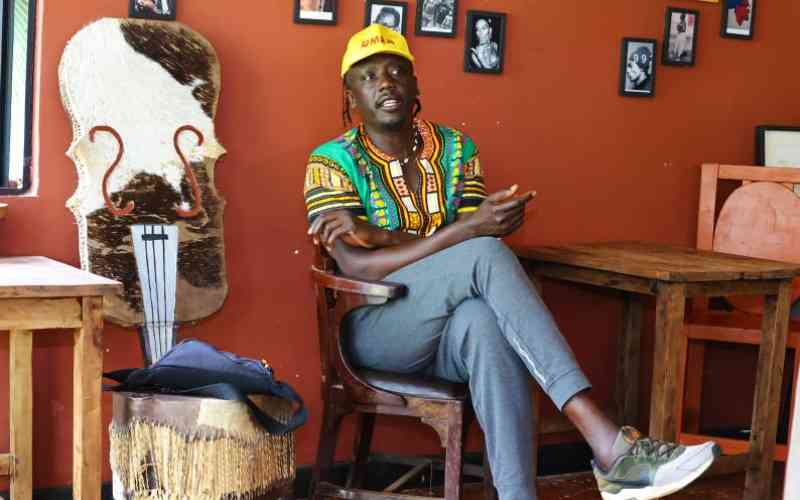 Seven or eight years ago, the craziest thing happened to Emmanuel Jambo. He was in Mogadishu with the African Union (AU) taking pictures to show how Mogadishu was changing.
"One of the army guys was in an open Landcruiser truck and rushed where we were. I think the president was passing or something," says Jambo.
"By that time we had already gotten into the car, we were about to move, and this Landcruiser just came and pulled up in front of us with the technical. One of the biggest guns, which they hold with two hands like this (demonstrates)."
The security team on Jambo's side jumped out with their AK47s so it was a cacophony of guns and bullets all around them.
"So the army guy is like, 'Kill picture! Kill picture!' Meaning delete it. It took us a while to understand what he was trying to say," he says.
An AU representative seated next to Jambo was frantically trying to show his ID and explain that they were working, the deputy police commissioner tried to explain it as well but the soldier was hearing nothing, only seeing red.
"We were with a friend of mine, Dickson Migiro. We looked at each other and we were like, if this guy fires just once because the bullet is this long (shows the length of a finger), it will go through every one. So we were like, 'this is it,'" says Jambo.
"It was just a mess. So knowing that I could get the photo back when I went back to my computer, I was showing him my camera like, 'Kill! Kill! See? It is dead! The picture is dead!'"
And that is how Jambo and his crew ended up not dying that day. The whole ordeal must have lasted for a minute but Jambo says it felt like three days.
That is just one of the many out-of-this-world experiences he has had in his career as a photographer, which has taken him to tens of countries (over 30 in Africa alone). He could write several books about them and cannot choose the most memorable experience he has had when I ask him about it.
"They are so many! It could be spending time with refugees in refugee camps, it could be spending time with someone who has changed people's lives – it is so hard to narrow it down," he says.
Okay, what about the top three?
"But it's so hard!" he protests, mulls over it and says, "Maybe cracking jokes with Obama? With Uhuru, with Malcom X's daughter, with Mohammed Ali's wife... Being introduced by former Zambian President Rupiah Banda to Kaunda and Kabila – there were like seven African presidents…. I am happy when these moments happen but I do not hang onto them."
Many Kenyans would probably say that being President Uhuru Kenyatta's official photographer and now President William Ruto's is up there with the best of them, which Jambo acknowledges that they are.
How did he end up there? "I met Uhuru at his brother's wedding. I had done a wedding for a lady that Erica Karanja, Muhoho's wife, was helping to plan. We had met a couple of months before, we did the wedding together and she was happy and then she asked me to shoot the wedding. I did not know that she was marrying Muhoho. Uhuru was the best man," he says.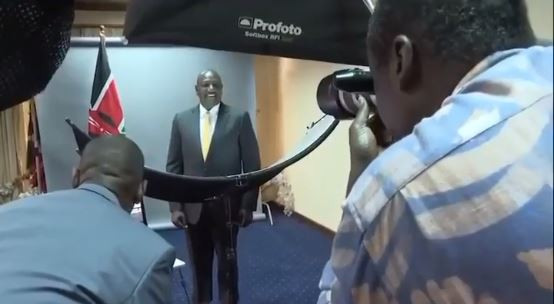 "After that, I did a couple of functions for the family and from the minute I decided I was running, I was called right away."
He met President Ruto through President Kenyatta, and when President Ruto started his campaigns, Jambo was called for the job. He has also worked with Raila Odinga, Martha Karua and others.
"It feels good," he says. "I mean, it is about somebody believing in your work. It is not even all about work, but relationships too, because there are a thousand people who can do a portrait. It is not magic. But there is a relationship and there is that trust that makes somebody call you."
While he frequently walks the corridors of power, he does not enjoy getting caught up in the trappings of it so he does not travel with them.
"There is something about me. I do not enjoy travelling with dignitaries. I do not enjoy motorcades, I do not enjoy tight security, I do not enjoy controlled movement. I have done that before and I know I am truly a freelancer. I do not want to be controlled," he says.
He never saw his life turning out this way – he was on track to becoming a basketballer in the National Basketball Association (NBA). We are seated on retro seats in his café, Nomad Café, a quaint little place that he describes as having a bohemian, vintage African aesthetic. It is a month old.
It is full of antique items he has collected over the years – a radio from the fifties right next to us. An old singer sewing machine in a corner, below a large, ancient-looking clock. An old typewriter sits on the bar counter, beneath which is a vinyl player in the style of the sixties.
Overlooking us is a gallery wall full of individually framed pictures of people he admires and people he grew up watching – Bob Marley, Diana Ross, Tupac, Red Fox, Mohammed Ali, Malcolm X, Bruce Lee, Patrice Lumumba, Maya Angelou, Eartha Kitt, Marcus Garvey, Fredrick Douglass, Snoop Dog, Peter Tosh – the wall goes on.
He recently became a citizen of South Sudan but unlike some internet sources say, he has never actually lived in South Sudan or Juba. He was born and grew up in Khartoum, Sudan.
"We moved during middle school to Egypt. We lived there for five years then went to the states (US) for high school and college," he says.
He played a lot of sports as a child but narrowed in on basketball, being so serious about it that he went to college on a basketball scholarship. The tallest player in the history of the US NBA, Manute Bol, was one of his trainers in childhood and was the one who gave him the nickname 'Jordan'. People who knew him from back then still call him Jordan or 23.
A knee injury stopped his NBA prospects in their tracks and he ended up in an IT job at Nordson Corporation in Atlanta, Georgia.
It was then the photography career sneaked up on him. He was visiting his sister here in Kenya when a friend of hers saw him editing photographs on the computer and asked for his business card. He had just started doing photography as a hobby on the side and had been at it for about six months.
"The next day I got a call from Connie Aluoch, the fashion editor for True Love magazine. She said they had gone through my website and Carole Mandi wanted to meet me. I had no idea what True Love or who Carole Mandi was," he says.
After the meeting, he was not 100 per cent convinced that he wanted the job, but Carole said that her colleague, Oyunga Pala wanted to talk to him as well.
"I walked in next door, and he said he liked my stuff, but we started talking about pan-Africanism. He was like, 'We have this magazine called Adam magazine, we are going to be travelling around Africa'. We talked about John Garang, he had a picture of John Garang in his car and I was like, 'that's my role model!' This was the official interview, and he said, 'Go grab your s*** and come home!' That is exactly what I did," he says.
He had done a photo of one of his colleagues back in the states and when his manager saw it, he had predicted that they were going to lose him, so when he went back and told him he was quitting, his manager said, "I knew it" and wished him the best.
That was in 2008, and, now 45, he is amazed by how differently his life turned out from what he had imagined it was going to be.
"I never saw it this way. When I picked up a camera, I wanted to take good photos. That is all. I wanted you to take a good picture for me. It never crossed my mind that I wanted to work for a magazine, a newspaper – I was not thinking that way," he says.
In future, he would like to do photography books, coffee table books and his documentaries of things he believes in and admires, concluding, "I think I am happy. If there is anything I would like to do more it is just to impact more people in the future and make a difference."
Related Topics