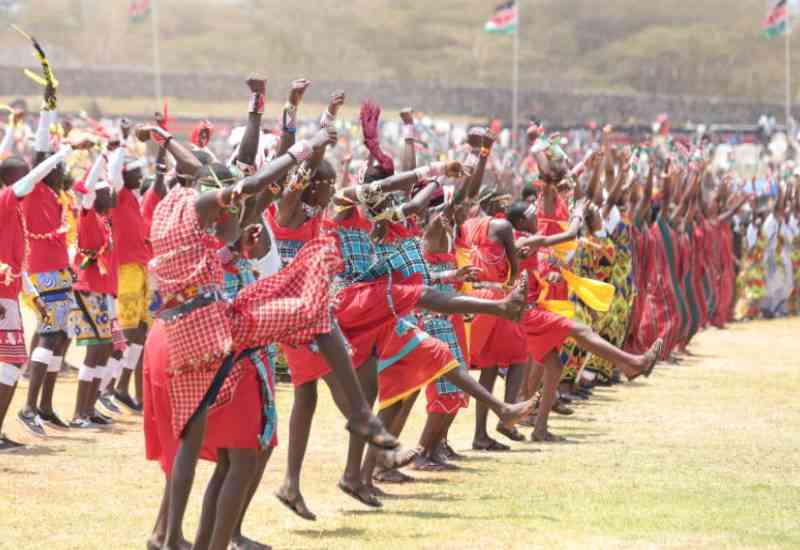 The day was heavy with expectation - the first Mashujaa Day for President William Ruto as head of State, and a crucial moment of reflection for all Kenyans.
As with every national holiday, it was a given that there would be music, poetry, dance and thorough routines to entertain guests and offer themes of unity and patriotism.
Thousands of Kenyans thronged the Uhuru Gardens Memorial Park in Nairobi - from the elderly to the very young, some carrying miniature versions of the Kenyan flag. There were schoolchildren in uniforms and soldiers in their full gear.
Although the outgoing Interior Principal Secretary Karanja Kibicho had placed the expected attendee numbers at 20,000, there were multiple reports of a low turnout by 11 am.
The president was greeted with cheer from the multitudes as his ceremonial, bulletproof Land Rover car surveyed the area. They chanted his name, "Ruto! Ruto!" As the emcee urged them to welcome him.
Soon after the President inspected the guard of honour, it was time for an air show.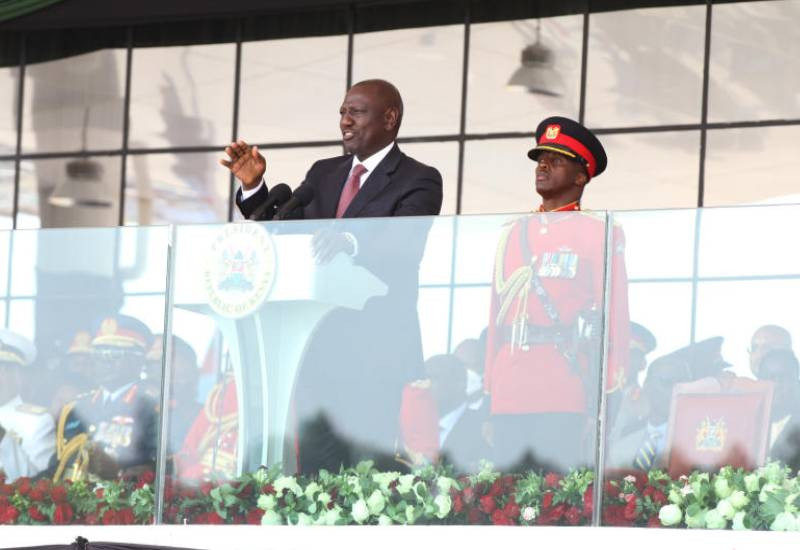 "Linalofuata sasa ni onyesho la ndege zetu za kivita, ndege ambazo zitapita mbele ya jukwaa hili. Kikundi cha kwanza kikiwa ndege aina ya tukano kikija katika Vic formation," the emcee at the time, Misango Mbae announced ahead of the displays, adding, "huku ikitoa moshi mweupe, ishara ya kwamba anga letu liko salama. Tuwape Makofi marubani wetu."
After a marching performance by children in the scouts' movement and St John's ambulance, it was time for prayer, which was led by Islamic and Christian leaders.
One Mike Getone emceed over the entertainment section of the day, noting that the organisers had organised a brief session for "burudani".
The first performers of the day were boys and girls from the Kenyan Federation of Roller Skaters, who showcased their skating skills with different formations and line-ups.
There were groups of children from a mixture of primary schools next, and they sang and danced to a variety of patriotic songs, dressed in all white.
"Harambee, pamoja tutafika kilele, Harambee, Wakenya tutaishi milele," one of the tunes they danced to went in part.
The children finished off their performance with the statement: "Twajivunia amani Kenya! God bless Kenya!"
As they left the field, they waved white handkerchiefs at guests.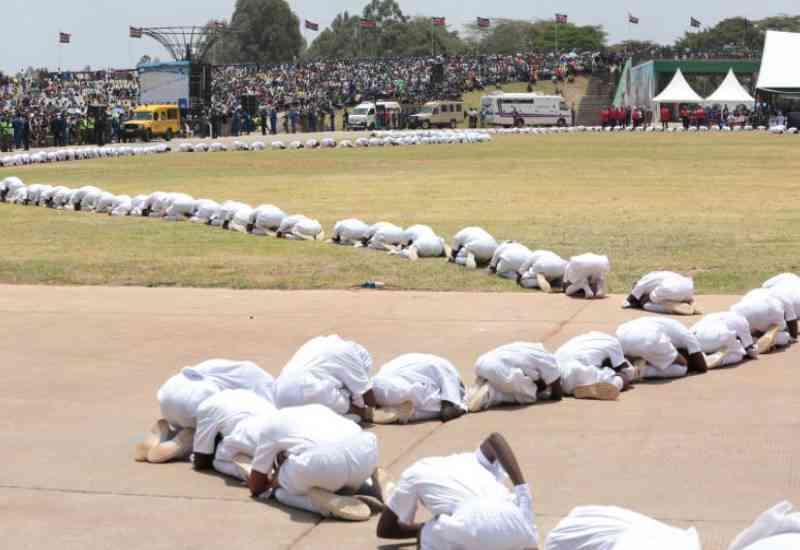 The emcee said there would be a show from Kenyans hailing from diverse tribes to showcase their various cultures, including performances highlighting the customs of the Turkana, Samburu and Borana.
It was time for the much-anticipated music line-up.
There was a song specially written for the day, Tusonge Mbele, and it was performed by artistes Bro Wycliffe Oruko, Vindu Vichenjanga, Rebecca Thomas, L Sammy, Maima, DMG and Maryanne Naipasoi Tutuma.
Next, Rufftone hopped on a track, Sote Tuko Sawa alongside Phil Kimemia, Zzero Sufuri, Pday Hurricane and Mani.
"Kanairo huku ni kwa ma champez, my love for the country ina burn blaze," ZZero Sufuri raps on the track. "Shujaa na entertain hadi president," he adds.
Ahead of his performance, Rufftone said in an interview that he celebrates Mashujaa Day to honour heroes in his own life, as well as to reflect on the country's history.
"We do not have to celebrate politicians but also those who live in slums like Kibra and all Kenyans who have encountered the difficult economic situation without asking for people to help them. They are our parents and have families, and so I celebrate them."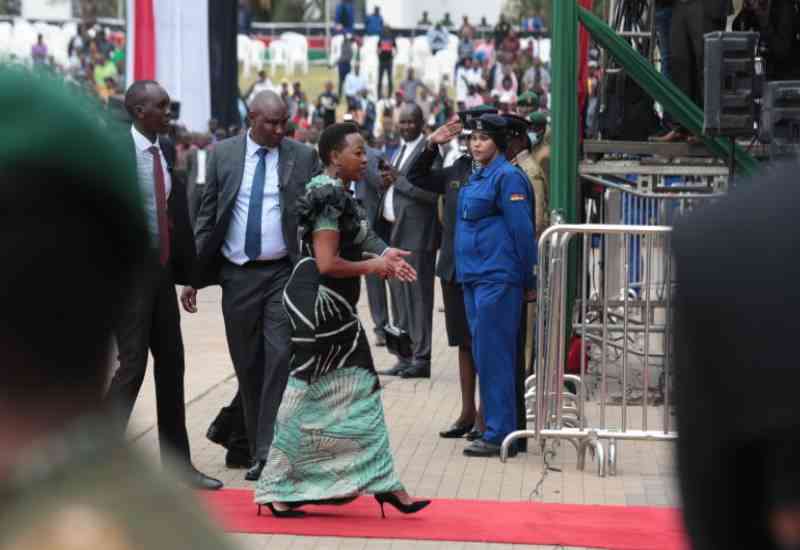 There were raw, acoustic performances by Baby Blaq, Lulu Abdalla and the Utawala Band, which kept the guests entertained throughout the four-hour ceremony.
The gardens where the fete took place were officially declared a national monument in 1966 because of their historical importance," the Ministry of Sports, Culture and Heritage notes on its website.
It adds; "Of importance to note is that it is Kenya's birthplace. This is where the first Kenyan flag was raised, thus marking the very first year of independence on December 12, 1963."
Last year, the celebrations were marked in Kirinyaga County's Wanguru Stadium.
Related Topics