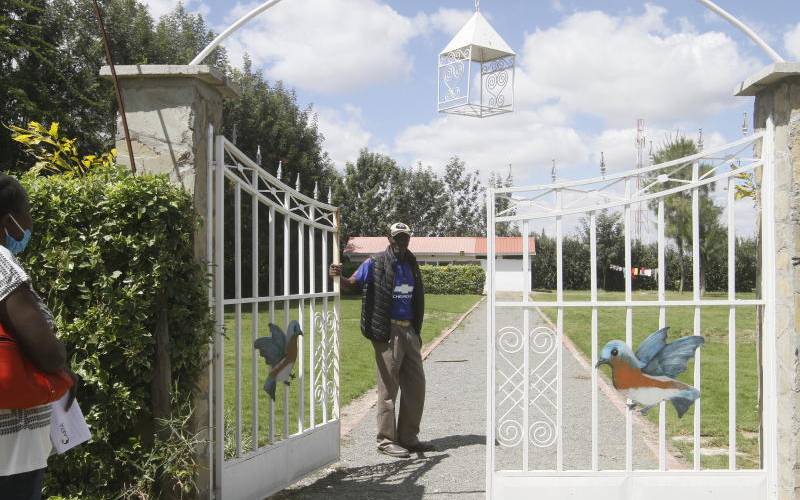 [email protected]
Magnificent. That's the first thought that comes to mind when you visit Fred's Ranch located in the serene escarpments of Kisaju along the Kitengela-Namanga road at Isinya, Kajiado County. The 15-acre ranch is a sight to behold: neatly trimmed lawns, voluptuous high-grade cows mowing peacefully in the parlour, an enviable orchard filled with succulent fruits and the icing on the cake is the swanky cowboy-themed resort. This is agri-tourism at its best and even the Head of State President Uhuru Kenyatta has sampled the ranch's finesse.
Wrong impression
One walk through the ranch and you may be tempted to assume, heck, farming must be super easy. I mean with a few millions in the bank, I can also hack such a splendid project?
"Oh yes! That's what people think when they visit this ranch for the first time. Many assume this must be so easy, if Fred did it, I can also do it. Some have tried to replicate the idea but have failed miserably because they do not know the thorns behind this rosy story. Very few people know the heart-crushing journey my family and I have walked to build this wonder…" the owner of the ranch Fred Obachi Machoka opens up on the sweat, blood and tears behind the now inspiring ranch.
It all started 27 years ago when Machoka was still young with the passion and vibrancy of a youth determined to make it in life, despite the odds.
READ ALSO: Hustle Gang- Bodaboda chama grows into a multi-million shilling housing cooperative
"When I bought this land in 1993, I looked like a crazy man. It was pure wilderness and save for a few Masaai pastoralists, I was a lone ranger in a foreign land. Though I did not settle there immediately, many people wondered why I bought such neglected land which was at the time going for Sh47,500 per acre, a pricey figure 20 years ago," says the radio and TV presenter popularly known as Uncle Fred aka the blackest man in Black Africa.
But he and his wife Sophie, ever the dreamers, took the risk.
Loan that almost broke him
To actualise the dream, Machoka took a loan from AFC, the State financier, so that he could buy the land. Access to loans and navigating long process can be a draining affair and Machoka like many loan seekers with big plans faced this harsh reality.
"Initially, I bought 50 acres and took a Sh1.6 million loan and by the time I cleared, it had shot to Sh7.5 million because of interest. I struggled to repay it. I was forced to sell off 30 acres to repay the loan and finance my project. There were many dark and painful days and nights and my wife knows this too well," he recalls.
But not one to be broken easily, he soldiered on and coin by coin, aeons on, he cleared it. From the painful loan to many losses he has suffered, along the treacherous path, he picked many valuable lessons.
Farming is not get-rich-quick scheme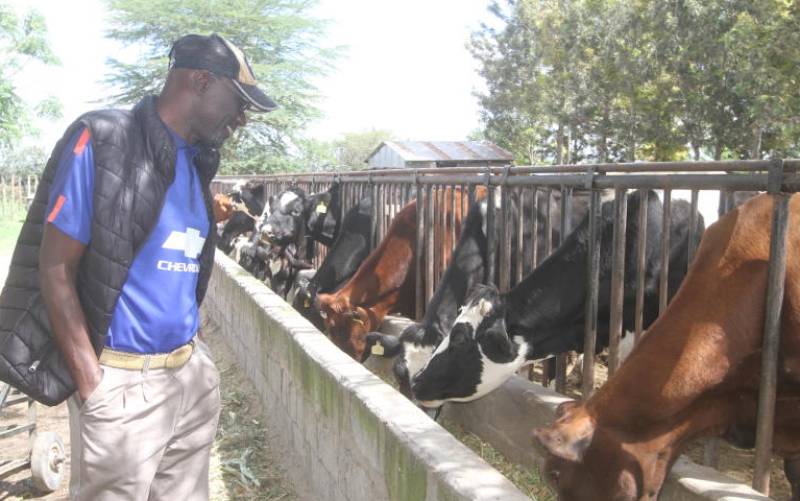 Machoka opines that many people have the wrong notion that farming is a get-rich-quick affair which is far from the truth.
He sums it up aptly: "Many people think farming is buying land on Monday, bringing in cows on Tuesday, selling the milk on Wednesday and by weekend one is a millionaire. No way…"
For him, after buying the land, the next headache was establishing a project that was sustainable and rewarding. To test the waters, he bought a few dairy cattle in Murang'a County, built the structures, bought the feeds, hired a farmhand and bingo, he was ready to start milking the profits! He was in for a rude shock!
"Can you imagine after spending all that money setting up the project then some heartless thieves disappear with all of them? That was a real blow. It almost gave me high blood pressure, but I survived," Machoka says as he stokes his high-value bull christened Alaska.
Though that was a perfect moment to quit, he steered on carrying with him a vital lesson.
READ ALSO: Hustle Gang- After getting fired, I found success making leather soccer balls
Telephone farming
"For the success of a farming project, you must be physically present so that you can watch your farm 24/7. That presence is also important because some farmhands cannot be trusted to manage a project in your absence."
Only the vision holder can nurture a project from infancy to a point where it is bearing fruits, he shares. With that wake-up call, in 2005, he made the radical decision to relocate from Nairobi to Kajiado County to monitor his farm closely.
"My landlord had also increased our rent and I could not afford it. So we relocated."
Once settled in Kitengela, the first challenge was access to clean water, given that Kajiado is an arid area. For domestic and farm use, he used to make several trips to Athi River to buy water, but that was unsustainable. To close that tap, he decided to sink a borehole and that was the magic that his farm needed to flourish. With access to constant supply of water, came many possibilities.
Drip irrigation works magic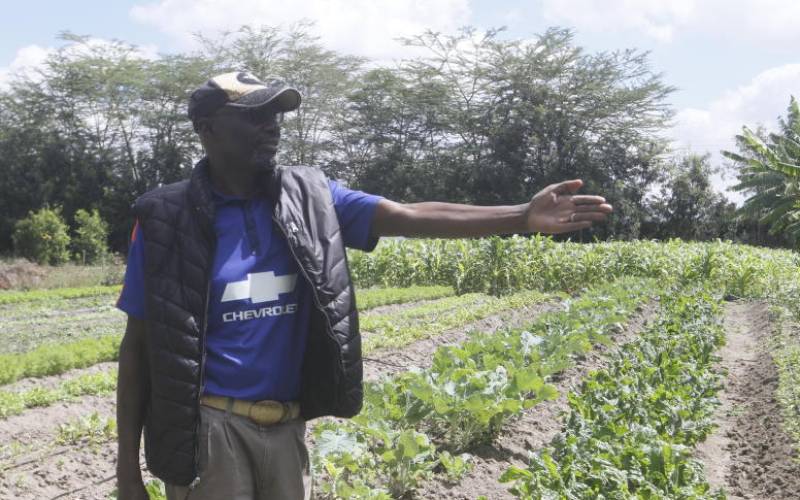 "Water is everything in a farm and with it, we had many projects to explore," says Machoka.
To conserve the precious commodity and minimise waste, he set up a well-connected drip irrigation unit that runs through the farm seamlessly nourishing all crops with water drop by drop.
Using his wife's landscaping and his son's marketing and managing skills, he was able to set up Fred's Ranch, an integrated ranching project comprising an orchard, animal unit (with Friesian and Ayrshire cows, chicken and rabbits) and a cowboy experience resort, his son Victor's brainchild. To tap into value addition, most of the produce cooked at the restaurant is organic and grown at the farm.
"My farm is purely organic and we do not use fertilisers and pesticides. Instead, we use manure from the dairy unit and to control pests, we use integrated pest management method. Aphids are a common problem, but are manageable," he points out.
Establishing the ranch to this enviable level has come with its fair share of challenges, he admits.
READ ALSO: Hustle Gang- How Sacco turned squatters into home owners
"I have undertaken almost all farming projects and I have burnt my fingers several times. There was a time I had grown tomatoes which did so well because of the rich soils and water was sufficient. I got a bumper harvest. Sadly, when I took the produce to the market, it was flooded with tomatoes. To avoid further losses, I had to sell a whole pickup truck load at Sh2,000. That was even less than the money I paid for fuel to ferry the tomatoes there. That was another blood pressure-causing moment but I kept dreaming big…" he recalls painfully.
From that episode, he learnt the importance of research before embarking on any farming venture.
"My advice to people going into farming startups is that before you buy the seedlings and plant, first establish a potential market where you will sell the produce. Many people grow stuff but they have no idea where they will sell it. I did that and suffered a big loss," Machoka shares.
Baptism by fire
Having been there done that, he says some crops are a 'no go zone' for him because of the baptism by fire experience he got.
"I know some people swear by tomatoes but for me, the pests, market and perishability issues, put me off. In hindsight I do projects I consider low risk to avoid stress," he shares.
With that knowledge, he has settled on fruit trees which include mangoes, Hass avocado, pawpaws, pomegranate fruit, lemons, tangerines, pixies and vegetables like managu, spinach, carrots, broccoli and capsicum. For an ever-green feel, the ranch is surrounded by towering Grevillea robusta, acacias and a few eucalyptus trees.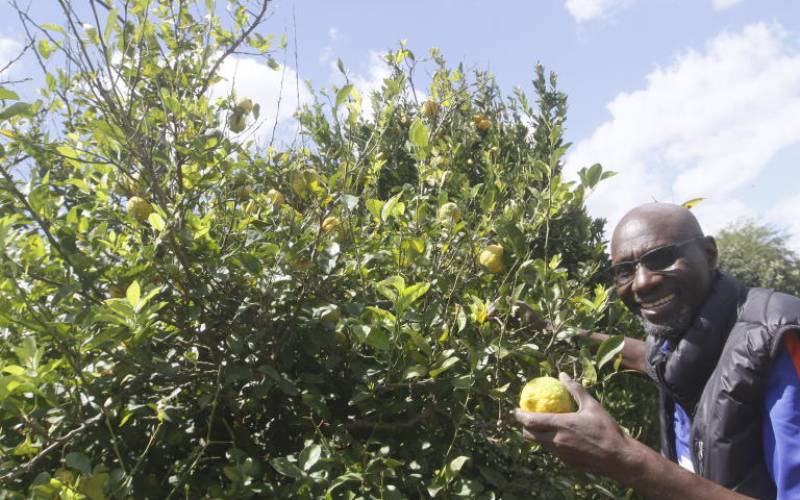 "Though eucalyptus are water guzzlers, they mature very fast. That is why we grow some."
For higher yields and for the soils to maintain their richness, he is exceptionally keen on crop rotation.
Therapeutic
With a vast project like Fred's Ranch, one cannot help but ask the daring million-dollar question. "Is he making millions like many assume?"
"To be honest with you, I do not do this project for profits. For me, it is more of therapy. I do this to give back to the community and connect with nature. Every day I walk around this farm and I can do 10km. As I walk I talk to my farmhands, I connect with my cows and by the end of the day, I am at peace. And during this Covid-19 season, such avenues are what we need. I do not need a therapist or a gym to maintain my mental well-being. I also keep lifestyle diseases at bay and that is saving on hospital bills," Machoka opines.
Though Covid has slowed down business, like other ventures, the team is reinventing new ways to survive the pandemic. And for those who say there are no jobs in Kenya, he has a parting shot: "Jobs are there. The problem is that our graduates are choosy. They should be ready to get their hands dirty."
Related Topics