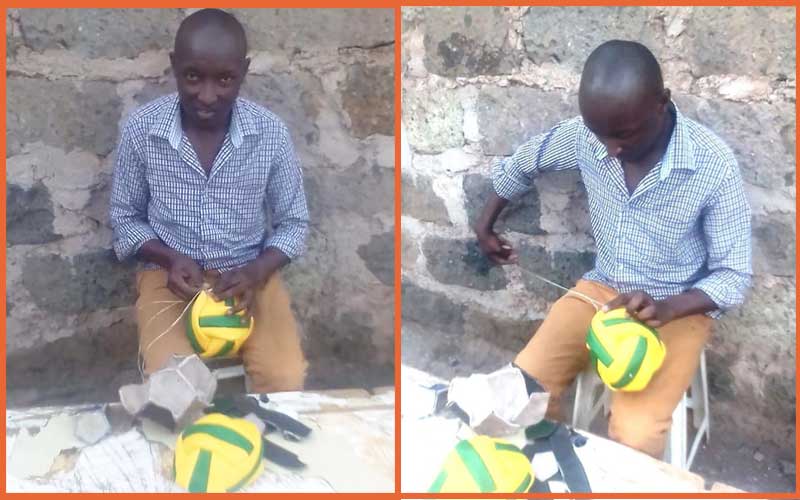 At Kariobangi Lights Industry in Nairobi, a man runs a soccer shop. Unfinished soccer balls decorate the walls of his shop while newly-stitched ones are strategically displayed outside his shop to attract new clients.
For years ago, Stephen Kabagi alias Mr Balls had a job which he lost when a leather company he worked for closed shop.
"When I lost my job, my family was young. I had rent to pay and needed to put food on the table. I was stranded because I didn't know how to start all over again," he said, adding that he had to hustle for six months without a proper job.
"One day, a close friend hooked me up with a job in one of the shops in town. But as they say, once bitten twice shy. This time, I raised enough capital to start my own business and resigned, taking precaution not to be fired again," Kabagi said.
He bought tools and began making handmade balls from his home.
"I used part of my savings to buy stitching tools, hide and skin. And after stitching 12 balls, I visited schools and homes in my neighbourhood to promote my new products. Within a short time, I had sold out my first consignment, pocketing Sh8,400. This gave me the momentum to make more balls," he told The Nairobian.
Kabagi buys leather in the city centre for Sh85 per square foot and in a month, "I take home anything between Sh80,000-Sh100,000, which is good money compared to my previous Sh20,000 salary," he said.
"I make 80 to 100 balls a month, which retail for Sh800 and Sh1,000 each for a genuine leather ball and Sh2,500 and Sh3,000 for a waterproof ball."
Kabagi struggled during his first days in the business. He supplies balls to schools around Kasarani, Zimmerman, Mwiki and some parts of Thika.
"Business has picked so well because today, I get numerous enquiries. I sell the balls at a fair price and the quality is good and durable because I use fresh hide. Sometimes the demand for balls is low, especially when schools are closed and I'm forced to sell them in residential areas," Kabagi said.