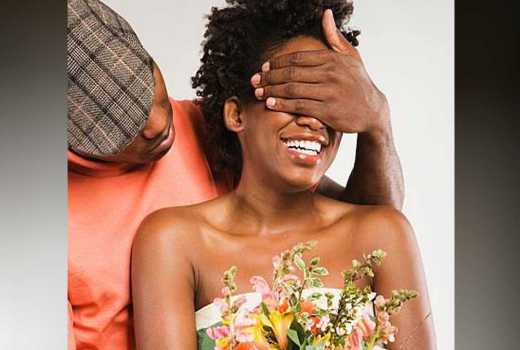 Valentine's Day is like a 'swearing in' ceremony. The suicidal lover will show up while those who were not sure of the affair will take off and later come up with explanations of how "my grandmother was knocked down my a Tuk-Tuk."
Others will send excuses on text while others will withdraw last minute citing "irreconcilable differences" yet others will muse up tales of woe' "Ooh! I was jailed!" "Ooh! I was conned."
Here are 10 types of male characters on Valentine's Day.
1. Roho Juu
This one is a daredevil. The bigger the challenge, the more his blood boils. He has no qualms trying to squeeze a Valentine Date from the kali female boss who doesn't entertain nonsense. But since she last had a real man was during the post-election violence, Roho Juu often "falls into things."
You will meet him anywhere where horny men wear trousers.
2. Secret admirer
Will see to it that you receive the biggest banquet of roses, with a chocolate bar the size of a Kenya Bus chasis and a bottle of 'toa ngotha' wine, but you will never know it's the muted IT guy at the corner who resembles an altar boy.
You will know he admired you when you bump into each with four brats in tow, 10 years later!
3. Casanova
He will take you out for lunch with the excuse that he has a flight to the Coast in the evening only to later hear from your muchene pal that he was seen with a 'yellow yellow' at a movie theatre in Westlands.
You met over Christmas. He said he's back from America since he can't stand Trump!
4. Last liar on earth
He will be missing in action with the excuse that he's recovering from open heart surgery not knowing such a medical breakthrough is 'Breaking News' in all local media.
You met at a friend's party and he beds you good.
5. Multiple bet
This one is not sure which among his chicks will accept to be his date. He will thus joke around with five workmates, two neighbours and one ex-file who will all turn up at the same time!
You met at dark pub where he was buying the most alcohol and paid for your Uber ride home.
6. Married bachelor
You all along thought he was single only for him to come up with   excuses that his grandmother has summoned him for 'last blessings' in shags not knowing your best friend is a Facebook friend of his wife!
You met in the office where he's the loaded boss with the best ride around.
7.  Broke butt
Has no dough to take you out and so pretends he's recovering from Chikungunya virus and begs you go over to his pad and massage his left butt.
You met at a funeral and you can't explain why you fall for his traps.
8.  Collateral damage
This one was booted two days to Valentine's Day for which he had sourced a complementary ticket for two to Watamu where you  will be invited as collateral damage. He is most likely your ex on 'return match' for old time's sake.
9. Woiyee
He looks like he was born alone, has no relatives or friends who love them. You will accept his date not out of love, crush or lust but purely out of pity so that you can go to heaven. He is an old school mate who's unlucky in love.
10. Loaded but clueless
He has the dough, but has no class or pedigree. This is the breed that wins single sourced tenders, but is clueless about romantic getaways, memorable gifts or unforgettable surprises. You will thus end at a reggae joint with 100 beers to "chafua meza" with his miraa chewing friends.