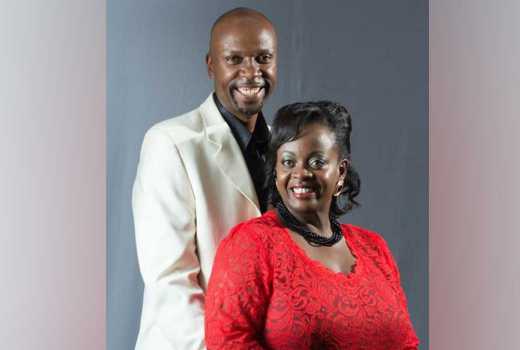 Pastor Donald Otieno and Cynthia Wambui, a relationship coach went to the USA to purse higher education in 1997.
They met nine years later during a Kenya Christian Fellowship in America (KCFA) event in Pennsylvanian and Don was leading in worship. "We were praying and when I opened my eyes, damn the guy was looking good and he could sing." 
Wambui went to say hi and later asked her pastor only to be told that Don was engaged to a Kikuyu woman and she returned to Ohio "and I moved on. I even dated someone else." 
They met again in 2008, just after the post-election violence that politically pitted the Kikuyus and Luos against each other.
Otieno had no ring. His marriage broke up as her fiancé's "Kikuyu parents could not allow them and even quoted the scriptures of how the gentiles and the circumcised cannot stay together," recalls Wambui, then an ordained pastor and single at 34.
Her Kikuyu pastor told her that he was praying for Otieno to marry her and she retorted: "Mjaluo tupelekane naye wapi?" which later made her remorseful and she started chatting "which took over eight hours and I realised he was such a nice guy."
Dinners shortly followed that August and she wasn't sure how her parents would react after he proposed. A month later she told her mother, a deep Kikuyu, that she would be Wambui Otieno and all she said was "I cannot tell you who to marry. Make sure you love each other and you are committed to each other but you have to tell your dad" who gasped "Mjaluo!...so you accept all their customs and cultures as they are different from ours and I said yes."  
They talked about their different custom, beliefs and family while planning their wedding in 2009 after returning to Kenya including the naming of their children.  "My first born Ariela was supposed to be named Akinyi but we named her Hawii a Hebrew name. Second born Micaela was supposed to be named Wairimu but we named her according to my mother's attribute which is hospitable Tugi."
The kids know they're Kikuyu-Luo, but more importantly, Kenyans.
"We have learned to celebrate our difference without bias and closed minds. I spent time with my mother in law and she taught me how to cook Osuga, kunde and other vegetables. My cooking was different but after my mother in law taught me my husband liked my food more. Don on the other hand was served cubed fish filet mixed with carrots, onion, potatoes and pepper and a swamp of soup basically a mashakura. His facial expression was memorable one I kicked his feet and he ate. But he accepted and celebrated my culture." 
During Christmas the Otienos spend time as a family, on boxing day they visit Wambui's home and on New Year's they spend at Otieno's which has helped solve a lot of conflicts.
There are challenges in cross cultural relationships though like during general elections besides public gatherings where language becomes a barrier. Her surname is another issue for "which people judge a lot and when she wanted to join a WhatsApp network group "I was told I have to be a Luo by birth and not marriage, I felt segregated." 
Wambui says for intercultural marriages to work couples require to acknowledge their differences, think and work as a team. Look to God too as when he created us as different, he looked us and said it was very good, there is no superior tribe whether Luo or Kikuyu.