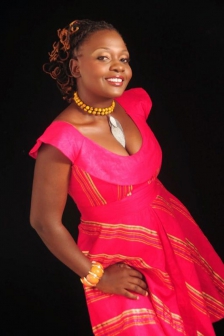 Newly-wed Nyota Ndogo has just concluded her honeymoon and is back to business.
She has reassured her fans that despite getting married to a Danish man, she will not be relocating.
Speaking to Heads Up, the singer said that she has so much attachment to Kenya that she can't imagine living elsewhere.
"We talked about it even before the wedding. He knows that I'm not willing to relocate," Nyota said.
She cites her attachment to her family and career as the core reasons.
"My family and music career is here. I just want to flourish what I already started. My children school here and I wouldn't like to destabilise them," she said
The Nibebe singer is currently promoting her new song, Subira.
Related Topics