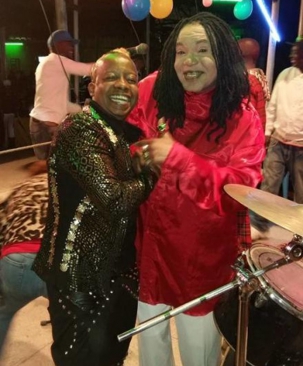 Heads Up finally knows what Congolese Rhumba maestro Le General Defao has been using to lighten his skin over the years.
While the likes of Vera Sidika, who have also used skin lighteners, brag that they hired expensive dermatologists from the UK, Defao said that his only costs him Sh200.
The popular singer, dancer and band leader who started singing in local bands in Kinshasa as early as 1976, revealed that he has been using Epiderm cream.
"It is available in most African countries I travel to. In Kenya, it only costs me Sh200 and I really like it because it has no side-effects and also comes with sunscreen,"he told Heads Up.
He further revealed that he feels more confident now because his skin is as 'smooth as a baby's.
Epiderm cream is sold as a face cream or lotion and helps cure fungal infections.
While most dermatologists recommend mixing it with Clairmen cream and its oil for best results, Defao said that he doesn't.
Meanwhile, his constant visits in and out of the country have left many wondering whether he has a home here.
"I only come to Nairobi for business and music purposes. I have not yet bought a home, but I have many female fans here," he said.
Any female fan who has impressed him? We asked.
"What type of question is that," he responded before finally hanging up!