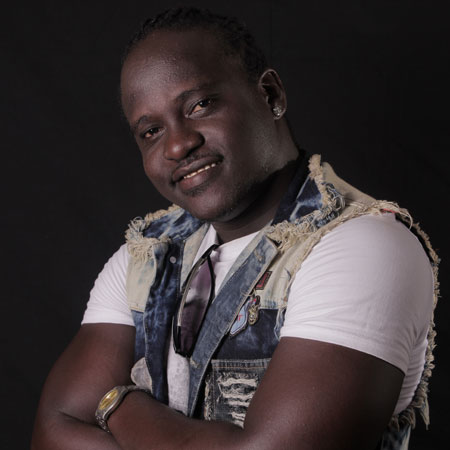 Rojo Mo PHOTO:COURTESY
A popular TV hunk is eating life with a big spoon. He is enjoying the luxury of two new sports rides and has been flashing cash during lavish bashes he has been hosting for his buddies. He is in a relationship with a rich woman, his mother's age, who is bankrolling him as hundreds of smitten girls keep drooling for him.
A month ago, the woman found a series of flirty text messages and pictures on his phone. Jealous of the secret side show, she kicked the Casanova out of the uptown residence she had housed him in, repossessed the cars and stopped the cash flow.
A few days later, the chap went on his knees, promising his sugar mummy that he would leave all the young girls and be hers exclusively. They are back together.
Few of his age-mates know that the flashy cars he drives belong to the rich businesswoman with interests in various parts of the Coast
And he is not the only local celebrity being kept by an older woman. In fact, this syndrome seems to have hit a number of our celebs, who are looking for ways to maintain flashy lifestyles as they seek the elusive fortune that comes with fame.
On the Kenyan Coast, older women, mostly foreigners, have taken over local showbiz funding as they get cosy with local musicians and youthful male event's organisers, whose lifestyles they are now controlling.
Smitten and lost in the generosity of female pensioners, a number of Kenyan Coastal celebs have ditched their artistic dreams, opting to leave the country with their elderly partners.
With the Coast's showbiz industry relatively lukewarm and always on the verge of self-imploding due to wrangles, claims of witchcraft and blame games, some artistes have used the microphone to get rich, but not through their artistic abilities.
However, some say that their relationships are misinterpreted, and insist that they are in love with these women.
In a recent interview with Pulse, Rojo Mo, a fast-rising rapper from Mombasa, accused his counterparts of spreading rumours about his romantic affair with a Dutch woman.
"I am dating an older white lady, whom I met in early 2013. I don't like to talk about it because people are looking to spread a rumour; that is how Mombasa showbiz is," said Rojo.
The rapper met the woman in Mtwapa, Kilifi, during a friend's party. The started dating, and after a few months, they fell in love.
"I fell for her just as she fell for me; this was love at first sight. It is true love," Rojo told Pulse.
"The fact that I am dating an older woman does not mean I am a gold digger. Like I said, I am in love."
What Rojo does not deny is the fact that the woman is bankrolling his projects and his extravagant lifestyle.
CLD, another Mombasa-based artiste who came into the limelight after releasing his Kabinti hit with Bamboo and Mo Fire with Abbas, is married to an older white woman.
When the two started living under one roof, his lifestyle changed completely. His music career went on the decline as he seemingly started giving too much time to the love affair.
"He used to be a good artiste, and relevant, but things went awry after the marriage. He is trying to make a comeback, but family life is pulling him back," said an events organiser from Mombasa, who is the artiste's close friend.
When contacted, CLD explained that love and marriage cannot be dictated by age, saying it doesn't matter whether one married a granny or a young lady.
"Age ain't nothing but a number. I married for love and not money," he said.
Rudiwu Makeke, the king of diss tracks from Mombasa, is married to Virginia Hendrick, an older woman from the United States, where the couple lives.
The rapper, who was once a soldier, is now living the good life, thanks to his wife's money. His musical pursuits are for leisure, and he has even become arrogant as his music is laced with lewd lyrics.
Another group using foreign money to push their music is Tabaka, which was based in Malindi before some members got their big break and left for Europe.
"We do not take care of old people or sell burgers in Europe," group member Katoi jokingly when I asked about the source of their money.
"We send a lot of money back to help other artistes, but they are ungrateful and misuse it," Katoi said of the money they had intended to invest in entertainment at the Coast.
The three members in Europe are said to be hitched to older European women, who are enriching the artistes in exchange for an 'African experience'.
Related Topics