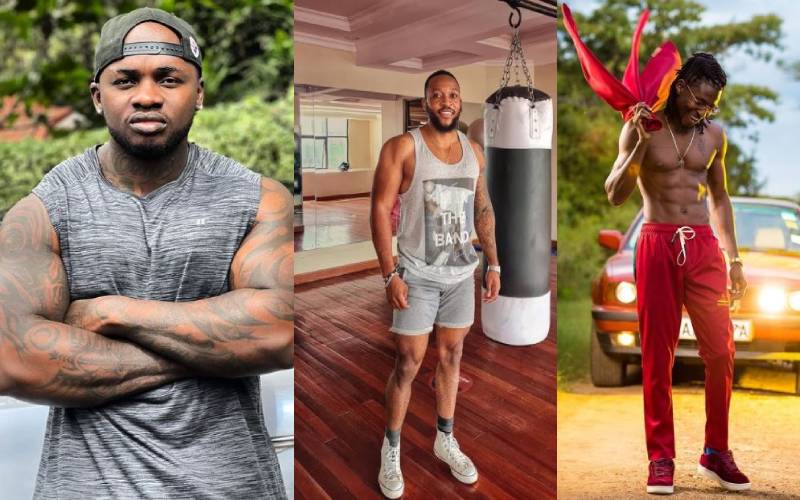 Body image is everything in the entertainment world. This can be demonstrated well by celebrities who go the extra mile to make sure they look the part while performing. Appearance is no longer a preserve of women, men too have joined the bandwagon of working towards a great body. And fans are unforgiving and want their celebrities looking fit.
A few years ago, an up-and-coming artiste, from Meru, got booed off stage for giving Sauti Sol a shirtless competition in their Live and Die in Africa tour. He was told his was 'a baby version' of the seasoned artistes' well-groomed abs.
Fans can break an artiste's spirit with their comments simply because they disapprove of the performer's looks.
Delvin Mudigi, better known as Savara, has been creating mental health awareness via his social media pages.
When the boy band released their Nishike hit in 2016, the track became the most popular song in East Africa. It gained traction for the simple fact that the video had the boys showcasing their well-toned bare chests.
Moral cops condemned the hot-looking boys for indecency. On the contrary, millions of young people, especially young girls who were clearly smitten, got into their DMs seeking to have fun with the boys.
At some point, the video of the song was banned. However, as more creatives began pushing the envelope with videos expressing masculinity and bare chest hitting social media, the video became just another one among many.
The OG
Khaligraph Jones (OG) has been on record saying that he at one point worked as a bouncer in city clubs to make ends meet. You have got to give it up to the OG whose bully physique complements his Hip Hop mean-like persona. He has frequently taken jibes while bullying fellow artistes, who have been too lazy to workout. Clearly, the rapper whose career is at its prime is not showing any signs of taking a break for his extensive workouts. It does not look like he will let anyone stand in for him and his sculpting bodybuilding supplements and exercises.
Kenchez Muya
The one-third member of the popular boy group H_Art the Band also takes his training seriously and has regular routine to maintain his ripped body. A boxing fanatic, the mellow voiced guitarist has daily workout sessions directed by a celebrity boxing trainer after which he exercises in their newly-acquired home gym. Kenchez does not shy away from flexing his muscles, and his chiselled abs have earned him more female fans as a result.
Frankie Just Gym it/Shiv Simani
The duo were bosom buddies who even established a fitness company together before they fell apart. The two have since become household names when it comes to matters fitness and nutrition. They have each recounted their individual journey, with Shiv becoming a level1 CrossFit trainer and Frankie settling for nutrition and lifestyle consultant. While at it, they have dated some of the hottest personalities - could be a muscle thing.
Warasta hawanonangi? Ask DJ Sadiq
The popular gospel mix-master is always seen encouraging his fans to follow his workout routine through his #stilllearning movement. In early 2020, Sadique shared a photo of his body transformation showing off his buff physique on social media. Later on, in April 1, he posted a photo of his new look without his trademark dreadlocks, which fans assumed was an April fools prank. A month earlier, he teased with the meme of a monkey, likening it to someone shaving off locks after 10 years. His fans made fun of this, encouraging that his move would contribute to his future weight addition following the popular belief that rasta men seldom gain weight. Others applauded his new weight, saying that he had such a lean body, that he had lost too much weight, even on his beard. "Brathe ulikuwa umekonda hadi ndevu," teased a fan.
Eric Omondi/Mcee Antonio
It was laughable to think that Eric would once own a ripped body complete with abs. However, body transformation has been a result of highly intensive workouts and a massive food ratio characterised by five meals a day that is preceded by consuming five eggs in the morning. His workout routines are guided by a former bodybuilding titleholder. "The former Mr Kenya takes me through mandatory intense training, and healthy eating including fish and brown rice," he said. Eric however claims to have been approached by a corporate client who paid him handsomely to transform his image before he fell in love with the workout sessions. Previously, Eric was known for his signature skinny look and with his body transformation, he definitely has created an Instagram museum for the women, who spend time ogling his shirtless posts. His hypeman, Antonio has also taken up the workout sessions and is equally coupling it up with martial arts.
Flaqo
It was YouTuber Flaqo who recently broke the net with an image showing his well-toned image and a revelation, "It was that one month of zero content in 2020. I had grown well over my normal weight, from 72kg to 86kg. I looked very different on camera, wakanichekelea kwa DMs… (fans mocked me) he wrote. Indeed, the two images looked miles apart. The transformation showed his new muscular body in under a year. At first glance, many thought this was an altered image but when the truth came out, the funnyman had added thousands of fans, read females, to his following. "I literally lived in the gym," he said.
Timmy TDat
This Kasabunian rapper has got some abs to himself, which he gladly flaunts, complimenting his numerous tattoos. TDat is notable for shooting his music videos shirtless and has never held reservations to post hundreds of bear chest pictures on social media. Known for his charismatic energy while on stage, the workouts definitely add to the energy he displays despite his stubby structure.
Redsan
Although there is no known photo of Redsan shirtless, you cannot fail to recognise his well-toned biceps peeking through his muscle shirts and fitting well-cut suits. The Badder Than Most hitmaker has been a fitness enthusiast for several years in his musical career, which has been attributed to his athletic moves while on stage. With his towering height and toned frame, Redsan makes it in the list of celebrities who give their fans goosebumps at first glance.