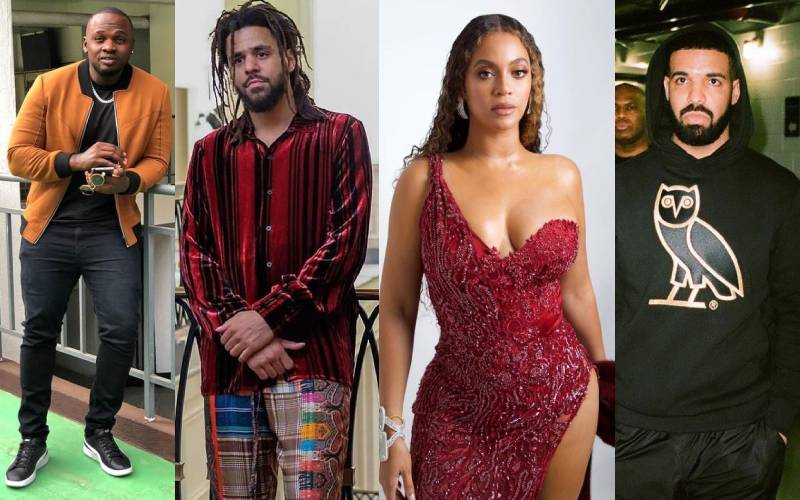 The adage 'numbers do not lie' is not always true, but sometimes it is important. This notion has seen most rappers use numerical values as a lyrical weapon, deployed at crucial times. These values are not just another coincidence, and herein we sample some of the most common numbers that rappers are obsessed with.
Octopizzo - Eight
The Hivo Hivo hitmaker Octopizzo is synonymous with the number eight (namba nane). This is generally the area code for Kibera slums where he grew up. From his humble beginnings to the megastar he has become, Don Papichulo, as he refers to himself nowadays, has never forgotten where he came from. This is not a new phenomenon though, as most rappers more often than not give a shout out to their hoods.
Khaligraph Jones - 1960
The Mazishi hitmaker is also notoriously known for his reference to the number 1960, which also happens to be the area code of where he grew up, Kayole. The OG is so proud of 'Oyole' that every other interview or song he does must have 1960 somewhere. Another number that Khaligraph uses is 1990. This was mainly brought around when he dropped his album Testimony 1990. This is the year that the heavy-hitter was born.
Fetty Wap - 1738
If you have listened to Fetty Wap's smash-hit Trap Queen as many times as I have, you will know it opens with the ad-lib "Remy Boyz / 1738". Fetty's New Jersey squad is named Remy Boyz 1738 after a premium Rémy Martin cognac. "1738 is the finest liquor in the urban district. If you go to the liquor store and you get a bottle of 1738, it is going to be the most expensive Remy… And that is what we are, we are the finest, we are the best," Fetty told VladTV.
Beyoncé and Jay Z - 4
For Bey and Jay Z, the number four holds special significance. Beyoncé's birthday is September 4, while Jay-Z's is December 4. The two married on April 4, 2008, and they have matching 'IV' tattoos on their wedding fingers. Beyoncé named her 4th album 4. In addition, fans speculated that the couple's first child's name, Ivy, is also a phonetic pronunciation of the roman number IV (Ivy). And Jay Z, in his album 4:44, explained that he literally woke up at 4:44 to write the single, which became his album title. Coincidence? I think not. And he has a club named 40/40.
Kanye West - 808
Kanye's fourth album, 808s & Heartbreak, is named after the Roland TR-808 drum machine, the sounds of which you will instantly recognise even if you have not heard of the machine that made them before. The rap genius Kanye recorded the album in Hawaii, where the telephone code is, coincidentally, 808.
Future - 56 Nights
This number, coming off of his mixtape 56 Nights, Future pays a tribute to his friend and DJ, Esco. After the Atlanta rapper performed at the 2014 Abu Dhabi Grand Prix, DJ Esco was arrested for marijuana possession at a nearby airport. He spent 56 days in jail. Future timed the mix tape's release to coincide with Esco's return home.
Drake - 40
Perhaps the most recurrent number in Drake's lyrics is the number 40, a shout out to his long-time producer and friend Noah "40" Shebib. In an interview, 40 explained that he got the nickname while working on his first major label project for Canadian rapper Jelly Stone. "Those guys used to fall asleep in the studio... and wake up at 10am and I would still be working. And they would be like, your work never stops. You work for 40 days and 40 nights."
YG - 03192009
If you look closely, the placard YG wears in the mocked-up mug shot for the cover of his debut album has a number on it. Underneath the album's title, 'My Krazy Life', is the number 03192009, the date YG got signed to Def Jam. In an interview with Urban Daily, YG explained that he narrowly avoided a two-year jail sentence for burglary that would have resulted in him being incarcerated that same day.
 Jeremih - 773
The hook to 773 Love, one of the biggest hits from Jeremih's 'Late Nights with Jeremih' mixtape, features the request "Won't you call 773, 779 LOVE, oh." Sadly, the phone number 773-779-5683 does not belong to him, as he revealed that he tried to buy the number from the owner but she refused. However, these particular numbers are two area codes in his hometown Chicago.
Chief Keef - 300
In Sosa's lyrics, there are two notorious numbers that appear frequently; First, 300 or 3hunna, a reference to an area in Chicago and, allegedly, one of the city's street gangs, Black Disciples. The second number that Keef occasionally refers to is 1017, a reference to Gucci Mane's record label 1017 Brick Squad, which Keef is affiliated with. As Gucci explained in an Instagram post, 1017 is the number of his late grandfather's house.
Wu Tang Clan - 36 chambers
One would without a doubt question what exactly 36 chambers in the title of the Wu-Tang Clan's legendary debut album mean. As the clan's de facto leader, RZA explained to Billboard Magazine: "…there are nine members, and four chambers in each of their hearts. Nine multiplied by four is equivalent to 36."
J Cole - 1985
In his album dubbed KOD, the outro stands out as Jermain Cole takes jabs against other rappers. This particular number is synonymous with the year he was born. This was a diss track that was apparently directed to Lil Pump who had dissed him. Taking the diss not so lightly, Cole replied by showing how Lil Pump was young compared to him, musically speaking.