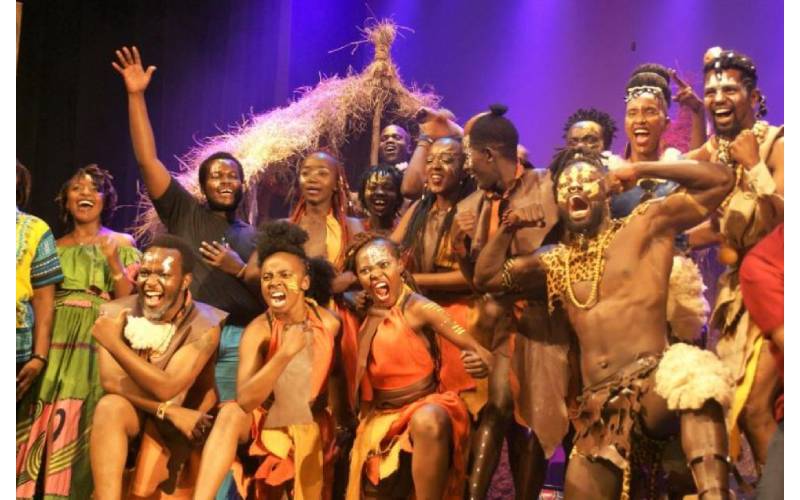 The show must go on, is a theatre and show business mantra but when Covid-19 hit, even the show stopped.
Live theatre performances in Kenya are an opportunity for film, music and play enthusiasts to let their hair down. The dark showroom space is an escape, a portal to another world.
And while spaces like the Kenyan National Theatre have long been used for legendary performances, including Ngugi wa Thiongo and Ngugi wa Miiri's play I will marry when I want in 1982 and South African musical Sarafina with an all Kenyan cast in 2003, it now faces a real threat of being shut down as the pandemic rages on.
Performances and line-ups have been cancelled due to the pandemic protocols, which have no doubt been the strictest on the entertainment sector as a whole, affecting creative professions and leaving the live performance industry, including festivals and cinemas in uncertainty.
Alliwah David, a director at Performer's Rights Society of Kenya (Prisk), says it has been a dark time for those who get their bread and butter from life on the stage.
"The biggest issue we have faced as the live performing industry has been depression among artistes.
"The pandemic was unexpected and it immediately led to closure of the theatre and cancellation of many upcoming plays," says Alliwah, who along with the role at PRISK is also a musician and actor.
He adds that the kind of industry he is in is not defined, thus ruling out discussions of pay cuts and scaling down.
"When protocol is issued cancelling performances and day-to-day activities at the theatre, it renders young actors immediately jobless and with nowhere to turn.
"Some of the artistes I know have been forced to go upcountry as they attempt to survive through the tough times," he says.
The musician says that even when payment for performance at events does come, it is too little.
"I had a performance at a wedding that was set to pay me Sh75,000. But they reduced the pay to Sh50,000, rationalising that their guest-list had been cut down due to the outbreak," says Alliwah.
Old craft
According to the Prisk director, it is a matter of survival for the fittest, with no end in sight to the tough times. 
"Live performance is an old craft. I am not sure what will happen to it. Perhaps people will move more towards watching screens. There have already been artistes putting out content virtually and on social media platforms, including FaceBook and Instagram," says Alliwah.
The actor says Fanaka Arts Theatre, Heartstrings and other key theatre industry players have had to postpone upcoming plays indefinitely due to the pandemic.
Sammy Mwangi, the director of Heartstrings Entertainment, a live stage performance production company, says everything stopped in March 2020.
"I had just done a casting call towards the end of February 2020. We were looking to release a play at the end of March. But then what happened happened and protocols were listed, effectively shutting everything down. For us, nothing has been going on, there have been no live plays," Mwangi says.
The theatre arts professional says he does not expect the live performance industry to change much due to the pandemic, firmly holding that theatre can only be live, and that anything else is not theatre.
"Theatre needs a live audience to maintain its authenticity and culture. Perhaps what will change if the pandemic is the new normal is that we will work with fewer audiences," says Mwangi.
There is hope
The Production Director at Fanaka Arts Theatre, a performance art group, Frank Muchiri says that there is hope, pointing out the loyalty of theatre audiences which has stood firmly through the tough times.
"We had a live performance in February, observing the Covid-19 protocols put in place. It could not be compared to performances pre-pandemic, but the turn-out of audiences was still remarkable. They really did come out and fill the few slots that were available. Sales were low, but we cannot complain about the turnout," says Muchiri.
Contemporary gospel singer Victor Mbuvi says that while he is not involved in theatre, as a performing artiste he can see the impact of the pandemic on the industry.
"You cannot invite 15 people to a live performance, because you will make nothing. From musicians to actors, we are performing acts, and depend on the stage for our livelihoods," says Mbuvi.
Internationally, the tune has been the same.
A struggling industry grasping onto straws for dear life, its only hope being a sustainable response that takes into consideration the jobs and dependents of the sector.
In the UK, the pandemic saw the postponement of premiers and openings of various major Broadway screenings, including How I learned To Drive, Mrs Doubtfire and Cinderella in London's Coliseum Theatre.