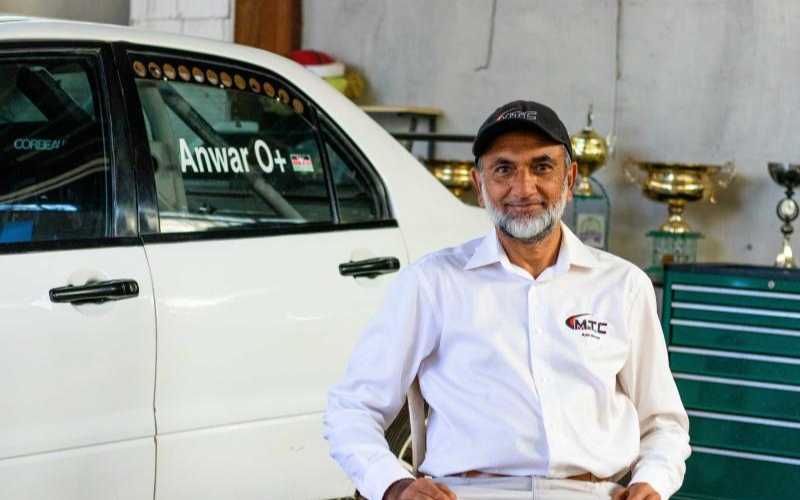 When rally legend Azar Anwar was getting married, he had one request to his mother, who was doing the negotiations for the arranged marriage: "The only thing I told my mum was to tell them that we could talk about other things but they should not interfere with my motorsport. Either they join or they leave it alone," he says.
"Even the marriage date was set between the Coca Cola rally and the next rally," he says as we break into laughter. "So that I could do both."
That is the kind of fiery passion that Anwar has for motorsport. He has been one of the most prolific drivers in motorsport, participating in 26 rallies, more than other greats like Ian Duncan and Joginder Singh. He was also the first person in the world to build a Daewoo into an FIA international WRC - eligible car and he won the 1995 Safari Rally 2WD with that Group N Daewoo Cielo
He's 67 now and was actively racing until about four years ago. He's still in the game, just not racing.
The house takes up part of the land where his home is, but the rest of it is taken up by the garage and a large car yard where the legendary vehicles he has built and won races in over the years sit.
His latest project is in his garage, two of Toyota's latest release - the Toyota GR Yaris, given a rating of 10/10 by TopGear who dubbed it, "the best Toyota we've ever driven." It is a machine out of a rally driver's dream.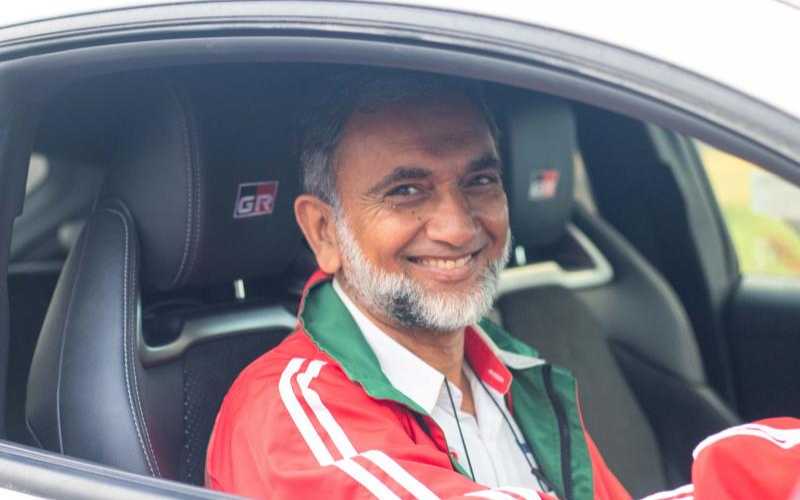 Toyota Japan agreed to send cars to Azar Anwar Motorsport in Kenya for the purpose of developing them for safari rally and Africa motorsport - racing and rallying. These two are the first in Africa. One of them is its original state, while the other one is in the middle of conversion.
This is the culmination of over 30 years of knocking on the doors of basically all major car manufacturers, trying to sell them his dream of localising motorsport in Kenya and in Africa. It has been a long, arduous journey to this point.
My dream
"My dream was motorsport, to be a works rally driver, meaning a paid professional active driver, and of that there still hasn't ever been one in Kenya because we are not at that level. That's someone who is paid to drive, meaning that's his job," he says.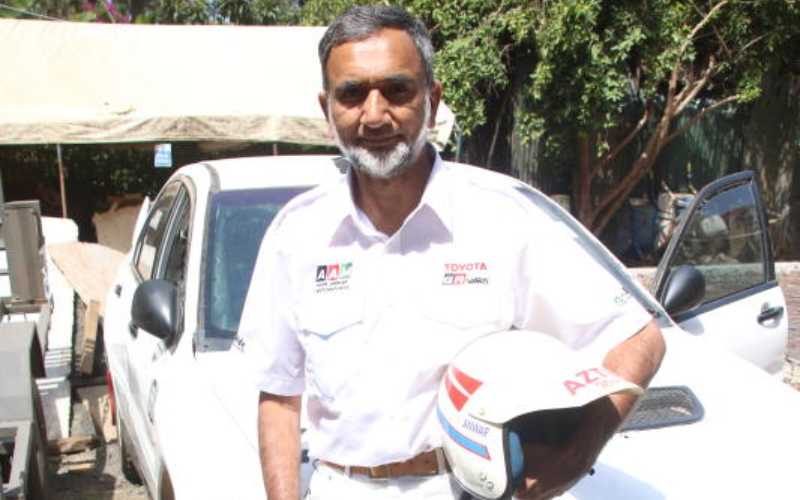 He started driving when he was 10 on his father's farm behind Mt Meru in Arusha, Tanzania. "I would spend all my time studying vehicles, studying the technologies, working on vehicles. For some years my dad had a garage, during the years when he was a farmer. There was a lot of work to be done on tractors, cars, so I was always working on that even from a very young age.
He would drive on the mountain slopes and later on in Mau Narok Hills where they had a farm after moving to Nakuru.  "I learned how to maintain vehicles and drive in bad conditions like mud, rain and so forth. It became second nature to me to be able to keep a car going, maintain it, know how to build it and also how to drive it to get through tough conditions," he says.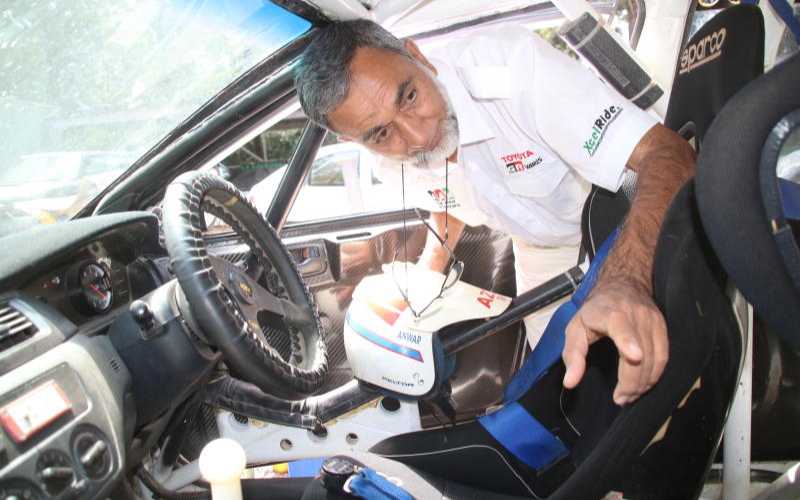 This would come in handy when he started racing, because back then the Safari Rally was all about endurance. 
"The rallies were long and they were very tough, not like nowadays when it's just a sprint. To give you an example, my first rally in 1981 was about 5,600km. For this year's safari rally, the competitive distance is about 300km. It's not comparable.
"Nowadays you also hear that a certain section is flooded, so it has been cancelled. There was nothing like cancellations in those days. You either tried to get through or you waited for that river to go down. You would end up maybe six to eight hours behind the lead car but you were still in the rally and you were still fighting.
"It used to end up being very very tiring for us because sometimes while the top guys got eight hours of rest, we would arrive at the end of a leg and be told, 'Hey, compulsory half hour rest. Get in your car. You are already late for the next leg. Go.' One time I actually slept at KICC on the concrete for half an hour because that's all I could get in five days of racing. The rally would take five days, day and night, over Easter time. It was very hardcore. So just to survive and finish the rally was a very big thing."
Friends and family had discouraged him from getting into motorsport. "They said it was too expensive and we were not people in that sort of league. 
"Motorsport was a huge, huge challenge for me because I didn't have the resources. I couldn't buy the kind of cars I needed, the parts I needed and so on, so I had to be innovative. For my first safari, I drove on retread tires. It was a standard car, a Datsun 1800 and was the only car of that type in the event, but I saw the potential in it. I worked on it and I made it survive the rally.
The reason he can engineer rally  cars from regular cars to racing cars is because he studied mechanical engineering at Nairobi university, which was the closest thing he could find to automotive engineering in Kenya.
"The first car I bought myself after graduating as an engineer was a Datsun 1600, which I thought was a rally car but it was actually junk," he says with a laugh. "Just slightly wider tires but it helped me learn. My salary was about Sh3,600 and I bought it at Sh13,000.
First win
"With that car, I won the Kenya Club Championship, the Training Rally Championship and several other training rallies," he says.
"And that was after fixing it, right?" I ask.
"Of course," he says with a laugh. "All along I would be fixing it."
It was, however, a difficult task for him to compete despite his skills. 
"I had this dream that all I had to do was show that I'm a good driver and that I would get a works drive, meaning overseas teams at that time would come with a lot of resources, a lot of spare parts, nice, well prepared cars and so forth. My dream was to be a driver in those cars. I didn't even want to be paid, I wanted to win with that kind of support," he says.
He rarely got it, and as a result, it took him over 15 years to win a national championship despite knocking on doors, writing applications and looking for sponsorships. 
"But I never gave up - that's the thing. That's what my life was all about. There would come moments when I would be so disheartened because I felt it was energy misdirected and resources that my children and family needed, yet I was using them elsewhere.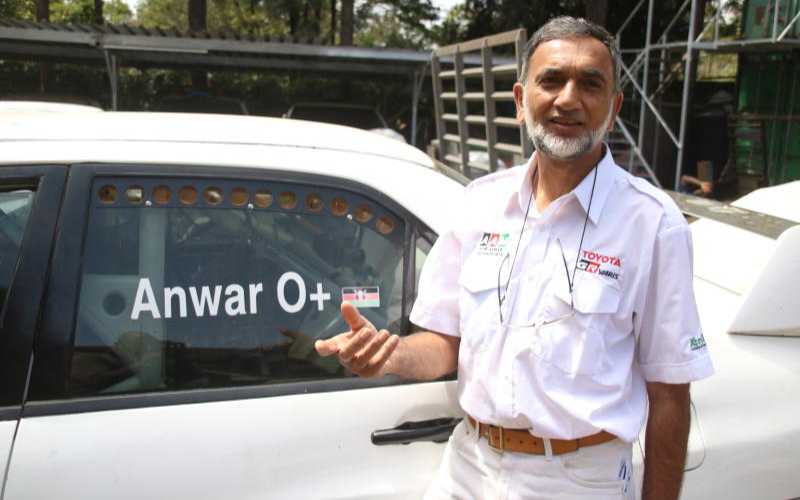 "I needed a reason to continue. Islam says that learning that is useful is second to godliness. Connected to that learning is passing on the knowledge that you have. So less than five years into rallying, I made that my life's ambition. I wanted to be the consummate expert of motorsport. 
"I studied every nook and cranny, everything about motorsport. What makes cars, what brings results, how overseas teams work, how the rallies are organised, what the rules are - everything. Then I made sure I was passing on as much of my understanding and knowledge to other enthusiasts all along."
That is what he has been doing since, and as a result, many of the current recognisable motorsport champions such as Imran Khan, Sam Karangatha and his own son, Shazar Anwar, have him to thank for getting their start in the sport.
New phase
Last year, he set up a website for the Azar Anwar Motorsport Academy for ease of access and with more structure and programs for training, but he says resources and support would make a huge difference in helping achieve the vision, where motorsports gets to the level where that anyone interested could get in.
"We need to localise motorsports. It should not depend on expensive cars and parts and having people from overseas to run motorsport for us. We could even race in tuk-tuks. That would be serious fun and seriously exciting. It would become a mega championship because thousands of people would do it. That's just an example.
"If you use that as a starting point, wouldn't some people shine in those competitions? Some people would build their tuk tuks better. Some people would run their tuk tuks better. Some would drive them better. There, you have a team. 
"The next step you create for them is something like maybe, proboxes - one make series. All proboxes, the government allows you to bring them and the parts for them duty free and so on. And the winners of the tuk tuk championships would run the Probox championships. All this is something Kenyans can already do to an amazing standard.
"Then from there we go up to club champions - low budget rally cars, and you keep going up like that. The steps would be already clear and the opportunities must be very easy for people to get into." 
He says another major hurdle is the rules, making it impossible for all but the wealthy to compete. "The establishment here insists on only one rule, which is the world championship standard rule of safety, reaching that level of safety is usually more expensive than even the car itself for a beginner, so they worry not only about getting the car but also meeting that safety standard. What is lacking is an acceptable Kenyan safety standard that is affordable."