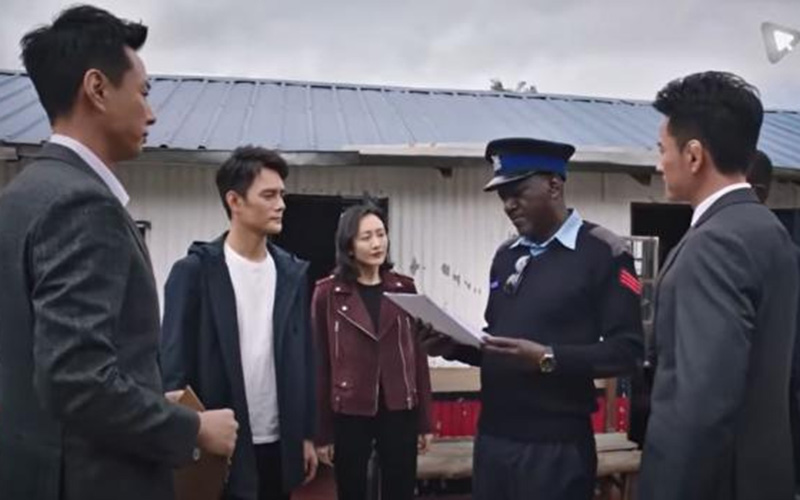 A Chinese national is frantically trying to comfort a hurting lady, who is writhing unconsciously on the ground by the roadside. The scene is around a sub-urban Nairobi setting. Two cops with guns drawn appear behind the couple, then the clip cuts to a mean-looking bald man in a speeding Land Cruiser poised to run over them, only to notice more cops blocking his way with guns cocked as they warn him to pull over and surrender. Taking matters into his hands, the Chinese man grabs one of the pistols from one of the cops, aims and shoots the Land Cruiser as he warns: "Don't kill the man". 
The almost two minutes and 14-second clip has created a buzz on Kenya's social media platforms. It's an engaging breath-taking teaser on a TV series called Hunting about a Chinese investigation team that seeks to track down and capture fugitives who are hiding abroad. The series that whose cast comprises celebrated actors such as Angel Wang, Wang Kai, Liu Yijun and Deng Jiajia has been enjoying a 250 million audience viewership via the BTV-1, Dragon Television Chinese network. 
"We have been filming many international films with big stars like Angelina Jolie both in Kenya and across the world and out of this good network, the Chinese company behind Hunting approached us for the Kenyan shoot sometime in 2019. The team was extremely professional and even had the support of the Chinese Embassy in Kenya. They had a cast of very experienced actors too and this made the project easy to handle," explains Jim Shamoon, the Managing Director, Blue Sky Films, the production company behind the filming in Kenya.
Jim says it was exciting to shoot the series and work with a technical team that was largely Kenyan including acts like Derrick Assetto who took part in the filming as the lead actor and 'gangster' for the storyline shot in Kenya. Taking advantage of his personal and company's experience and networks, Jim says it was not hard to get a license to shoot the film especially factoring the fact that they had to use firearms and explosives as well as the services of real police officers.
READ ALSO: Kenyan films streaming on Netflix now
"After translating the script and identifying shooting locations such as Ngong' road and Kona Baridi where some of the scenes were filmed, we took two weeks shooting the series that in my estimation could have cost slightly over Sh100 million. Last year, we filmed one with a French company whose budget was close to Sh300 million and through this experience, and others, people learn to trust you with big-budget shoots," Jim, who is also a former chairman of the Oscar Nomination Committee for Kenya as well as the vice-chairman of the Kenya Film and TV Professionals Association says.  
Assetto says he had a good experience playing his role in this film, despite a few translation problems that took him some time to understand. The 44-episode series by Blue Sky Films, made with support from China's Ministry of Public, is based on true crime stories and is one of the most-watched TV series in China. Don't beat yourself up if you have not watched the film. It was intended for Chinese television, although it would be available for the international market.
In May last year, Shen Shiwei, an international news editor, columnist and commentator for China Global Television Network (CGTN) under China Media tweeted, "Ep 37, 38 & 39 of 1st ever #China #Kenya cooperated TV Series, Hunting, are on hotline."
It's part of China's foreign policy for state employees to push the agenda whenever they can.
Season one of Hunting was shot for 123 days in 2019, 59 of those days spent in Kenya and the Czech Republic.
"The Chinese were shockingly accommodating and they work very fast and are very professional. They are workaholics and there were no delays in the shoot. Everybody on set has an assigned role and there is no confusion," remarks Assetto, who has appeared on among other productions, African Mourn Amor, Sense8, Rafiki, The First Grader, Taking the Flak, and Survivor Africa: Panama reality Show
According to Assetto, the foreigners were very impressed by the hardworking Kenyans on set and expressed their shock at the culture.
READ ALSO: 40 Sticks: Another local movie debuts on Netflix as sector revamps
"I don't know what (government) authorities do, but they don't market Kenya at all. There is a very negative perception of what to expect when such production companies come here, but in my experience, these foreigners get shocked all the time at the amount of talent available and our levels of commitment," notes Assetto, remarks that Shamoon supports.
"Since then we have received many queries from other Chinese companies who want to film in Kenya and as it seems, there is more business on the way. Kenya is a great filming destination and international movie makers are discovering that we have experienced actors as well as technical personalities here who can play major roles in their movie-making and all they need is just a few high-end production crew guys to assist from their end," Shamoon affirms.
 Shiwei's Tweet revealed more, "Kenyan actors and police are brilliant! Chinese are getting to know more about Kenya."
Shiwei probably meant the film scene, considering his countrymen have been living amongst us for decades now, building roads and other infrastructure projects.
"I learnt a lot because the lead actors were very good at trying to get the best from each of us. They let you learn a lot on location, and the fighting scenes were very physical. You have to be fit. They don't compromise," said Assetto, the archetypical gangster in almost all his casts.
Blue Sky Films is a Kenyan company that has been facilitating and producing outstanding film and television shows throughout East and Central Africa for over eighteen years. Its portfolio comprises a wide range of productions ranging from television commercials to reality shows, documentaries, music videos and still photography shoots, to facilitating the production of major Hollywood films, such as The Constant Gardener, Tomb Raider 2: Lara Croft and the Cradle of Life, The First Grader.
The auditions were held in Kilimani, a neighbourhood that has its Chinese eco-systems, including restaurants and casinos, and is largely considered a favourite for them. Chinese films have been a part and parcel of the country's foreign policy. The film industry is considered important in spreading Chinese culture around the globe. In a June 2019 article, Quart Africa contributor Yu-Shan Wu predicted that the theatre would be the next target for China to dig deeper roots in Africa, as a way to achieve its interest.
READ ALSO: Celebrated Bollywood producer set to film in Mombasa
While stories about China's economy centres on a slowdown, China's passion for movies, at home and abroad, follows a much more optimistic plotline. Its growth has been phenomenal, outperforming China's traditional industries, such as manufacturing. Many experts believe China is on track to have the largest film audience in the world, that according to a study carried by the Wharton University of Pennsylvania.
"The entertainment industry is a sunrise industry in China, while the steel industry is a sunset industry. The growth potential for the entertainment industry is still huge, despite a high growth rate of 17% (per year) in the past five years," says Z John Zhang, Wharton marketing professor. According to Zhang, the media and entertainment industry is worth $180 billion (about Sh18,000 billion) in China.
"Many sectors of the Chinese entertainment industry are growing well into double digits on an annualized basis, despite the slowdown in the overall economy. China's steel industry by contrast is operating at only 70 percent utilization, with roughly 400 million tons of excess capacity. Neither domestic nor international demand will fill that gap," says Gordon Orr, senior advisor to McKinsey and Co. who is projecting that China's film audience size will exceed that of the U.S. in four years, according to the Wharton report.
By investing in media houses in Africa, real estate projects, the hospitality industry, fashion boutiques, mega construction projects, and now in the arts, the Chinese expansion into Africa has gained full steam.