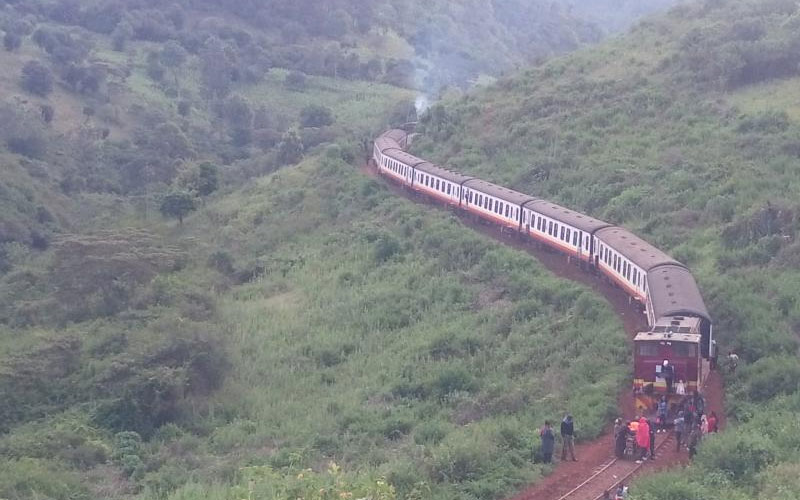 On Friday, Boniface Maina booked a train and embarked on a six-hour journey to Nanyuki from Nairobi. Having relocated from the city to Nanyuki, he thought it would have been a nice experience to take the ride in the recently-revived train services to the Mt Kenya route. It was his first time to board a train and given the trip's schedule, Maina was ready for some good adventure at an unbelievable Sh200 fare. However, his joy and excitement was cut short a few minutes to 6pm when the Nanyuki-bound train suddenly stopped in the bush near Kagumo High School in Nyeri.
"No one was willing to explain to us what had happened. The conductors would walk from one coach to another saying nothing on why we were not moving," recalls Maina.
They only got to know that the engine had failed and the train ran out of fuel at about 8pm. Being in the middle of nowhere, Maina and his co-passengers did not know what to do.
READ ALSO: Nanyuki train stalls with 1,500 on board
"I didn't even know where we were. Dusk set in and we had no option other than sit and wait," he says.
Ideally, this should be a six-hour trip from Nairobi to Nanyuki but some eight hours later, the travellers, stranded and scared, were still far away from their destination.
"Women who had children got it rough. It was cold and most of them had finished snacks packed for the journey," Maina says.
He says some four foreigners who were on board however got help to get to the nearby Nyeri-Nanyuki highway, where they got alternative means to their destination. Anthony Theuri, a businessman in Nanyuki, says tired of waiting, he trekked in the bushes to the tarmac at 1am in the company of five other people. He says the two-kilometre walk was scary, but villagers who had been alerted of the train hitch guided them to the highway.
"I requested a friend in Kiganjo to come pick me up. I got to Nanyuki past 2am," says Theuri, adding that he paid Sh1,500 for the taxi.
Theuri had boarded the train's first-class cabin and paid Sh1,000. What annoyed him to the point of seeking alternative means in the middle of the night was the disappearance of the crew, who left passengers stranded and scared.
"Most of them left because the passengers were really complaining. Some police officers who had been called from Kiganjo to man the train also left, with only two officers remaining at the scene," says Theuri.
On Saturday morning, 12 hours later, the locomotive and hundreds of passengers on board had not moved an inch. Frustrated by the adventurous trip turned awry, Maina and scores of other passengers walked from the bushes to the highway to catch matatus to their destinations.
"We left some passengers who had luggage," he says.
READ ALSO: Scare as newly-acquired Likoni ferry stalls mid-stream
On top of the Sh200 he had paid for the trip, Maina paid an additional Sh300 matatu fare. He got to Nanyuki at 10am, about 24 hours later. The passengers who remained in the train were picked up by buses at 10am on Saturday. In the stalled train, passengers who had booked first class coaches had to join passengers in the business class after lights went out in their cabins. The Kenya Railways Corporation management later released a statement on the incident, saying it was a mechanical problem that was later rectified. The statement also said buses were sent to evacuate stranded passengers.
"We profoundly regret the unintentional incident yesterday where the Nanyuki bound train stalled for several hours. We wish to confirm that the incident was reported immediately to our command centre in Nairobi and a rescue operation initiated. The corporation also dispatched the Nairobi Commuter Rail buses, which were used to ferry most of the passengers to their destinations," read the statement.
The Friday incident was not the first time the locomotive had stalled and left commuters stranded. A similar incident occurred last December on a trip to Nairobi from Nanyuki. And in yet another incident, a train ferrying students from Nairobi to Nanyuki on schools opening day on January 4 arrived late in the evening, leaving hundreds of the learners and their parents stranded.
"Travelling by train is cheap and adventurous, but more mechanical works need to be done to avoid such inconveniences," said Maina.
Kenya Railways runs two trips in a week, one from Nairobi to Nanyuki every Friday and another from Nanyuki to the city every Sunday.
"Kenya Railways would like to reiterate its commitment to serve its customers efficiently. Consequently, a more robust plan has been put in place by our engineers to avoid a repeat of a similar incident in future," read the statement.
The locomotive returned to Nairobi on Sunday morning with passengers travelling back to the capital city.