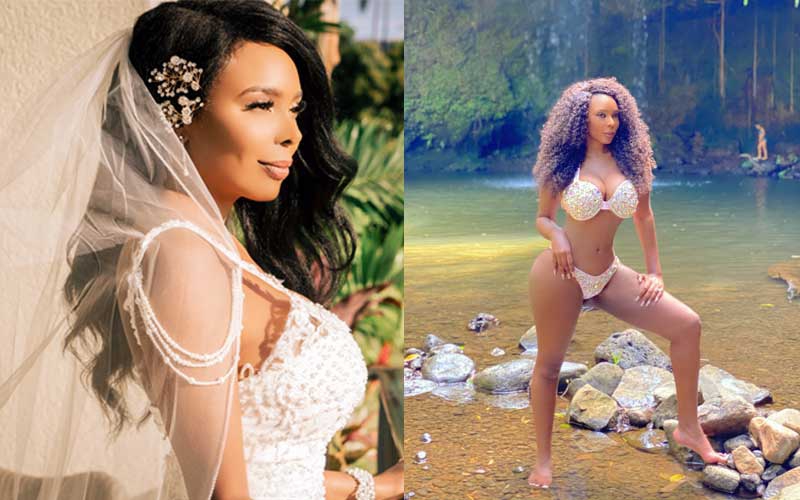 In this exclusive interview with Stevens Muendo, Hollywood-based 33 year old former Miss Universe Kenya Rachel Mbuki Marete, now Litvishkova, gets up-close-and-candid about her recent wedding to Russian fiancé, a failed past marriage, her plastic surgery and life with celebrities at her Beverly Hills hood as well as her Tanzanian father.
Late last year, former Miss Universe Kenya, Hollywood-based celebrity TV reporter Rachel Marete stirred social media after a tease. It was a photo of her in a wedding gown with her preferred honeymoon destination, Makena Cove beach in Maui, Hawaii. For such a vocal and well-celebrated Kenyan who has been operating within Hollywood's celebrity circles, this was no doubt a big hint that the 33-year-old was set to tie the knot. Months before that, a lot seemed to be going around her health as she shared images of her triumphant weight loss after sudden massive weight gain. She also opened up about having plastic surgery 5 years ago to achieve her hourglass shape which she temporarily lost to the weight gain.
For a black woman born and raised in Kenya – and one who has been hobnobbing with all international showbiz stars as she reports everything showbiz; Los Angeles Fashion Weeks, movie premieres, NBA All Star games, Victoria's Secrets fashion show and even the Academy Awards pre-show red carpet – the new developments were the clearest hint that Rachel was making major transitions in her life. Besides, hardly had she ever opened up to the public about her love life and relationships since moving to Miami, and then Los Angeles in 2007 after high school. Come November last year, she dropped her last name. She transitioned into Mrs. Litvishkova. Russian! Then silence.
READ ALSO: Rachel Marete slams Kevin Hart as the Ellen show debate rages
"Let us talk about the new complicated new last name now," she chuckles after we set the tempo, a direction that clearly gives her a hint of what our online interview is all about; her private life. Besides, the seasoned journalist she is – one who prides herself of having three degrees - she can effortlessly decode. We are here for the untold story.
"I dropped my family name, Marete and adopted my husband's Russian last name. Yes, I am now married if that is what you truly want to know. His last name is Litvishkov. I have been with this man since I was 21 years old. When we met, I was a model living in Miami. The year was 2008. What people don't know is that I was married before," she reveals.
Who would have imagined the model had been in a past relationship and marriage that ended bitterly without it leaking to the paparazzi? Why did the two even part ways in the first place?
Broken marriage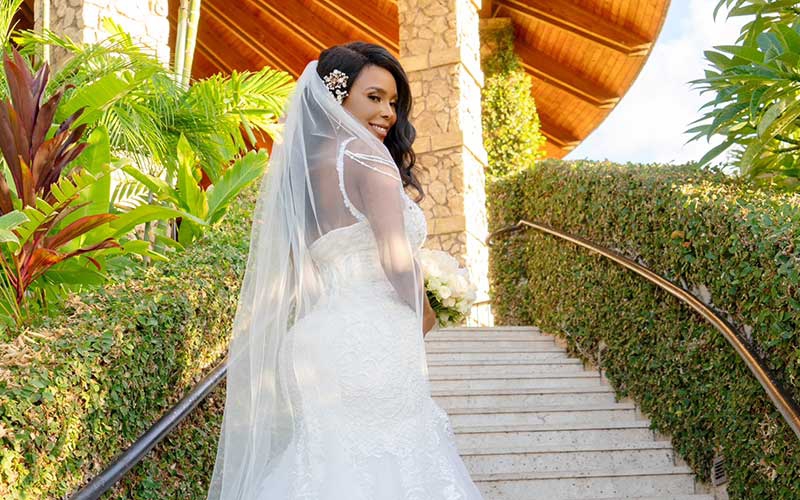 She informs us that she had just left her first husband after a disastrous five-month marriage when she met her new man. It was nine months after the painful breakup and she had sworn to never get married again.
"Back then, after leaving my traumatic first marriage I swore that I would never get married again and I told my husband, then boyfriend, so. He accepted the verdict. After five years of being together, when we were 26, as we're the same age by the way, he asked me to marry him and I turned him down because I still felt like I didn't want to get married.
"However, by the time I was 29 wanted marriage and I expressed as much. One year later he proposed. That got me by surprise," the eloquent and charismatic Rachel remarks.
READ ALSO: Rachel Marete wows at the Oscars
That year, she had spent six months going back and forth from USA to Kenya where she had opened a store, Mbuki's Closet along Ngong Road, Nairobi. They had a brief break up during that time and she even considered moving back to Kenya for a couple of years. Another heartbreak was eminent as the relationship was on the rocks.  One Sunday morning while she was in Nairobi, they made up over the phone and Litvishkov flew to Kenya where the lovebirds had a vacation at Diani in South Coast. That's when he popped the question and little did she know her mother knew about the new developments as she had been communicating with her daughter's fiancé secretly.
"The wedding was actually supposed to be in July (last year) but Hawaii had closed its borders thanks to Covid-19. As soon as they announced they were reopening in October, we were set for our wedding. We got married in a beautiful traditional Hawaiian ceremony on the famously beautiful Makena Cove beach in Maui Hawaii. He booked us into this amazing hotel called Hotel Wailea. It's ranked one of the top 21 most romantic hotels in the entire world! We got married two days after our arrival and spent three weeks there for our honeymoon as well. Words can't describe how beautiful that whole experience was. It was magical. I felt so lucky," a rather excited and smitten Rachel chimes.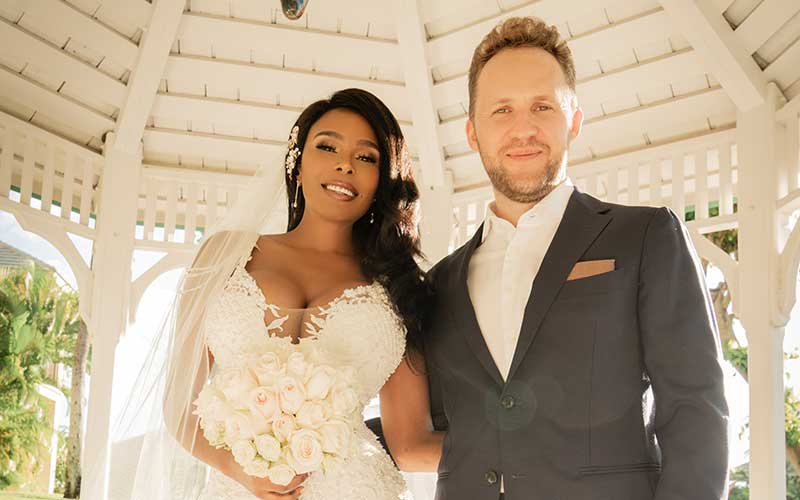 Tanzanian father, plastic surgeries
Besides the wedding, Rachel opens up about on other personal secrets. Even though she has in the past hinted of having Tanzanian roots, the fact that she is a politician's daughter has never been revealed.
"I was always afraid to talk about my father so as not to hurt my mom and family. But now that I'm older I see that it is my story to tell and it is okay. My father was a Tanzanian politician Member of Parliament named Chacha Zakayo Wangwe. He passed away in 2008.  I have nine half siblings in Tanzania that I never met because after his marriage with my mother ended, he moved to Tanzania and had several more wives so I'm not a last born like people think. Papa was a rolling stone! It's interesting," she lets on.
READ ALSO: Former Miss Universe Marete launches fashion line
Then, the final issue- plastic surgery.  She says she had a massive 40 kilograms weight gain between 2018 and early 2019. As a former model, who never had weight issues before, it was a very hard time for her, she notes. Rachel says that she fought very hard to get herself back mentally, emotionally and physically.
"Mind you, I had all my weight gain after my plastic surgeries so people should know that it's not a weight loss solution but just a way to enhance your figure. 5 years earlier I had liposuction sculpture to suck out all fat from my waist area and make my body look more voluptuous. I also had breast implants done. I ended up gaining the weight years after the surgery and had to work very hard to lose it the natural way".
"I actually need to have my breasts redone because the weight gain and loss changed them so I want them how they were before. I always had an hourglass figure but it's now more extreme and I love it," she says, wondering what the fuss on plastic surgery is all about.