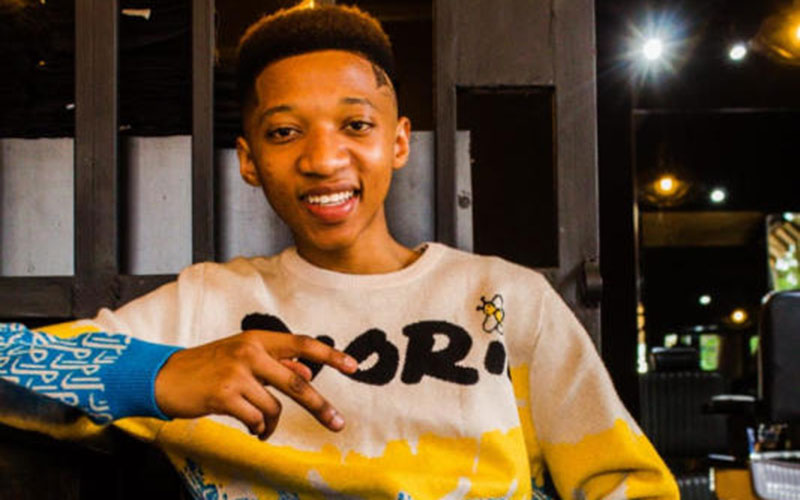 They say big things come in small packages, and true to this testament, Trio Mio impeccably lives up to that saying.  Mid-lockdown, Kenyans didn't have much to keep their spirits up, then came the music shining light - Trio Mio. Trio, a viral star on social media courtesy of his bursting freestyles, short stature, and innocent tone was talking a big talk, commanding language effortlessly, and surprisingly not even spewing a dot of vulgarity in his delivery. The last time any of this was ever witnessed, goes as far back as the one and only Kenyan, the late urban legend E-Sir.
Lockdown sensation
For Trio, he has been home with school closures joking he could have easily been in preps, but instead he was watching his older brother rapping to beats on YouTube. After soaking up inspiration like a sponge, he gambled to pursue music as a hobby and has never looked back. While at home, he began sharpening his music sword, recording, and in the process, became a 'lockdown Internet sensation'.
"I've been rapping since I could talk. Just kidding. I started rapping at the age of 10," The Niko Busy artiste tells Standard Entertainment & Lifestyle. "At the time, I was rapping along to songs by my favourite artistes.
"Watching my brother and his friends rapping to instrumentals on YouTube is what inspired me to take it seriously, that's when I started to compose my own songs. The pandemic allowed me time to record these songs since schools were closed," says the adroit young man who resembles the late E-Sir.
READ ALSO: Top young artistes Kenyans should pay more attention to
According to him, he is from a humble background. He has two sisters and a brother.  His parents have brought him up to do whatever enlightens his soul with passion, and that is how he would describe himself in a nutshell. His dad is of Italian and Congolese heritage, while his mother is Kenyan. Music flows in the family as his dad is a musician too.
"My folks love lingala music, and that dominated the playlist in our home," says the short and lyrical maestro. "I listen to a lot of rap/hip-hop from all over, a genre my bro put me on to. I also vibe to Caribbean music, Koffee being my favourite."
The come up
With his elder kin Bigting AP giving him a launch pad with the knowledge and energy to go on and thrive, the rookie artiste started going to the studio five months ago.
"I released my first song Vile Inafaa/ Bazenga produced by JB five months ago. Stepping into the studio for the first time was jittery, but I was ready. I'd been sitting on finished tracks and it was time to share my talent with the world."
With most people at home browsing the web for content, his scathing freestyle videos full of witty lines, a young silvery voice, the teenager started to spread all over Instagram, TikTok and Twitter and getting regular rotation on the streets. The creative rhyme machine looked like just another internet character to many; the ones that come and go as soon as they arrive.  Persistently, he continued churning out various videos and rap music content with ease, an art that is hard to come by nowadays in an era where rap music's potency is becoming extinct.  He is talented and exudes rapping prowess, fearlessness and maturity has made him stand out in an era of clout chasing rappers.
Big shots like Nyashinski, Khaligraph Jones and Bien-Aimé Baraza were wowed by this, and helped push his viral videos to their respective audiences, at about the same time the music video to the anthem Cheza Kama Wewe started doing the rounds.
"The support has been surreal. I've done collabos with household names; Young Lunya (TZ), Mejja, Exray, Nelly The Goon, Okello Max. My career is five months old, it's all I could wish for."
Son Of The City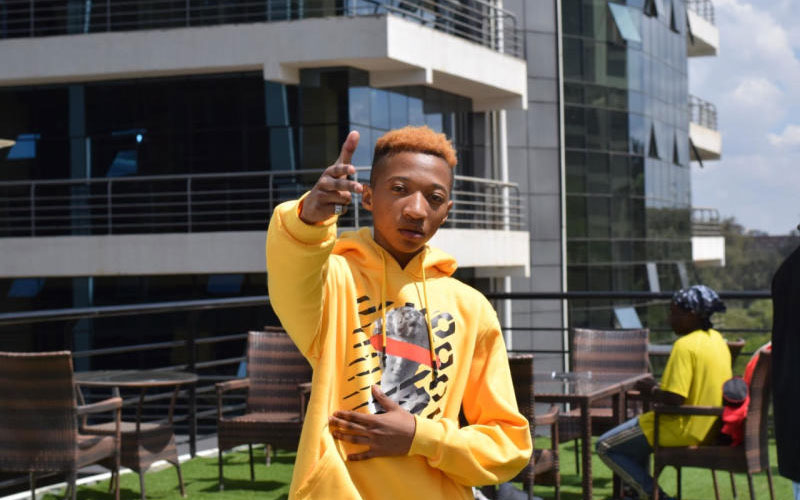 After getting his breakout record Cheza Kama Wewe remixed by serial hit-makers of Kenyan music, meeting idol Khaligraph Jones, performing at Nai Fest and Just A Vibe concerts, he has been riding high, and set to capitalise on this purple patch with an EP and a launch lined up. Many industry heads from media, music and showbiz turned up at the elegant Rustic Pipe Bistro KE to support the next big thing in Kenyan music. In his eyes, he sees this as a moment to live in and not get carried away by pressure.
"The only pressure I feel is to best my past work, my past self. I'm only competing with myself to be better than I was yesterday in everything I do."
ALSO READ: 6 Kenyan artistes who need to pull up their socks
Even with early comparisons drawn to the likes of E-Sir and Nyash, he is humbled to be mentioned alongside such icons in Kenyan music, but he is writing his own story.
"It's humbling and flattering, I didn't get to witness his (E-Sir's) music. I'm only 16, but his music has lived on and I know what he meant to my elder siblings and cousins, and Kenya as a whole. He's legendary and hopefully I get the opportunity to continue his work."
As we speak, he is in a Zen mode receiving a lot of media coverage, and constantly with phone in hand and his team paraded around him making sure everything is right with their star. He believes in his talent as he optimistically speaks of the future: "Expect soulful music, bars and flows you never knew existed. There will be surprise collabos from your favourite artistes, and a heck of a journey ahead," he maintains.