Putting food on the table has become an uphill task for many Kenyans. But being the entrepreneurial lot that they are, Kenyans, perhaps inspired by the adage "man must not only live but live abundantly", stop at nothing to make ends meet. Unemployment has pushed many into creative manoeuvres and unorthodox out-of-the-box tactics to earn an extra coin. Forget the crooks who engage in illegal enterprises such as pickpocketing, ngeta (choke-hold) artists who rob people along dark alleys at knife or gunpoint and con artists. There are some strange jobs Kenyan do to feed their families that would shock you.
1. Matatu fillers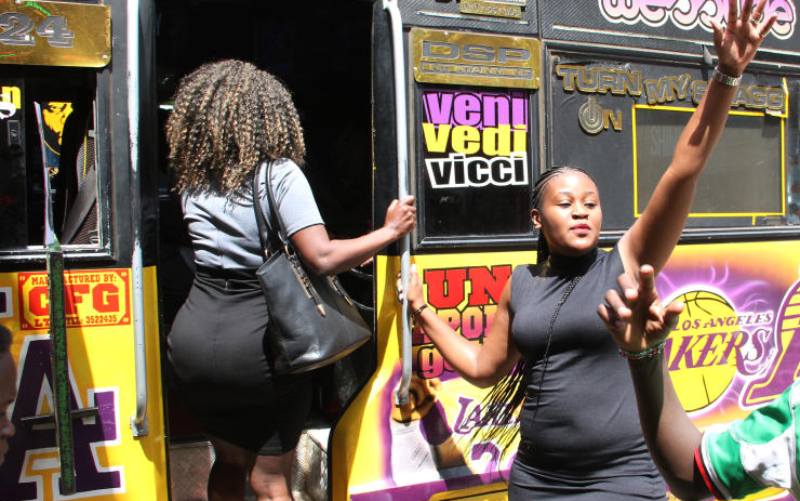 Forget the rough and noisy touts who get paid to holler at passengers to get into matatus. We have young men who fill up unoccupied matatus to create an impression the vehicle is full and just about to leave the stage. You have probably heard a tout shout, "Wawili... wawili ... wale wa haraka wa mwisho... (The only available space is for the last two who are in a hurry)", only for you to get into the matatu and see some 'passengers' disembark one by one? Well, for the uninitiated, those are not commuters, but matatu fillers who get paid for that gesture.
"We make Sh10 to Sh20 each time we 'fill' a matatu. In the morning hours, I can sit in ten matatus," says John Karis, who plays his trade in Nairobi's Githurai estate and makes approximately Sh500 each day. He says business starts booming around midday when there are hardly any commuters.
"We become very instrumental around 10 o'clock to midday because there are very few people going to town around that time. Most drivers and touts become desperate for passengers around that time," says Karis, who is married and a father of a nursery-going child. Strange as it may sound, Karis, just like any serious Kenyan, wakes up as early as 6 o'clock and reports at the bus stop. At the Githurai roundabout stage alone, Karis says he has tens of colleagues with whom they do the job.
2. Housesitters
In Nairobi, if you live in a secluded leafy suburb and plan to travel for a while, we now have bureaus which not only hire out house helps but temporary house sitters. These individuals are hired out, not to cook or clean in clients' houses. All they do is laze around, eat, entertain themselves with music and TV and keep the house in 'occupied mode' when the rich owners are away. This is aimed at warding off crooks who target unoccupied homes or anyone with ill intentions, including neighbours.
READ ALSO: How unemployment crisis has forced girl to stage bizarre shows
3. Sperm, egg donors
Desperate to make money, some young university students in Nairobi have turned to sperm and egg donation. Some time back, single women who wanted children, but didn't want to get married had a hard time getting the right sperm. Some had to blackmail men they suspected had better genes to sire children with them. Or reluctantly drag potential sperm donors to the nearest VCT, sire children with them and dump them!
But thanks to Kenyatta University, University of Nairobi's school of medicine and Kenyatta National Hospital, Kenya now boasts of thriving sperm banks, where individuals aged between 21 and 35 secretly patronise to 'donate' the all-important seed, of course, at a fee.
"On a good day we get between 15 to 20 sperm donors, and the most common method of extraction we use here is masturbation," says a sperm bank lab technician at a local university. He says the only requirement is good health.
4. Queue place holders
Nairobians will stop at nothing to make their daily bread. Take, for instance, what my colleague experienced during his last-minute dash to file Kenya Revenue Authorities tax returns. If his story is anything to go by, then, Nairobi has professional 'line-standers'.
"Just when I expressed my disappointment over the long, slow queue, I immediately got approached by a gentleman who was just hovering around, asking to hold the line for me at a fee as I went running errands in town," says the journalist.
"I thought it was a big joke, but it turned out to be real. We exchanged numbers and as I was handling my other businesses, he kept updating me how short the queue was getting. I gave him Sh300 after I returned almost over three hours later," says the journalist. With Kenyans' fondness for last-minute rushes when beating deadlines, professional 'queue-standers' could be making a killing, save for the fact that they don't advertise their services.
5. Naked dancers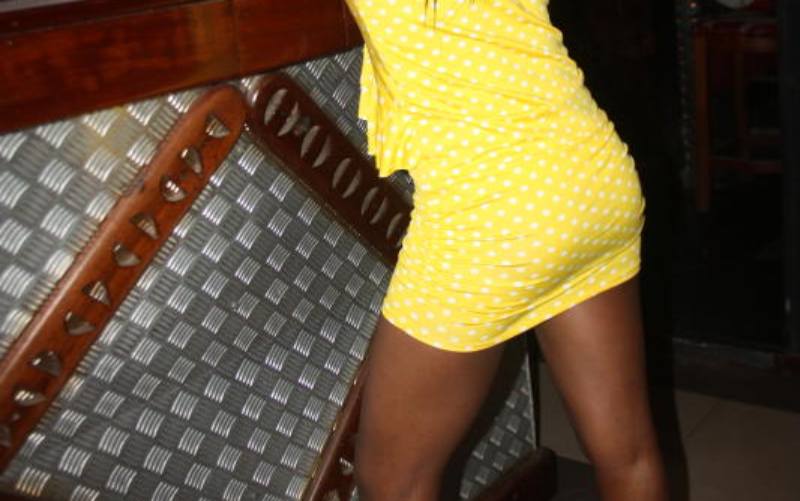 If you thought getting to 'work' naked is a preserve of night runners, think again. Nairobi is now littered with young women who dance naked to make ends meet. If you are the conservative type, a venture at Nairobi's downtown at night will offer shocking revelations. Besides prostitutes, there is a group of women whose job is to go round night clubs dancing in their birthday suits. "I strip-dance at close to three clubs every night from Wednesday to Sunday," says a woman who only identifies herself as Miss Babes. She says besides a retainer fee of Sh500 per night she gets from some of the clubs, she offers lap dances to party-goes ranging from Sh200 to Sh500 each.
"A lap dance can last between ten minutes to half an hour, depending on the client's choice and pay. Some will buy you drinks and ask you to keep them company for hours," she says.
She says their core business is to dance naked, but once in a while some clients normally demand more than that."Sometimes, we offer more than dancing in the nude, but that costs an arm and a leg, between Sh1,000 to Sh5,000 depending on the client," says the stripper, who claims to be a single mum and makes so much money that she affords a house girl who takes care of her kid when she is working at night.
READ ALSO: Five key reasons why many Kenyans are unemployed
Babes says her regular interaction with men has seen her get invited to exclusive high-end parties to dance naked, obviously, at a fee. On getting embarrassed for dancing naked, Babes says she feels nothing.
"It's just a job like any other. The way some people chose to be secretaries, nurses or gangsters, I chose dancing in my birthday suit," giggles Babes, who claims the only qualification for her job is a curvy body, firm mammary glands and seductive mischief.
6. Cuddlers for hire
At the Kenyan coast, they have taken the game a notch higher. Some young men get hired by ageing female foreigners to not only satisfy their sexual needs but to cuddle with them when they feel lonely.
"Some mzungu clients pay up to Sh5,000, just to be cuddled for comfort and made feel wanted for an hour or so. Despite this job involving strangers in bed or on couches, it has a downside in that either party at times gets carried away emotionally, with one thing leading to another. And before you know it, you end up making love," says Hamza Charo, a self-proclaimed professional cuddler, based in Mombasa.