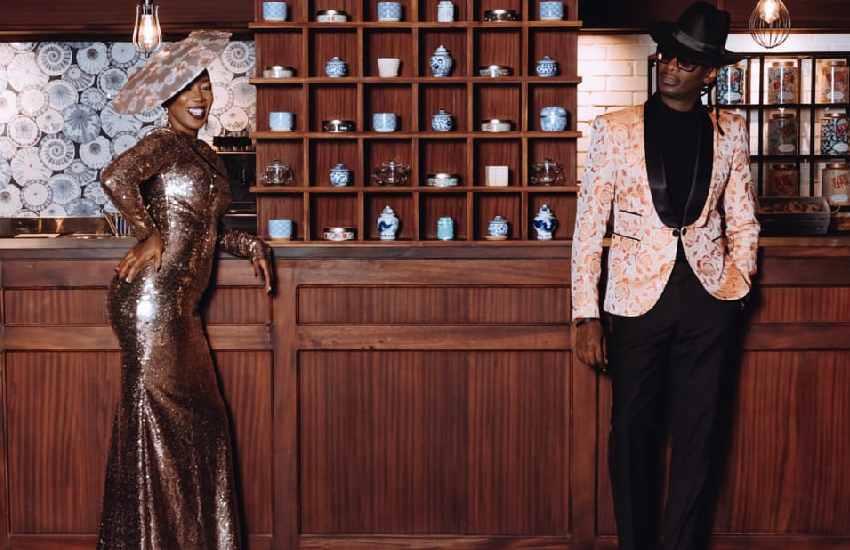 It all started in 1998. Though it has not been a walk in the park, the passion that kept David Mathenge alias Nameless and Wahu (Rosemary Wahu Kagwi) going in university, is still alive. From their university days when Nameless had just started singing before meeting Wahu, to the challenges they have experienced while learning the ropes in marriage, for the Mathenges, life, has been a roller-coaster.
The singer whose Megarider hit was one of the breakthrough songs that year says he was not the 'Nameless' we know today. He jokes how he felt low on analyzing his performance and reminisced how a star-struck Wahu encouraged him on, saying it was a great show. "I knew she was just saying that to make me feel better but I fell for her at that moment," Nameless recalled with nostalgia. On Boxing Day, three months after the show, they had their first date at a popular fast-food spot in the city. 
"The date was actually interesting. There were no mobile phones then and you had to plan to meet and hope you don't get bounced. There was no other way of reaching each other unless you met at the exact spot you had agreed to. I remember how Wahu came one hour late. I had to patiently wait not knowing if she had changed her mind or if she had gotten into trouble. I didn't have much besides the cash I had for our chips (snacks) and I was forced to drink a lot of tap water to keep busy as I waited," said the Letigo crooner before bursting into prolonged laughter.
Read Also:How we met - Wahu came an hour late to our first date - Nameless
Reflecting on the moments that have defined her life, marriage to Nameless and motherhood, Wahu pointed out that they were honest to each other and did not complicate their relationship. "Courtship was honest fun. Nameless and I were young, happy and good to go. Besides, we were carefree. We were simple and did not complicate things besides enjoying each other's company, no matter what," reflected Wahu with a chuckle.
"I have fond memories of the wedding day especially the sight of the arrival of the bride on the boat and the great performances from our friends; Eric Wainaina, Mercy Myra and Amani at the church. Wyre dedicated a song to Wahu at the reception and that night we had the Kleptomaniax, CMB Prezzo, Bamboo and Fundi Frank join the party. Then there was Redykyulass who made a surprise entrance during the reception making the highlight for us and the guests," said the Deadly hitmaker as he opened up about their exquisite lake-front wedding in Naivasha.
The power couple admits that balance between their celebrity and private life has not been easy. Describing it as a continuous learning process, the lovebirds say that they take time to define what's important to them and to agree on what encompasses quality of life. They admit that they don't always agree on some issues but maintain respect, regardless, which they note is crucial in their relationship. "Agreeing on perspectives is not an easy task. You require high patience and understanding. However, we have navigated through and balanced our public and personal lives. The good thing is that we have definitely grown, as individuals, which has also helped us grow as a couple and as parents," noted Nameless.
"A book that has helped us navigate this union is "Seven Habits of Highly Effective People" by Steve Corvey. We try to follow those principles in all that we do. I call that book the emotion intelligence Bible. In marriage, you need to raise your emotional intelligence if you want to improve the quality of the relationship. There are no shortcuts to that. That is what our experiences have taught us. We are continually trying to grow as individuals so that we are better partners and parents. We strongly believe in independent thinking and wisdom and keep looking for the tools to help us psychologically grow and understand our different personalities and perspectives," shared Wahu.
Read Also: Nameless' message to wife Wahu as she turns 40
On parenting, the celebrated songbird who has since ditched secular music for gospel underscored, "We believe in conscious parenting were we strive to create an environment that allows kids to freely express themselves. We guide them to discover their gifts and passions. For us, it's all about helping them become independent thinkers who are allowed to question even their parents and authority but respectfully. This also helps us as parents grow and learn from the kids themselves. They are both very creative and sensitive. They are still discovery their different passions so we are allowing them to explore."