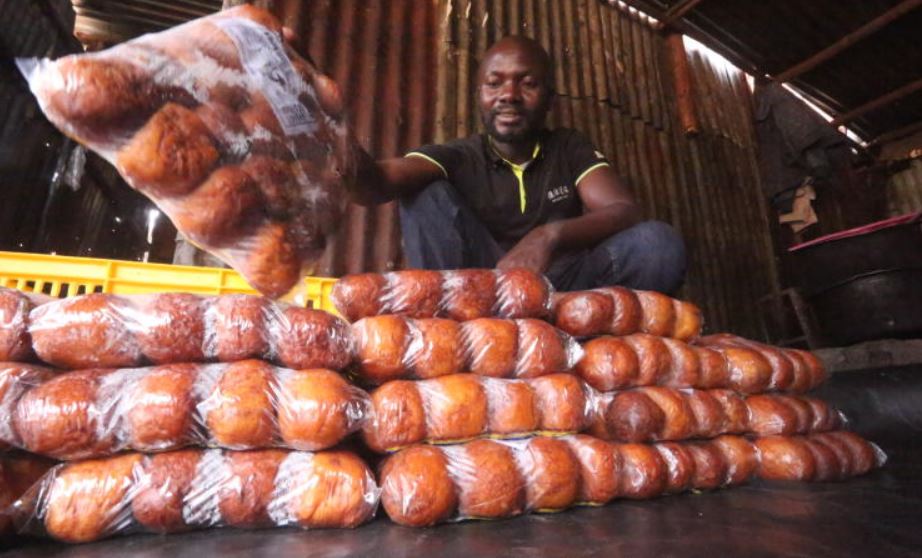 Seven years ago, Callistus Oketch nearly lost hope in life after falling sick and was laid off from his workplace over health complications. News that he had been sacked came just after he had recovered. It was a blow that could have broken a less-determined person. Not so for Mr Oketch, who decided to rise from the ashes to start a successful mandazi business. With just a kilo of wheat flour, Oketch, 40, started making mandazis at a small container shop in Dunga estate in Kisumu Central sub-county.
Today, he owns Summer Mini Bakery where he prepares mandazis and supplies them across the country. Oketch, who was working as a chef at a renowned hotel in Dunga, started experiencing back pains which could not allow him to stand for long. In May 2014, the pain became persistent and resisted all pain killers. After visiting a private hospital, the father of seven learnt he had a crack in his spinal cord, with further diagnosis revealing he had spinal tuberculosis.
ALSO READ: After getting fired, I found success making leather soccer balls
He was put on medication and continued with his duties as usual, unaware of what was to come. His condition worsened, forcing him to visit the hospital again. The doctors advised him to take a bed rest. In the initial stages of having bed rest, Oketch started feeling numbness in his body and was bed-ridden for three months. After several months, his legs became weak and he had to hold on to things in the house as part of training himself on how to walk again. It would take him another three months before he could walk on his own again. It was during this time that he was laid off.
"I tried following up on the status of my employment at my workplace but I found out that I had been replaced...," Oketch, who didn't have another source of income, said. He said he got his last salary when he was being bed-ridden for the first two months and never heard from his former boss again. Oketch used his little savings for medication and at one point, his mother had to sell off a goat for his treatment. His wife's menial jobs could not sustain the family and sometimes went for days without food.
ALSO READ: Tabitha Karanja, a Kenyan success story
In 2015, even before his full recovery in 2016, Oketch opened a small container shop after trying different ventures that failed. With a kilo of wheat flour, he bought at Sh75, he started baking mandazis at the container shop. He soon started buying bales of wheat flour as the number of customers increased. He hired three motorcycles to supply the mandazis to his customers.
Today, he supplies mandazis to as far as Uganda. He has 56 employees. Before Covid-19, he would bake 62 bales of mandazis a day and make daily sales of Sh250, 000. That has since dropped to Sh50,000 because of the virus.