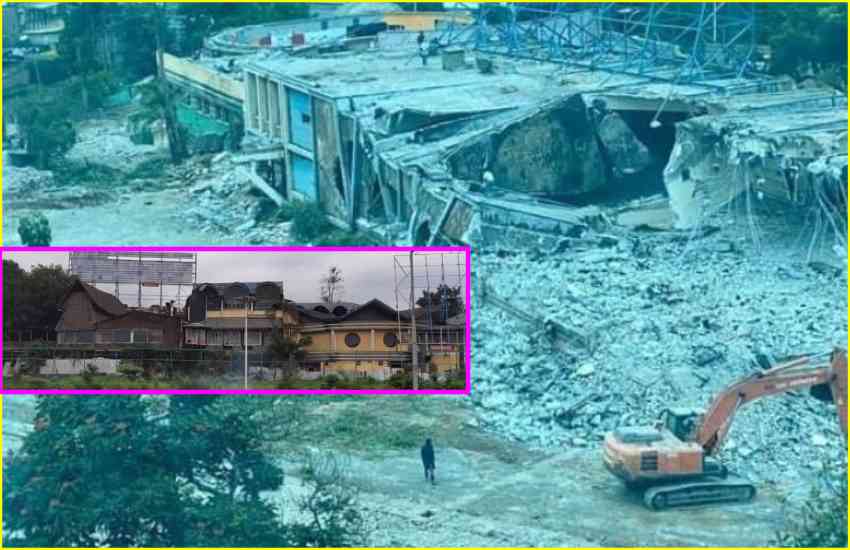 When the end for Museum Hill came last week, the party had long ground to a halt, years before Covid-19. Yet, for us who came of proper partying age at the turn of this century, for a silver decade between 2005 and 2015 – under the moon and club lights, Museum Hill was the ultimate site to go party; like a bubble between the less 'proper' pubs of the CBD and the noisy 'high end' clubs of Westlands; way back when it was still called 'Electric Avenue' for its long row of night neon-lit party places.
Yet, like every good story, 'Museum Hill' has a great back story (that has nothing to do with the staid Kenya National Museums opposite it, with its Louis Leakey auditoria) but rather has a bit to do with Italian La Cosa Nostra on holiday exile in Kenya, 'gambling till dawn' as per Danielle Cellini (owner of Casino Malindi).
And back when MJ was King of Pop (and Prince a god), there was a club called Bubbles – because a bubble is also a transparent domed cavity. Sadly, as a sneaky 16-year-old teen until even as a 21-year-old young adult, I never got to 'do Bubbles' even once. That was for the Uptown kids who had cars to 'crook' at night (from snoring dads in Westlands) or UoN Campuserians.
Read Also: Death of clubs - Why restaurants are taking over Nairobi CBD
As a Nairobi West kid, we had Carnivore, and sometimes Dreamz or Sahara City on Mombasa Road - with Bubbles as distant to us as a dreamy oasis, or perhaps even mirage, in the middle of the Sahara desert. But our time on Museum Hill would come, with the coming of mid-oh-ohs; long after Bubbles had been replaced by the Hope Ministry - that belonged to one Brother Paul aka Kamlesh Pattni.
Having just been rehabilitated by the Kibaki regime (in exchange for giving up then Grand Regency Hotel) to the Libyans who renamed it Laico, Brother Paul had given up the Gospel immediately and returned Museum Hill in the mid-noughties to being the greatest party palace in Nairobi.
Club Afrique (2005 – 2006)
Having become the official press party people of the country, I recall that first drive up Museum Hill to 'Club Afrique,' the homeless vagabonds around the Museum river safely tucked away for the night.
The snake of cars to get past the gate of this now popular place among the mobile night classes, malt liquor bottles beneath the trees of Museum Hill (evidence of our party predecessors) and censors at the entrance to Club Afrique, meticulously checking our names against a list, before allowing us in past neon and decor.
It was the Thursday of December 14, 2006 – the official launch party of the SLS-Kwani? 2006 seminars – and there were lots of young miros and Canadian writers (and a few Russians) drinking an endless cornucopia of cocktails, and everyone getting progressively less coherent as the night wore on, without anyone getting worn out.
Galileo's (2007 – 2008)
Before Galileo's moved to that main highway of Westlands, wakina Waiyaki, it had been born still and static on Museum Hill, before turning kinetic and downright electric.
Read Also: Will the entertainment scene recover from the effects of Covid-19?
I recall the many times spent there on Friday nights with an old college-mate called Victor Kabaka (and a lass called Natasha Ndeto who woulda made Galileo's world spin even faster). We picked our way from the parking path lit with soft lights, the potted plants at the entrance lending an ambience of tropical intrigue to the place.
Partying with the likes of wakina Prezzo on more than one occasion on the 'Vodka' Tuesdays that we branded, hung banner ads promoting drinks, the nights thick and hot as the party gals a-mingling with the first real celebz of the 'Kapuka' era (in a way that our current artistes can only dream of) because 2007, just before PEV, was the greatest party year ever in Kenyan popular cultural history.
Ebony Lounge (2009 – 2010)
'All White Parties' and party Pulsers dressed to the nines here, the theme! I remember stewardesses serving exotic rums and city lights and coral gazebos and VIP party backrooms, yes, with the Who's Who who we'll not mention.
I recollect us arriving in Mash Auto Cars, all firm muscle, garish paint and funky upholstery courtesy of Ash, and staying at the elegant Ebony Lounge until the sky turned ashen with dawn. Oh, dahling of Museum Hill. And I recall a music-award event, the MAMAs, on Museum Hill.
Steak N Ale (2011 – 2012)
For certain mems of the Pulse crew, though, Museum Hill will always be at the turn of the decade. When a huge new pub complex called 'Steak n Ale' shewed up at that very corner of Museum Hill. To attract media attention, the pub proprietor gave greatly discounted rates to the Party Press (on Friday nights – can this be called Brown Brew 'ale-velopes'? – and so there we were, every Friday.
Hanging out as a crew (and once going all the way to Machakos Golf Club from an afternoon of ale), where, Sunday afternoon, the crew re-surfaced from (and straight back to Museum Hill), people baggy-eyed and smelling like mildewed sponges that had been dipped overnight in some devil brew of beer and tequila.
Read Also: Curfew - 10 ways Kenyan daredevils are beating the system to have a drink
Treehouse (2013 – 2016)
A man called Rizwan ran 'Kenyan Nights' right off the top of Treehouse on Museum Hill for yonks. And there was the time he brought Diplo, and according to new party-popper Wanjiku*, 'the place almost collapsed that night. That's how packed TH on Museum Hill was that night.' (The next time Diplo showed with Major Lazer, the bash was taken to Carnivore, because grounds do not crowd or collapse).
My personal recollection of 'Tree House' is a rock event, round about 2014, full of way many mzungus! I remember the moon risen large and yellow over Museum Hill, and packs of scarab-like motorcyclists checking into the grounds, the air glossy (with that vodka veneer), the shiny surfaces of electric lights on tables and bypassing faces, and when eventually leaving, the gleam of ground lights on waxed cars, as behind us, the glow of LCD lights through the night reassured one that the party bubble on Museum Hill - would never burst.
[Tony Mochama is the author of 'Nairobi: A Night Runner's Guide Through the City in the Sun'].