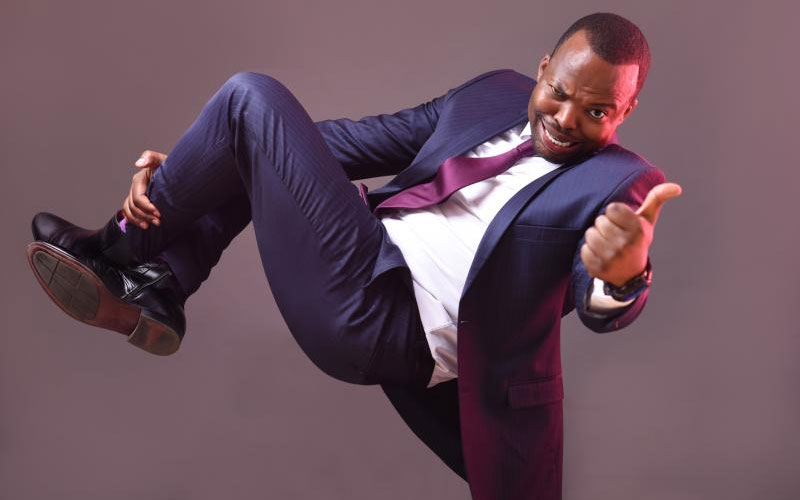 There are supposedly two personalities in MC Jessy. The entertainer we all know and love, and Jasper Muthomi. Jasper Muthomi is a laid-back go-getter who doesn't talk much and likes keeping things simple but classy. "Like I'd rather drive a new Vitz than an old Mercedes," he says.
"I don't think people really know how to separate MC Jessy and Jasper Muthomi. People think the Jessy they see on TV is the same one even in the streets. But that's a job. I have to wear that garment of comedy, then after that, I sit back and I now become me."
The more we talk, the more I realise that I am either one of the people who can't distinguish between the two, or that Jessy and Jasper Muthomi have morphed into one person over time. I am never quite sure which one I am talking to. Unlike Jasper, Jessy talks a lot. He admits that it is such a weakness that it is one of the reasons we have waited for over an hour before he finally arrived at Java, Lavington Mall. After being in four meetings where he did most of the talking, the hours have bled into each other and he tells me we now only have 20 minutes to do the interview. Betrayed by his talkativeness, it actually ends up being close to two hours long.
"I really struggle with detaching from people. I can talk to anybody. If I go to a hotel you can't just serve me as a waiter. No, no, no. You have to tell me how you're doing and how everything is coming along. My son even tells me, 'Daddy let's go. You're talking too much.' And yet when he starts talking he doesn't stop either!" he says, laughing.
He has two children and he says his son is "mini-me". Of all his possessions, his most prized are the little things his son brings him, which he cherishes as keepsakes. "Medals, the cards they make in school for special days saying things like, 'I love you daddy', when he paints his hands and prints it on paper – I keep them. When I look at them I get the energy to keep on going. I know there is someone looking up to me so I cannot afford to give up. I am someone's hero. When he grows up I'll show him all the things he brought me from kindergarten. I have loads of pictures of us," he says with a sentimental look in his eyes.
READ ALSO: My mother died on KCPE exams eve- MC Jessy's life story
Close relationship with son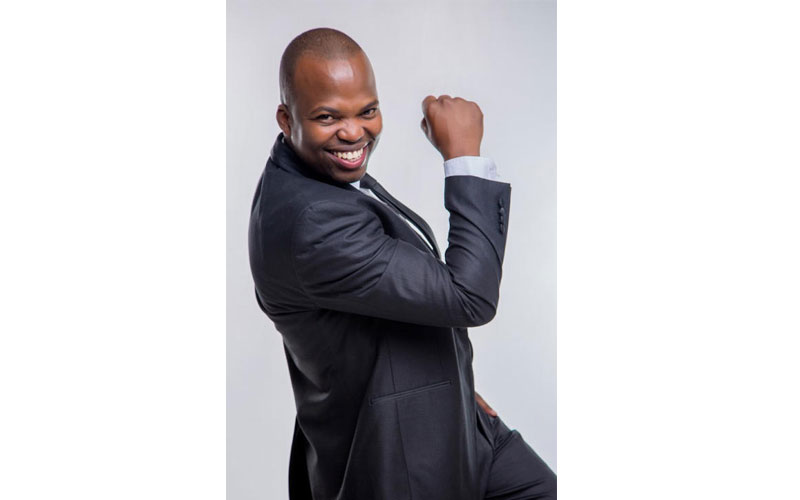 That close relationship with his son is unlike his own with his father. He doesn't remember much about his father, who would have been 77 today if he was alive. He died at 52 when MC Jessy was young, and the little MC Jessy knows of him, he learned from the bishop of the Meru Catholic Diocese, Salesius Mugambi, who was best friends with his father when they were young men. He pulls out a picture of his father on his phone, which he has joined in one frame with his own, side by side. There is an unmistakable resemblance, maybe helped by the fact that he wore horn-rimmed glasses for the photograph, just like his father. They have the exact same hairline, but his father had a much rounder face. "I was given this picture by his wife. We are friends with her," he says.
I am stumped, so he explains that he was the younger wife's son. The first wife had six children, while his mother had two. He is the last born of all of them. Muthomi literally translates to 'learner', 'student' or 'reader', and he is living up to his name, as an avid student of history, politics and governance.
"I am well versed in leadership and African history. I know the history of Kenya before independence. I have read most journals about our president, the deputy president, Kiraitu Murungi our governor (who he says is his very good friend) - like did you know Kiraitu is the only politician who has never lost an election in this country? I research about world leaders - mostly African leaders. I know the histories of Congo, Uganda, South Africa, Libya, Tunisia and others like the back of my hand," he says.
He is studying for a Masters degree in Political Science and would be defending his thesis if Covid-19 had not happened. He reads about two books a month. But he almost didn't get here. He was out of school for a whole year after primary school, having been orphaned at 12, when his mother died the day before he sat his KCSE exams. Later on, his aunt decided to pay for his secondary school education. Kenya might not have had MC Jessy as we know him if she hadn't because St Cyprian Secondary School in Meru was where his skills as an entertainer were honed. He was popular for his riveting solo verse and as a hype man for the cheering squad. He breaks into the Kenyan high schools' favourite cheerleading chant, "Steam steam, panda!" as excitedly as if he is back on the field, showing how they used to do it.
READ ALSO: Congratulations pour in for MC Jessy as he graduates from Daystar
After rousing the imaginary crowd, he says, "I used to play basketball and I was the loudest because I could create nasty songs for the cheering squad. I sang them to taunt the opposite team's players while playing, score, and sing at them as part of the cheering squad after scoring."
Comedy on the radio was really the ball he had his eye on. "I knew I could make people laugh. As a teenager, I would listen to KBC, the likes of Jeff Mwangemi, John Karani, Tim Nderitu. As they spoke I would act like they were doing a link with me and respond comically. They would say, 'Welcome to Yours for the Asking, I'm Jeff Mwangemi!'" Jessy launches into the familiar classic Kenyan radio voice, " 'Aaand I'm Jessy!' before breaking out of character to clarify, "That time I wasn't called MC Jessy. And of course, the presenter would send greetings to Sukuma bin Ongaro, etc, and then I'd chip in…" (resumes the enthusiastic radio voice), "…and of course I want to say hi to Carol, my darling from Chuka High School…' – of course, as a teenager I would say hi to girlfriends," he says with a chuckle.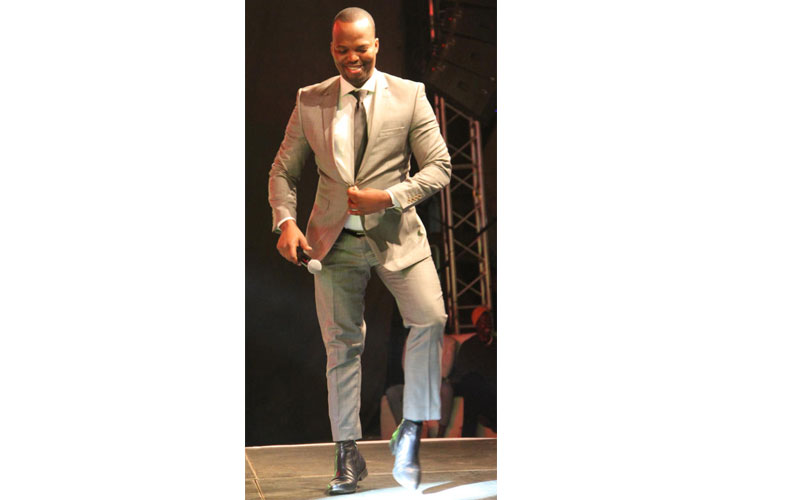 So he knew that he wanted to be on the radio, but coming to Nairobi straight from Meru, the learner found himself enrolled in the school of hard knocks, taking practical lessons from life itself. He hilariously tells a sad story of waiting outside Family FM's (now Radio 316) gates every morning for a month to try and get then Family FM presenter, Mike Gitonga, now a news anchor with KTN, to notice him.
"One day I sat down and wondered how I would breakthrough in this life. Where would I even go? That is when I decided that the same way I was talking to myself and praying, the only person who cared was God. I decided that was it, enough. So I laid my life right there and prayed to God to help me. I told him it was he and I. If I died it would be just He and I," he recalls.
READ ALSO: Shiks Kapienga responds to claims she is dating MC Jesse
Pastor who saw my potential
In 2006, the senior pastor at Winners' Chapel, Nairobi, Pastor David Adeoye, would hear Jessy talking to his friends after they were all done cleaning and one day called him up. "He asked me what I did. When I said I didn't have a job he said (adopts Nigerian accent), 'Come, you talk too much!' He opened his laptop and made me watch the likes of Chris Rock and Steve Harvey and said, 'This is what you are supposed to be doing.'"
The next Sunday, the pastor gave him five minutes to crack jokes at the altar, which flopped at first as the pastor was the only one in the audience laughing. He almost gave up, even discouraged by some people in the audience, but the pastor asked him to do it again. He eventually got a job (after another long wait at the gate) as a reporter doing Financial Markets Live on KTN under Larry Madowo, joined Daystar University, worked with Hot 96, before resigning to focus on his own company, BrandFace Media Ltd, and working with Churchill Show. Covid-19 has forced people to pivot, and he now hosts Jessy Junction, a comedy show which features a monologue by Jessy, as well as interviews.
Being an inspiration is important to him. "I want to be remembered as someone who impacted people. I want people to say, 'I met MC Jessy and my life turned around.' 'We sat for two minutes and he told me something that changed my life.''I listened to MC Jessy's story and I changed my way of living.' 'I read his story and my life changed.'"
Related Topics