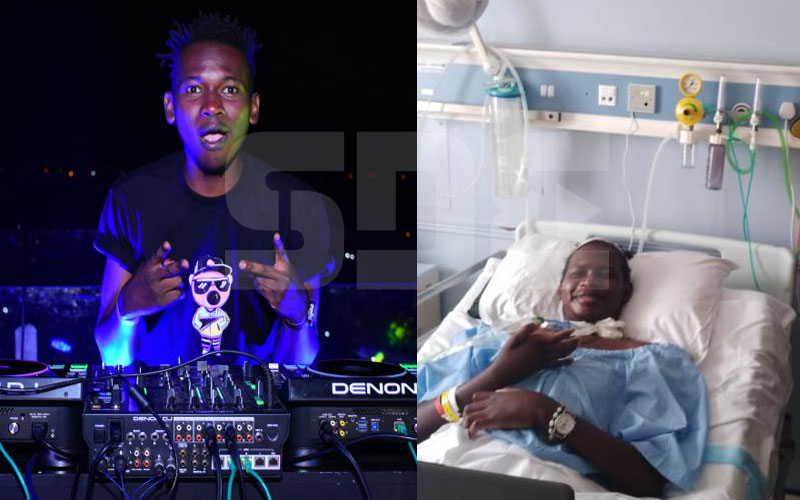 On Wednesday afternoon at Nairobi Hospital's St Luke's Ward, family and friends of Felix Orinda murmured in excitement as word went round he would be discharged.
Popularly known as DJ Evolve, Felix was thrust into the public limelight after a shooting incident at B Club in Kilimani that involved Embakasi East legislator Babu Owino. The deejay, who has been in the High Dependency Unit for the better part of his admission, was only recently moved to his own ward. News that he would be discharged was welcomed by those close to him. His mother, who has spent sleepless nights in the corridors of the hospital and by his bedside, was understandably moved by the news.
"It's good he is coming home, but he still has a long journey to recovery that will involve the input of our whole family. But I know God, in whom we trust, didn't bring us this far in vain. My son will be healed," she said as she ushered us into DJ Evolve's ward. Surrounded by his three younger siblings – a brother and two sisters – a cousin and two elder relatives, Evolve lay on his bed listening to a music mix through a laptop placed on the retractable table.
He smiled and frantically waved, excited at our presence. This is his sixth month in the hospital, but the ever-jolly DJ has not regained his voice and has a pipe to pass out mucus.
"He cannot talk, but he can at least whisper," his mother informs us.
READ ALSO: Inside story on dawn shooting of Dj Evolve
Guests here are under strict restrictions to keep their masks on due to the Covid-19 pandemic.
"I know very many well-wishers and friends would love to come to visit him at home, but the medics have put stringent measures to regulate the people who can see him at a particular time. Home-based care has strict guidelines on maintaining hygiene," his mother continues.
She informs us his legs are still unresponsive before the elated Evolve jumps in: "Sometimes I can feel my toes. That reassures me that God is still working on me. I cannot wait to get back on my feet, meet and entertain my fans," he whispers excitedly.
He can only move his upper body and arms and has yet to be able to operate devices as his fingers are still paralysed after the bullet injured the nerve responsible for motion. He is progressing with physiotherapy to address this.
"The journey is still far from over, but finances will be more manageable with home-based care. We have professional doctors recommended to us and we have seen how well they handle him," says his father, who says the need for medical essentials was nearly overwhelming them.
"It's manageable with home-based care, but we still have to be involved in his treatment on a full-time basis."
READ ALSO: Will the beat stop for Kilimani's Sh400 million clubs?
A source who sought anonymity informed us that Babu Owino had paid Evolve's medical bill and committed to catering for the DJ's essentials as he recuperates at home. The courts allowed the MP to pay cash instalments until Evolve fully recovers.
His mother was, however, still concerned about her son. "Security will be our greatest concern, but thus far the Lord has brought us, we leave it all to him."
As his personal effects are packed awaiting the dispatch of an ambulance to drop him home, friends and colleagues in the industry chatted with Evolve's parents on how industry players could help.
"We are together in this and will have to stand with him until he is back on the entertainment scene," said DJ Pierra, speaking on behalf of the deejaying fraternity.
In parting, Evolve told us: "I see life differently now and I cannot wait to get back on my feet and entertain again. Tell all my fans I was moved to tears when I saw and read all their posts. I love them for wishing me a second chance."