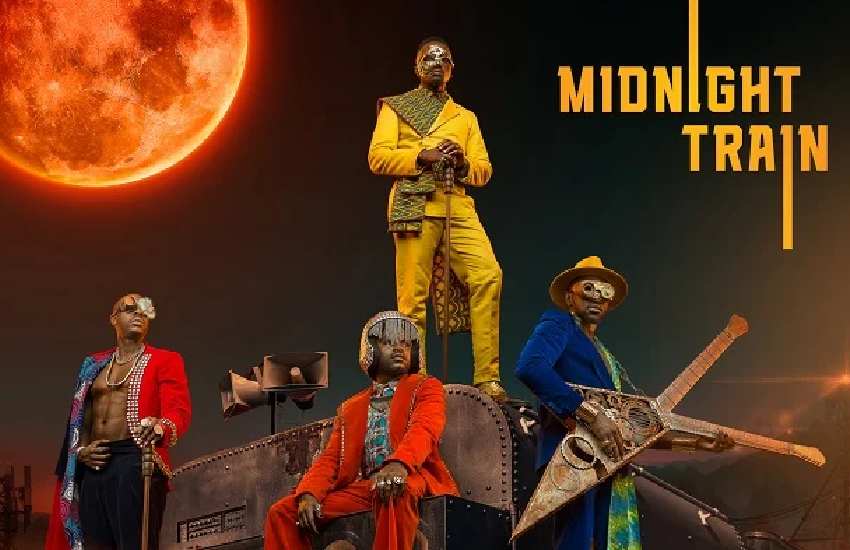 The wait is finally over for one of the most anticipated albums in 2020, after award-winning boy group, Sauti Sol, released their 5th studio album Midnight Train. As expected, the 13 track album is an extremely classy piece of work encompassing a glorious mix of afro-pop and jazz.
Midnight Train opens with a melodious feel good intro setting the pace to a free-spirited journey where you live for the moment as you share your light.
Mid-night train
The song starts with the rolling propulsion of a train before the groove is introduced for a few tantalizing bars into high life influenced jazz sounds. Co-produced by Trevor Magak, the production does well to filter through the jazzy and funky rhythms to a song that guides us about life's hurdles and the precaution to undertake to reach the promised land. It's hard not to jam to this one.
Insecure
Co-produced by Andre Harris, the jam is already a household tune 3 weeks after its release. The well strut acoustic guitars perfectly laced with the ska horns give blend well with the artiste's vocals as they address the normal tribulations brought about by insecure partners. Another wonderfully penned genius piece showcasing the band's skill at constructing narratives blended by their perfect vocal-ability and harmony.
Read Also: Bien reveals Kaskazini departure from Sol Generation
Feel my love
A laid back yet catchy jam with emotional lyrics on persevering lovers who despite daily wrangles still hope for love. The acoustic bed does well to drive the emotional cloud. Without a doubt, this one will hit couples differently.
Brighter Days feat Soweto choir
Is the adage nobody can hum like a South African choir true? Featuring the Soweto choir with their exceptionally intricate harmonies with African influences, Brighter Days is indeed a voice of what crisis our planet is going through and our hope for better days. The well-arranged percussion is complemented by the bass guitar strums and well, Soweto's choir hum. This is one to look out for.
Nende Lote and Set me Free
Nende Lote similar to a Benga maestros jam moons ago brings about memoirs of a toxic union turned into an irreconcilable union while Set me Free brings the nostalgic feel from whilst still upholding an urban feel as they take us down memory lane and the associated vices.
Read Also: Sauti Sol signs exclusive deal with Universal Music Africa
My everything feat India Arie
A fairly laid back pop beat laced with Africanized strums gives this well-arranged jam a great feel. The four-time Grammy awards winner comfortably settles on the track with Sauti Sol adding an additional afro touch to complement the jam.
Mortimer
He's the latest reggae sensation in Jamaica but on this one, they went for an afro-pop with a hint of the dancehall rhythm in the background.
Sober
An acoustic confession of the diary of a drunk man eager to change his ways that cuts through and deep as he recounts the pain he has taken his family through in his absence.  The softly placed acoustics let's us into the skilful storytelling skills.
Rhumba Japani
One of the most notable songs in the album. The song mainly featuring members of sol generation outdo themselves with witty lyrics touching on the social and political plight. With an African influenced Benga sound infused with an urban jazzy feel, this will definitely be a classic to look at.
Okello max then tops it up with striking Dholuo rhyme giving it it's authentic signature.
Read Also: We used over Sh63 million- Why Sauti Sol's 'Live and Die in Afrika' tour was a big hit
Suzzana & Sho Madjozi & Black motion - Disco Matanga
Similar in their own unique ways but sharing comparable similarities. Both already popular in the continent also feature a rather heavy baseline; powerful yet not overbearing.
To say the least, with this album it would be safe to say Sauti Sol have graduated from the boy band they were into the gentleman's club. In this one, longtime friends Polycarp Otieno, Savara Mudigi, Willis Chimano and Bien-Aime Baraza have set the bar high.
Trace live concert with Khaligraph Jones
Lights, camera, action. Khaligraph jones definitely won't stop at nothing. After releasing his recent mixtape, the takeover he stole the night with an epic performance during the trace live concert. This virtual concert, however, dates back to the rehearsal before the actual concert, which didn't feel like a concert because of the infectious energy that Khaligraph Jones brought to the table, making the performance to still remain on the trending charts up to date.
With songs such as leave me alone, Ngori, Kababaye, Kasayole, Ngori and Mazishi, the Kenyan SwaRnb singer Masauti, managed to share the stage with the Kenyan rapper having a duo performance with songs that they collaborated together with him. The dynamic duo managed the same energy from the beginning to the end. Khaligraph Jones thanked his fans for attending the virtual concert, together with his producer Motif the Don.