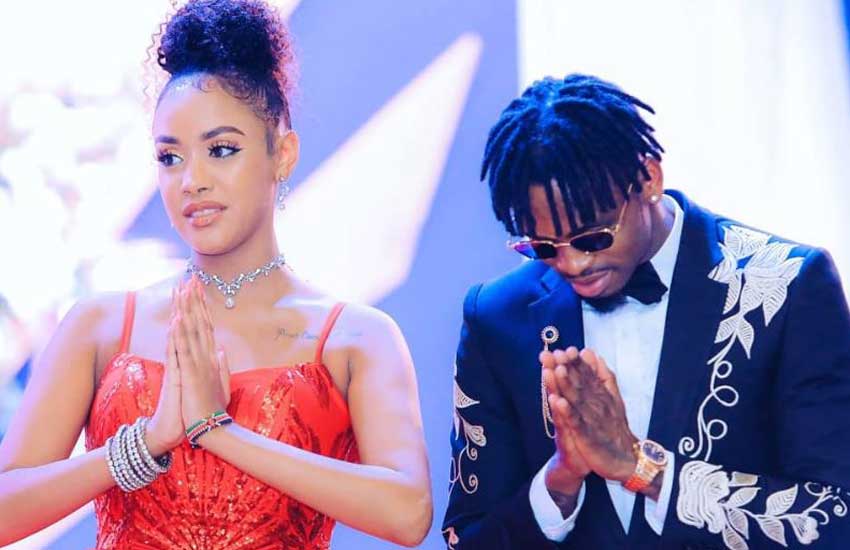 On Wednesday, Diamond Platnumz's Kenyan baby mama Tanasha Donna released her collabo with him, Gere, off her new EP that features a number of top regional music stars.
The new development comes after a month of battling critics who have been alluding that the one-and-a-half-year romantic affair between the two might be already on the rocks. The rumours intensified after Diamond missed Tanasha's EP launch after excusing himself out of Nairobi during the eleventh hour saying he had a 'family emergency'.
The two have been fighting split rumours boldly even as some critics warned Tanasha, pointing out that the signs were already on the wall – meaning that, just like his former lovers, he would likely leave her for a new catch.
For now, that seems to have taken a back seat. As if to prove the naysayers wrong, a week ago, Tanasha flew to Tanzania to spend time with Diamond, a time the two are believed to have put the final works on their upcoming project. They got back to the country and headed to Naivasha over the Valentine's Day weekend posting photos of their romantic time on the socials. Come the Koroga Festival gig held at Hell's Gate last Saturday, Tanasha held to her man extending their Naivasha visit across to Sunday after which Diamond left the country.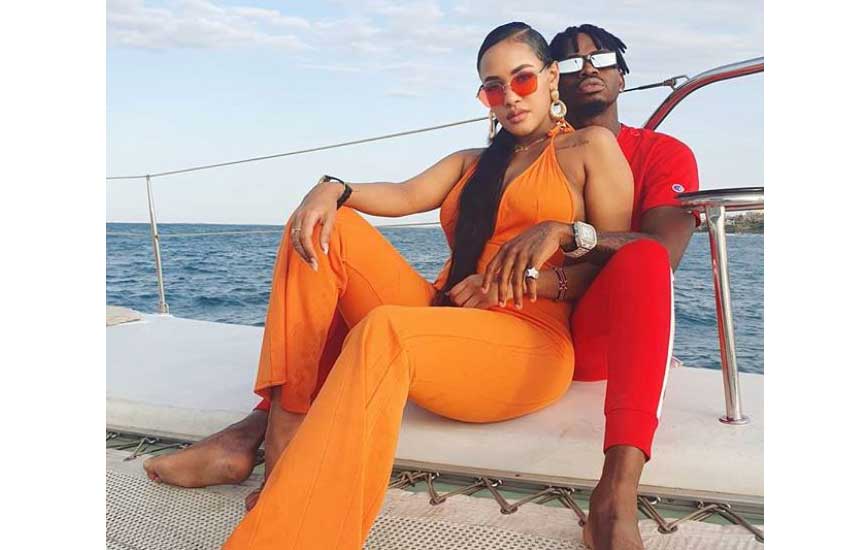 During a media interview that ran this week, Diamond is quoted saying that he has a soft spot for Kenya more so because of his flame and mother of his child Tanasha Donna, the former radio girl.
"First of all, Tanasha Donna is what I love most about Kenya. But beyond having friends and people that I call family here, I enjoy the peace and harmony that Kenya has. Kenya is a great place," he told the showbiz publication.
READ ALSO: Diamond has not seen or spoken to his kids in 9 months: Zari speaks
With a postponed wedding and fizzling hype around their affair, the question has been whether this much publicised affair will stand the test of time and outlive Diamond's past affairs most famous his previous one with Uganda's Zari Hassan with whom he has two children – Nillan and Tiffah. The two had a bitter separation in February 2018 that saw Zari accuse Diamond of infidelity.
"Sometimes, maybe when you are in a relationship you have a lot of goals, maybe you want to get old together. But sometimes, may be it doesn't work," Diamond said at the time.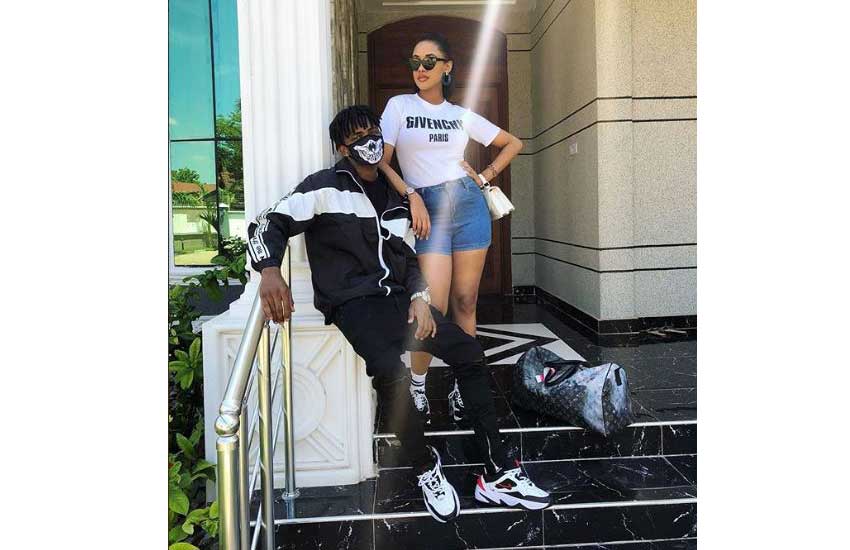 "What I can say is she and I had a good time and God blessed us with two kids. Then after that, I think there are reasons why we couldn't continue with the relationship."
"And in a normal way as other relationships can go, we separated," Diamond opened up.
He went ahead to say both Zari and he had the best interest for their children noting that they were going to be "the best parents to our kids". He went further to say it wasn't easy having an affair while in the limelight.
Popularly known as 'Simba' (Lion), the The One hit maker has had a trail of lovers, ladies who are celebrities in East Africa. He sang about it in his 2018 hit Sikomi - now enjoying over 39 million YouTube views – of his emotional weakness towards women with the refrain going; "Nikiumizwa na huyu kesho nina mwingine…sikomi (If one hurts me today, tomorrow I have another…I am not stopping."
And even though the Lion seems to have tamed his loins with Tanasha, would it really come as a surprise if Diamond moved on in the days to come?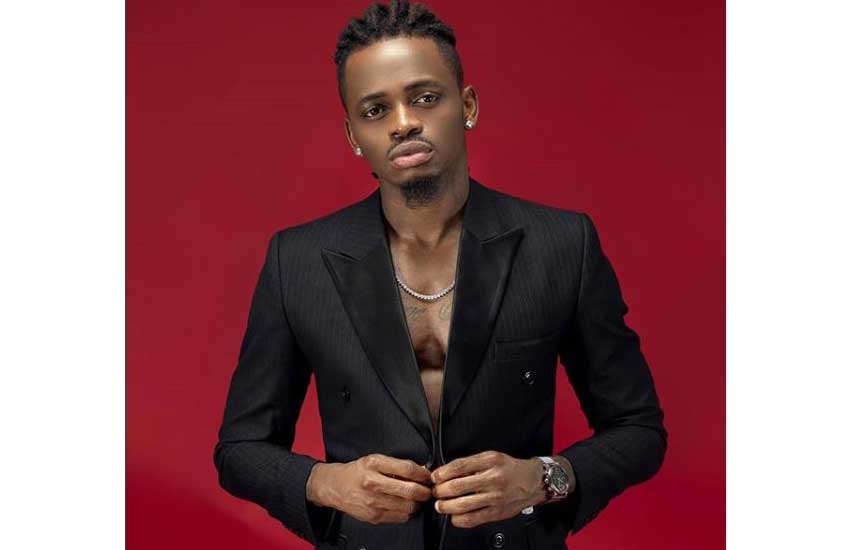 There is this belief that as he seeks to enlarge his empire across Africa as the top showbiz icon, Diamond is using ladies' affection to win fans in every region he wants to conquer.
READ ALSO: Harmonize slams Diamond for 'revealing' his fiance had an affair
From dating actress and former beauty queen Wema Sepetu, presidential appointee Jokate Mwegelo, actress Jacqueline Wolper, entrepreneur Zari and now his most watched affair in Kenya with singer Tanasha, just who could Diamond be planning to include in his network across the continent? One thing is for sure looking at the women Diamond Platnumz has dated. They have made a name for themselves. Some have made themselves a brand and like Tanasha Donna, found a loophole to push her music.
And so the question still remains; who's next for Diamond Platnumz?
Toke Makinwa - Nigeria
Just like Tanasha, Toke Makinwa is a media personality and a socialite. In 2010 she won the most beautiful girl in Nigeria beauty pageant. Hers is not a case of just beauty but brains too. She is an accomplished author with a hot body to boot and loads of positive vibes.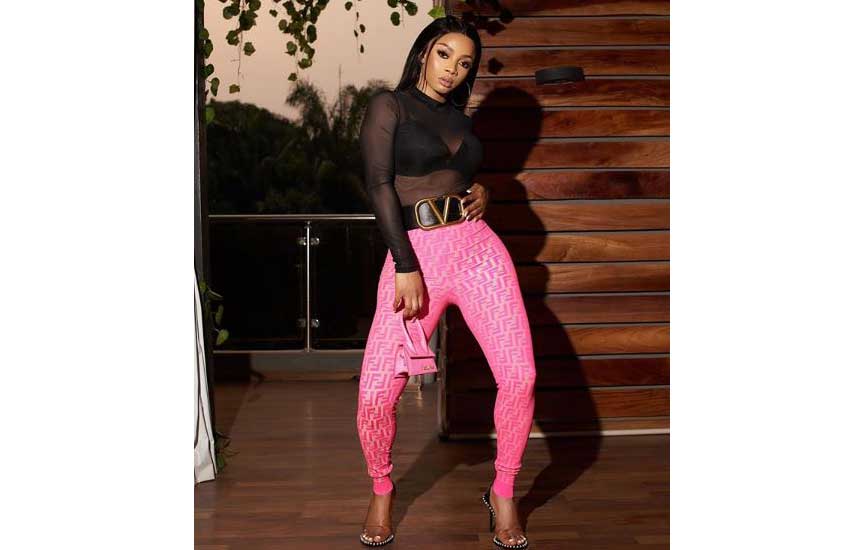 Makinwa was formerly married to a fitness coach, Maje Ayida, but the marriage ended on allegations of infidelity.
Although the non-showbiz 'author' label puts her a chip above the rest, it could actually bring a hindrance since Simba likes the 'yellow-yellows' who can give him all the attention. 
Faith Nketsi - South Africa
She is a top South African socialite who has been dubbed the 'queen of twerk.' – we guess this has everything to do with her massive behind that is backed by her even prettier face. She is a renowned vixen who has appeared in several music videos among them Cassper Nyovest's Tito Mboweni. Faith is not devoid of scandals as she was rumoured to be involved with Davido after he posted a photo of the two of them kissing in bed.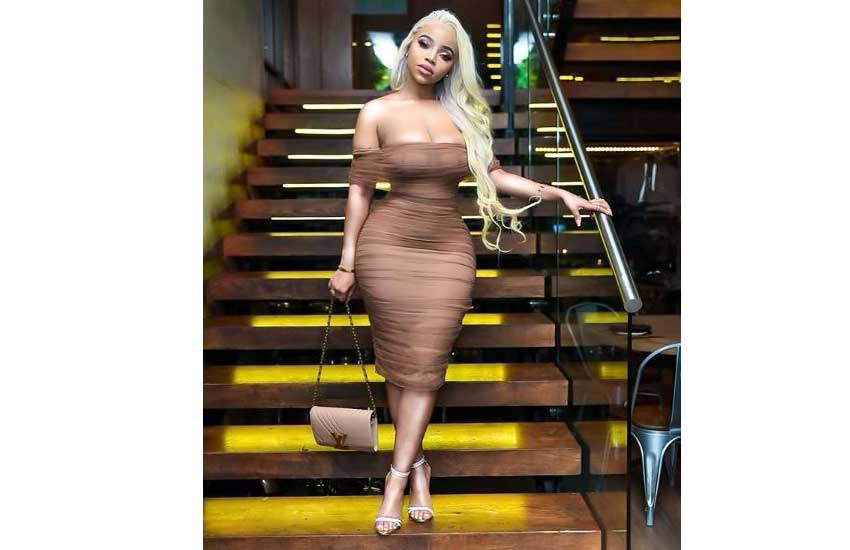 As if that is not enough, she was said to be the one that came between Offset and Cardi B. What was not clear though is if she was the cause of the rift or she just happened to be the rebound when Offset was temporarily single.
Thanks to her fame and wide showbiz reach, Faith would make a good Diamond connect person in South Africa. And who knows, love would blossom between these two given a chance. 
Juliet Ibrahim - Ghana
She is part of the increasing number of talented actresses from Ghana. She is also a film producer, a singer and humanitarian. Besides her pure, undeniable beauty and personality, this A-lister has warmed her way to many hearts due to her talent and her charisma. She is said to have divorced her husband of four years and later hooked up with Nigerian artiste, Iceberg Slim sometime in 2017.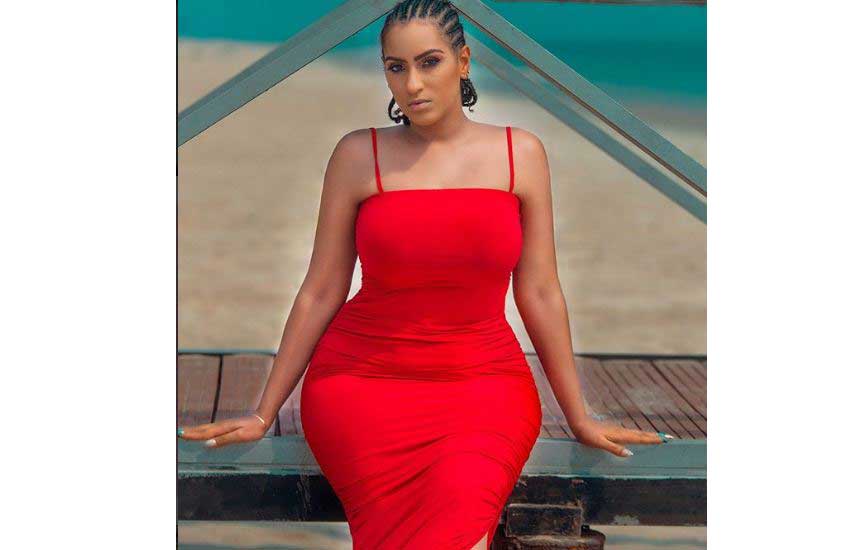 Just like Tanasha, Juliet is of mixed ethnicity – Liberian-Ghanaian. Like Zari who was married to a prominent businessman before she met Diamond, Juliet was married to Kwadwo Safo Jnr., a prominent Ghanaian businessman and CEO of Kantanka Group – Ghana's first car-making company.
The business and showbiz minds combined, Juliet would make the perfect base for Diamond's landing in Ghana.
Nadia Buhari – Ghana
This beautiful lass is one of the most influential actresses in Ghana. She lights up the screens every time she features in a show. Despite the fact that she was born in 1982 we can't let age be an issue in this article since Zari is actually two years older than her. She might as well pass as a potential.
 She is said to have dated Michael Essien a footballer who once played for Chelsea. Nadia has many traits that would make Diamond take the next flight to Ghana.
Shaddy Boo - Rwanda
This relationship might have actually happened although it remained a rumour. Shaddy Boo, arguably Rwanda's top female influencer and socialite, is one girl who has caught the eyes of many on the socials. It was once rumoured she had a fling with Diamond in 2018. She set tongues wagging when she was seen taking selfies in Diamond Platnumz' hotel room in Kigali, Rwanda, where it is assumed they shared a room.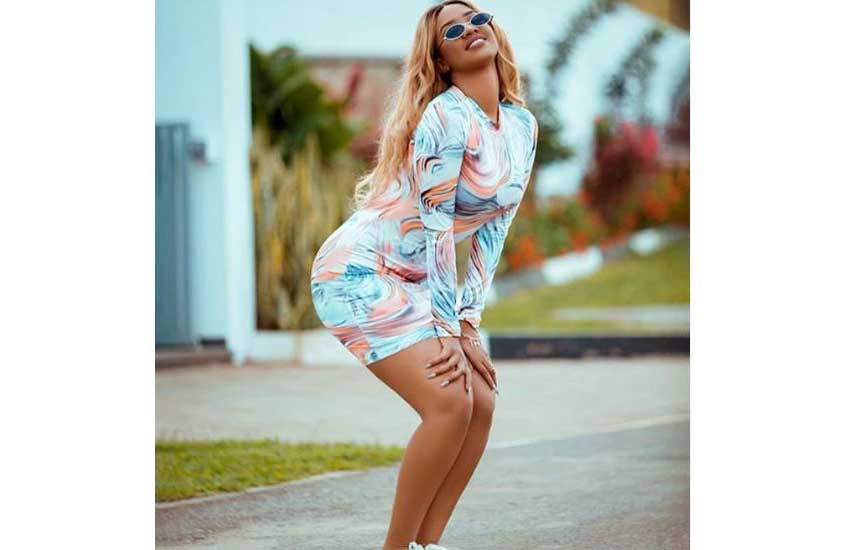 In 2018, Shady Boo flew to Tanzania to host the Wasafi TV Jibebe challenge courtesy of Diamond and posted selfies in Diamond's room. 
She later came out to defend herself even as Diamond shared a selfie similar to hers –covered in a white sheet in bed. Shady Boo is such a cool woman any man would want and so, what about we rematch these two.
Dillish Mathews - Namibia
The relationship between Zari Hassan and Diamond Platnumz ended when another beautiful Namibia female celebrity was in question. Dillish Matthews was the beautiful girl in question – this beauty who also made headlines in Kenya with rumours that she had wrecked Avril's love affair. She is also said to have dated Adebayor, rumours we can't confirm. The speculations were high after Dillish was spotted in Zanzibar on vacation and Diamond was said to be at the same vacation spot.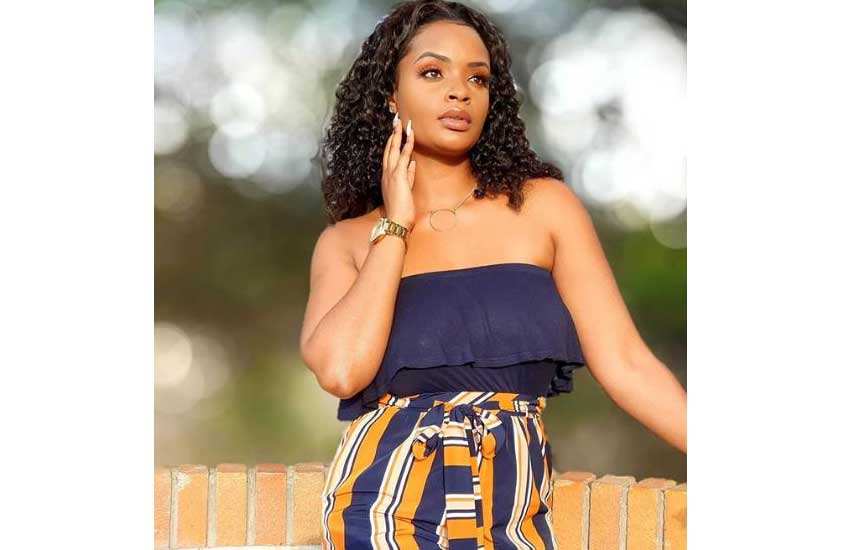 The two never commented on these rumours but it was believed that the Namibian beauty had found love in Bongo. Dellish is an accomplished actress and her popularity has won her many hearts both in Southern Africa and Western Africa where she has had leading roles in Nollywood movies.
READ ALSO: Karma? Dillish Mattew dumped by Adebayor after 'ruining' Avril's relationship
 The BBA Season 8 winner, who also has mixed Namibian-Kenyan heritage, has been Nivea ambassador and has some good cash to show for her years of hard work. So if there would be a likely soft landing for Diamond in the South, then we guess Dellish would be the sure bet.