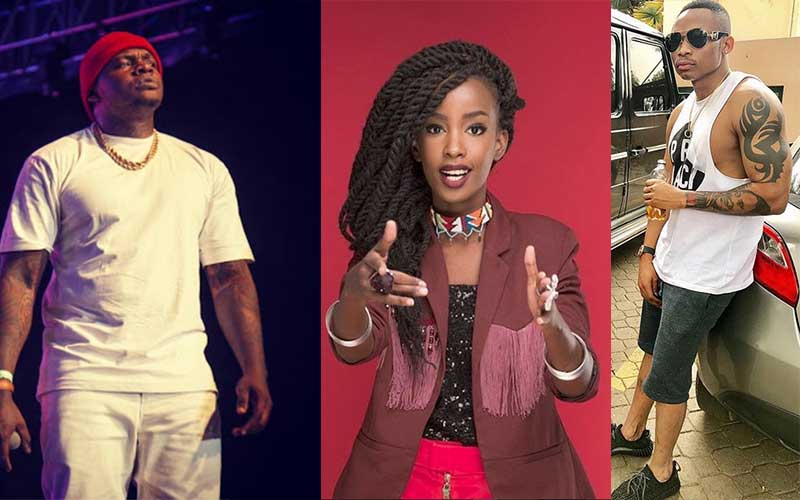 Tattoos have come a long way to gaining their acceptance in the mainstream. Many get them to mark an event, to honor someone or just for fun… even a drunken dare has been known to result in a tattoo or two.
Celebs who rock these tattoos and a renowned celebrity tattoo artist, who wishes to remain anonymous, has had his fair share of experiences with the art. He has seen it all and grown a critical eye.
"In my years of practice, there has been a few requests that came out as 'weird' at first but when they explain the meaning to you it all stops being weird.
That's the thing with tattoos, they are an art. There was one mother who asked for a tattoo at the edge of her C-section scar, it was weird at first but by the time I drew it on her it transformed to a beautiful masterpiece.
There is really no weird place to get a tattoo. Body art is meant for the body, and as long as the client has thought it through then I do not question anything," he explains.
In his experience, the gospel artistes that he has drawn tattoos on mostly ask for Bible verses, names of their children or parents. They do not make most of my client list.
So what are the special meanings behind celeb tattoos? 
Masterpiece
This is one gospel star who has a tattoo. The Chini ya Mwamba singer inked one on his right arm with the Bible verse, John 16:24, which in the scriptures reads: "Until now you have not asked for anything in my name. Ask and you will receive, and your joy will be complete."
He says the verse is what guides him in his daily life and reminds him to depend on God alone. Getting a tattoo may be considered a sin by some Christians but he argues that the verse that is against tattoos is in Leviticus, the same book that is against the shaving of our beard.
"Those were some of the mosaic laws that applied at the time," he argues: "I don't see anything wrong with getting a tattoo because in the New Testament there no verse against tattoos". 
Tunji
The Mat Za Ronga rapper has been riding high in the rap game ever since doing a remix of his hit song. His recent release Dash has been well-received and it appears that other than his passion for music, he also has a passion for tattoos and has been spotting quite a few lately.
He has one on his left arm, a dragon fighting a phoenix which he says symbolizes the battle between good and evil. On his right arm he has a 'Tree of Life' and on his chest, a wolf which symbolizes perseverance and determination. 
Talia Oyando
Talia has been rocking the airwaves as the 'Night Nurse' pretty much for as long as we can remember. Ever since she broadened the scope to television, she has not slowed down with her show One Love. Confidence has never looked so good. Reggae music might be a close love but nothing beats her love for her son Lyric, which she demonstrated by getting a tattoo of his name on her collarbone, depicted on a heartbeat, which is a representation of just how important her son is. 
Otile Brown
Otile's most recent and prominent tattoo, which bears the face of a woman with a wide smile inked on his right arm has a deeper meaning for him as it is in memory of his late mother.
"It is a reminder of the love and confidence my late mother had for me before she took her last breath when I was only 14," he says adding that he got it done on Mother's Day this year.
"I thought of no better way to celebrate her other than to have her image inked on my arm," adds Otile. 
Sammy Oliech
Kenyan star rugby player Sammy Oliech receives a truckloads of attention from fans and admirers alike. Something you would notice are his buffed arms full of tattoos.
There are a number that are just decoration works of art whereas there is one that stands out from the rest with heavy meaning. 
"I lost an aunt to cancer. I got it during a charity drive we did in awareness for cancer. All the money that was made on that day went to Kenyatta National Hospital cancer ward," Oliech explains. 
Kush Tracey
Local female rapper Tracey Kush has three tattoos on both arms and wrist that not only symbolise her personal life story but serve as a source of motivation through her life's struggles.
"Apart from a tattoo with my names – the other is of a tiger tearing out from a skin - which represents my aggressiveness.
While the third one in form of tribal stars - is a reminder of the tough journey I have been through in line with my music career but managed to succeed," she says.    
Noti Flow
Female rapper Noti Flow reveals she has countless tattoos on the right side of her body but only two of them count for the moment.
"They include initials Love your mama - inked on my right hand - a dedication to my mother. While the cheetah print inked on my right leg represents my great love for animals," she says.  
Sudi boy
Sudi Boy, who is now a father of two, pulled a new move after welcoming his adorable son in 2017. The singer popularly known to collaborate with Timmy T-Dat is now rocking a huge tattoo of his son's name on his left forearm.
"It is not only a symbol of love for my son Liam Sudi but also a reminder that I have more responsibilities ahead as a father hence the need to be focused in life," he says. 
Khaligraph Jones
King Khali has a number of tattoos on his body since he regards them as an art.
To a keen eye, one will notice a tattoo of his mother's face, one of his first album, Testimony 1990, a Bible script with the names of his family members, one with a Red Indian, a third eye tattoo, a chess board and the King and another of a lion. His latest tattoos have his name, Omollo inked on his neck 
Kenchez Muya (H_art The Band)
Kenchez Muya, of sensational boy-group H-art The Band, got his first arm tattoo after high school, illustrating guitar notes. He says although he had no idea he would be a musician, he got the tattoo due to his love for music.  
Raj
The rapper Raj has one on his left hand, a microphone with his name on it as a reminder of what he is here to do, which is to make music, solidify his name and inspire generation and generation of creatives. 
Wangechi
If you look closely, you will notice that the rapper has tattooed the word 'Believe' on her middle finger.
"I got the tattoo just when I was about to start music. It's a person motto, something to push me on.," she explains.
Why the middle finger, you may ask
"Because I fu**in' believe!"