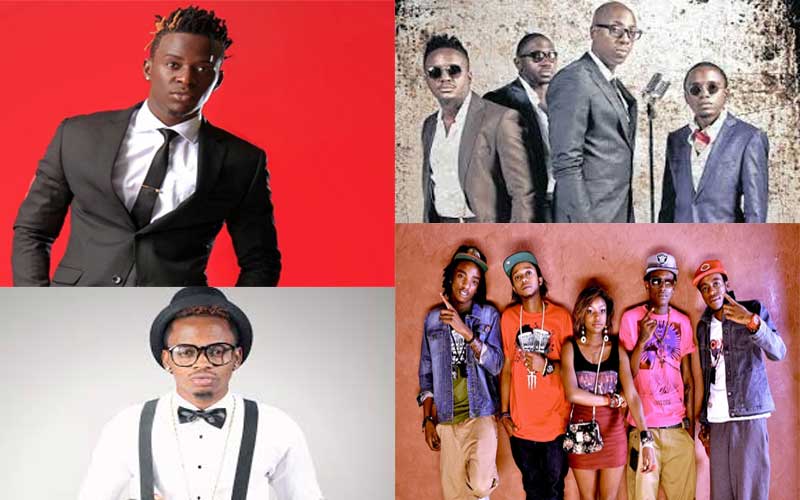 Camp Mulla's return
The surprise performance from urban group Camp Mulla at the Tekno Miles Waves Concert this year kept us talking about a possible return for the once nominated BET group. They performed their nostalgic bangers including Party don't stop, Fresh All Day and Hold It Down among others causing a wildly phenomenal reception with Taio Tripper exclaiming that that was not the last time we were going to seeing them. The group broke up in 2014 (as predicted by yours truly) as individuality took the better of them but nonetheless, fans were thrilled to hear the news of a second album from the group. A reunion and an album in 2018 is a double delight for every hiphop lover 'outchea'.
Chipukeezy, Mutoko back on air
2018 will welcome back on air two media personalities; Chipukeezy and Caroline Mutoko. For Chipukeezy, after meeting one of his biggest stars, Kevin Hart, earlier this year, will be inspired to tell every one of his escapades. However, it will be highly unlikely for him to rejoin his previous radio station. As for Caroline, she will manage to find time and rally up some thought-provoking content (which seems to be lacking) on air.
Adelle Joins motherhood
After tying the knot with the love of her life Falgun Bhojakis, earlier this year, radio presenter Adelle Onyango will take things further by welcoming her own bundle of joy this 2018. And still on matters pregnancy, she had sparked pregnancy rumors after new photo showing what looks like a baby bump doing rounds on social media. However, she brushed off the rumors in a sarcastic response describing it as fake news.
Hypnotiq, Finalkut backslide
Decks men Hypnotiq and Finalkut surprised their fans when they committed their lives to Christ this year and, coincidentally, on the same day. Finalkut, took steps further by tendering his resignation letter to Homeboyz Radio and stating that he would not participate in club and bar shows. A true salvation right there. However, it will be no walk in the park as they try to remain faithful but temptations of the flesh and filthy froth will take the better of them; making them retreat to their previous lifestyles. Perhaps, exemplifying the adage teaching an old dog new tricks befits this scenario.
Diamond's fifth baby mama
They say more money, more blessings and more problems. And this is something Bongo star Diamond is experiencing first hand. 2017 has seen the Eneka hitmaker talk more about his baby mamas than his music. And even though he has only publicly recognised Zari as girfriend and mother of his children, his habit of not keeping it in his pants has made not one, not two but three women come out and declare him the father of their children. This trend doesn't look like ending end anytime soon and we wouldn't be surprised to hear of another lady proclaiming to be carrying his child.
DNG remarries
We reckon the self-proclaimed number one hypeman of gigs and emcee of corporate functions DNG is eyeing a Guinness Book of Records by having the highest number of marriages and divorces in the world. The One Fm radio presenter divorced Yvette last year just after eleven months of marriage and after a joyous wedding at the beautiful Mount Kenya Safari Club. However, a year of lying low has since passed and we expect next year a similar wedding execution plan as that of he and Yvette; but now to a different damsel.
Sauti Sol banned from making music videos
They are still licking their wounds after the being trolled for the better part of October this year for their innocuous tweet on politics. However, that will be nothing compared to what KFCB chair Ezekiel Mutua will unleash when he'll restrict the multi award winning boy band to making audio music only. Remember, this is the second time the band is at logger heads with the classification boss after their music videos Nishike and Melanin were condemned and termed obscene. Just like baseball, this is the second strike and we all know what happens after the third strike!
Madtraxx joins the government
Versatile rapper and one of the newest fathers in town Madtraxx will call it quits in the music industry and join the world of pushing paper thanks to his connections and networks in the government. It will come as no surprise because his older brother DJ Stylez rarely does gigs because he too landed a high profile government job.
Willy goes secular
This has been the most elusive prediction on our end because every year we come so close to saying finally he's done it! This immensely talented lad, continues to attract all kinds of publicity; from his fashion, relationship status and social media posts. But the most trivial and long standing one is his choice of music. He claims to be a gospel singer but the songs he releases border on contemporary and relatable life struggles; and not the gospel as we know it. But in an effort to settle this once and for all, he'll go secular; more so that of bongo genre and start doing collabos with the likes of Diamond, AY or Ommy Dimpoz.
Other notable headlines include: DK Kwenye Beat losing weight, Miss Mandii to start webisodes on fighting (considering she allegedly gave Anita Nderu a good one a year or so ago), expansion of popular joints such as Brew Bistro opening a new branch in Galleria.