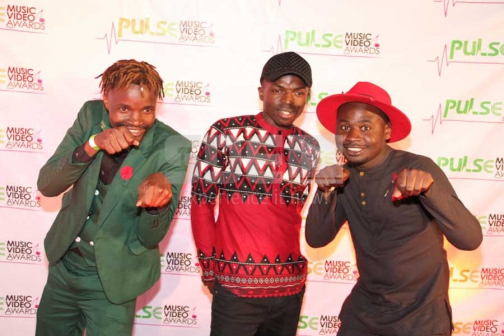 From school assemblies, clubs, and estate hangouts, teens are jamming to the odi dance
It is the most popular dance in the country at the moment
They narrate how the dance came about
If you search 'Odi' on YouTube it will bring about one million results. The top two are 'Odi dance by Timeless Noel, Hype Ochi and Jabidii'. There is even a debate out there. As this Odi dance grips Kenyan teens as the new craze in town, young people are calling out to have the crazy move recognised as a national dance.
They did not expect the dance move would become a national sensation and in the process make them household names among youth in urban Kenya. But now Timeless Noel, Hype Ochi and Jabidii are coming to terms with their new celebrity status. They are the magic behind this dance, which is probably the biggest dance move in East and Central Africa.
The trio says that one of the videos is a compilation made from dancers who participated in the challenge. The other is a professional video of the song Odi while the many other versions were mostly done by fans, especially in schools.
The Odi dance, slang derived from the word 'Odinare' (sheng for ordinary), has now eclipsed 'Bazokizo' as the biggest dance style in the region.
Its popularity saw it bag a nomination in the Pulse Music Video Awards (PMVAs) as Breakthrough Song of The Year. In every show that he goes to as a hype man, Timeless Noel challenges the crowd to give him their best dance moves.
Noel, who is the most visible of the three dance stars calls himself the dance ambassador. He is a professional hype man and host of Citizen TV's gospel show Bambika. Before Bambika he worked with K-Krew as a hype man and a radio host. With a Business Commerce degree from the University of Nairobi, Noel chose dance as a career and started out with the Air Force dance crew, which he also co-founded.
His choice proved a success as the dance crew made it to the finals of the first season of Sakata dance competition and the crew was even named the Nokia ambassadors. Wyre, a judge at the competition, picked them as his backup dancers and recorded a song, Kode, with them. The group also joined Jamaican artistes Cecile, QQ, Denique and Morgan Heritage during their Kenyan tours.
"This is my tenth year as a professional dancer and what a better way to mark it than with the Odi dance? I am looking forward to working with the likes of Bruz Newton, whom I consider very talented, and Willy Paul, who has a major following," he notes.
Jabidii
The name Jabidii is catchy and has been coined from many things which have influenced his art. Growing up in Kibera, young Jabidii and his peers used to call each other Jabidii because of the casual work they did during school holidays. His style of music is 'Patwa' and his name means the presence of Jah in Patois.
Jabidii started free styling with his peers and doing music in his teenage years but was already giving up on his dream of pursuing music as a career because there were no role models and advisors in Kibera. He had planned to quit the industry after his last project the now popular song Shoot Satan, which has given him a lifeline.
"When I released Shoot Satan not many people identified with the song making it popular. He was in studio working on new music when one of his friends asked him for the Shoot Satan song to do the Odi dance challenge but he instead chose to freestyle about the dance. Noel heard the freestyle and got back to him asking if they can do a professional song for Odi dance with Hype Ochi on board. That is how the three got together.
Hype Ochi
Hype Ochi calls himself the Dance Inspector or the Gospel Governor. He is a professional sound engineer and a hype man who recently transitioned into singing. He started out his musical journey at the Nairobi Chapel and already has several projects under his belt. He has been working as a ragga producer bringing together upcoming musicians interested in the genre to collaborate in his musical projects. Ochi was one of the guys who believed in Jabidii's talent and let him tag along in his projects and in his hype sets.