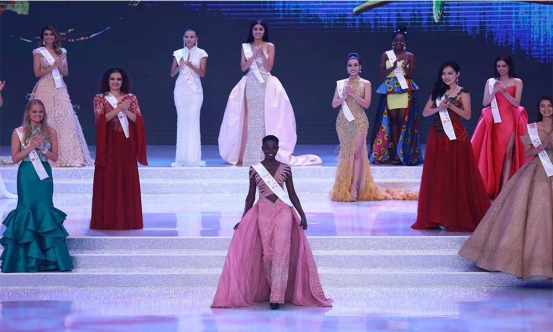 Miss World Africa crown comes back to Kenya
She runs the Beauty with a Purpose project
She has dedicated her Miss African crown to autism
"It was a proud moment for me," a jovial Magline Jeruto recalls as she recounts her glorious moment when she emerged among the top finalists on the world stage.
Dressed in a flowing red gown designed by Peggy Onyango, the elegant and confident Jeruto strutted the runway at the Sanya City Arena, in China, when her name was called up as one of the top five finalists in the pageant.
Magline Jeruto is the new Miss World Africa. The 24-year-old travel consultant, who hails from Elgeyo Marakwet, has made Kenya proud once again in the just concluded Miss World Pageant held in China. She made the cut to be among the top five finalists alongside Miss India, Miss Mexico, Miss France and Miss England.
During the moment of truth when Miss South Africa and Jeruto were listed among the top ten finalists, Jeruto didn't see it coming. In fact, as many would believe, the top African slot was South Africa's for the taking.
"This is a dream come true for me. I am both excited and nervous at the same time due to the task that is ahead of me," she says trying to come to terms with reality that indeed all eyes are now on her.
"The win was a shock to me as it was to many. I did not think that I would be among the top five let alone be crowned the new Miss World Africa. During the Miss World contest last year, my predecessor Evelyn Njambi was crowned Miss World Africa. With Kenya having the African crown, I wouldn't imagine it would return. I was certain that this time things would not be the same as they were last year," she notes.
Upon her return early this week, she was welcomed by family and friends as well as the Elgeyo Marakwet Women Representative Jane Chebaibai and her predecessor Evelyn Njambi.
Jeruto left the country a month ago to attend a boot camp in China ahead of the competition accompanied by Terry Mungai, the owner of the Miss World Kenya franchise.
"My experience in China was amazing and I enjoyed the hospitality I received during my 29-day stay. The people there are friendly as well as welcoming".
Considering that she was in the company of 118 beauties from all over the globe, one would be interested to know the kind of relationship existed between them.
"The beauties were amazing and I had a lot of fun with them. We all come from different cultures and I think that's why we got along smoothly. I remember one time Miss Mauritius saw me wearing earrings labeled Africa and asked whether I was representing the whole continent, I laughed and said yes. It was like I had foreseen my victory," she laughs off.
Her 'Beauty with a Purpose' project deals with autism. She did not take the crown home in that particular category but she is happy that her efforts were recognised.
"Miss Aubra and I had the same project and that was maybe why none of us won in that category. I, however, plan on involving the Miss World committee in my project to help me move on," she remarks.
She now holds the Miss Africa crown for one year and has dedicated her crown to her Autism project, modelling and charity work.
"This crown belongs to all of us and I intend to use it to the maximum. Expect to see more of my face on your screens, your social media pages just to get work done, this is a full-time job. I hope that the government will support me in this as I cannot do it alone."
In addition, the beauty intends to market the Miss World Kenya pageant to the world and explain to everyone that the contest is not all about beauty but also about your skills in other fields.
"It is important for everyone to understand that this pageant requires a lot of hard work and determination in order to make it to the top," she concludes.