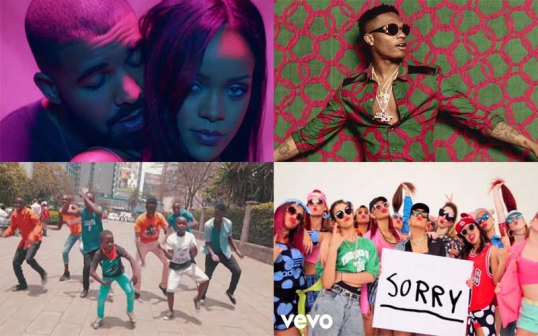 A good song is not just about nice lyrics and artistes and producers as well as video directors seem to be realising that of late.
This year has witnessed the release of some of the most amazing and creatively choreographed music videos
Mr Eazi - Leg Over
Set in a dance studio, the girls dressed in sexy bodycon outfits break into sexy dance moves that has you torn between looking and trying them out.
The song, which is literally about a girl who confuses him with her bum bum's main 'choreo' revolves around shaking the ass and coordinated leg dances and the song is appropriately titled Leg Over.
Jason Derulo feat Ty Dollar Nicki Minaj - Swalla
Aside from the innuendos, this video is full of sexy choreography. The girls who are dressed in gym gear doing outrageous dance numbers next to one Derulo make it hard to stop watching them doing splits and twerk.
Major Lazer feat Nicki Minaj- Run up
Major Lazer has been on a roll this year producing club bangers back to back. This video that features dance choreo incorporates the use of phone in this case.
The video set in a house party features addictive choreography by both male and the female dancers alike while using the phones. Very sexy.
Ariana Grande feat Nicki Minaj - Side to side
The pop star Ariana Grande featured rapper Nicki Minaj on this reggae infused track. The video to the track consist of a group of girls dressed in sexy gym gear on bicycles showing different sexy dance moves.
Justin Bieber –Sorry
Mr Bieber stunned the world with this video, which featured a host of girls doing cute choreography that won over people's hearts.
The whole video features the dancers solely and Mr Bieber makes no appearance yet still the video shot to worldwide success.
Rihanna feat Drake –Work
This video features very provocative dance moves and as usual Rihanna turns up the heat with her very sexy moves.
The video, which is staged in a Jamaican club, was choreographed by a host of acclaimed dancers and was directed by Hotline Bling director Director X.
Bazokizo - Bruz Newton ft Collo
This track took the nation by storm with its unique dance style. Everyone - from kids to grown-ups - have all engaged in a moment of weakness.
The catchy song that was written by Bruz, a new gospel sensation making headway with his other dance track Zigwembe, is also regarded as the comeback song by Collo since he became saved.
Come Closer - Wizkid
This song has two videos. It's the second video that we are talking about. The African fashion is not the only thing about the video that is tasteful.
The video story lies around Wizkid and some stylish friends at a dreamy summer get-together, brimming with rich colour, bold fashion, and gorgeous melanin.