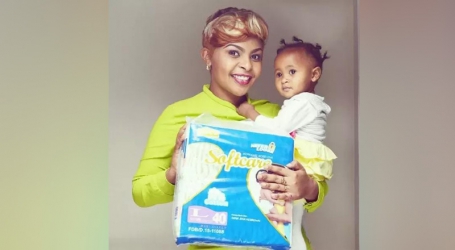 With a following of more than 168,000 fans online, Ladasha Belle, daughter of celebrity couple Size 8 and DJ Mo, who turned one year old recently, is a celebrity in her own right.
She is already giving her celebrity parents a run for their money having been picked to endorse the Softcare Premium soft baby pampers alongside her mum, a deal said to have raked in millions.
Ladasha is featured on the pampers promotion smiling as the Mapocho singer holds her.
"You know me as Size 8, a musician and a fulltime mum. Like all mums, I understand my baby's language. For baby only the best would do," Size 8 says on the new Softcare TV commercial as Ladasha mimics; "True that!"
Kenyan celebs are stepping up the showbiz and introducing their children into the lucrative showbiz world, cutting deals with corporates and turning the kids into influencers of their generation.
DJ Crème de la Crème's three-year-old son Jamari is already commanding a huge bank account. He is the brand ambassador of Dorris&Morris, a kids clothing line owned by the Alladin Brand of companies.
Even though Crème, just like Size 8, does not disclose how much was offered to his son to endorse the product, sources have it that is was a lucrative deal.
"It's a real blessing...So proud of the little Ninja, getting his hustle on at only 3," a jubilant Crème commented.
KTN TV host Jamal Gaddafi together with his wife welcomed their baby boy Prince Eyaad in August last year but it wasn't until February that they showed him to the world. He is following the same script celebrities use before getting their kids signed onto major deals.
We also have Nigeria's Tiwa Savage who alongside her son Jamil was officially announced as the latest advocate and ambassador for Pampers Nigeria.
A hater posted: "I'm almost certain that Tiwa's son does not use Pampers Nigeria diapers. The quality is awful and it leaks all over the place. I keep going back to Huggies US despite the fact that it's very expensive because the quality is second to none, at least compared to the available options we have here in Nigeria."
Another one responded: "Tiwa, enjoy the moment dear. But don't try to sell something you won't use on a normal day. It's called hypocrisy. Congrats on your endorsement."
It doesn't matter what they said. The money was already in the bank.
We also have celebrated Tanzanian singer Diamond and his Ugandan sweetheart Zari taking this direction. Their two children Tiffah and Prince Nillan have independent and active social media accounts that have helped them bag several endorsements. They have sealed deals with baby shops in Tanzania, deals that are paying bills for them already.
Resolution Insurance also partnered with Janet Mbugua's campaign journey into motherhood where Janet shares or advices young mothers how to handle different stages of motherhood.
Announcing the partnership on Instagram was Resolution Insurance saying they have entered into a mutual partnership with her over her motherhood campaign. The difference between her endorsement and others is it is based on her journey, not her child, but it still anchors around her motherhood.