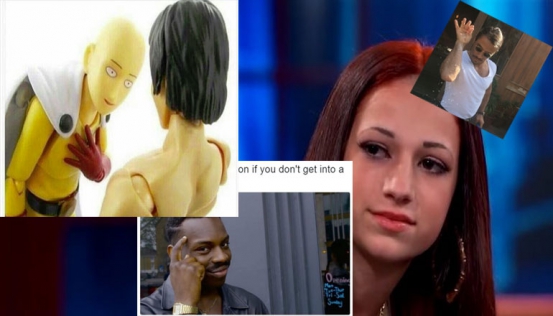 Memes have fast become an Internet sensation and trust Kenyans and the world to adopt them and take the jokes a notch higher by introducing a twist to suit the crazy in them. First it was salt bae in January, roll safe in February and now we have saitama of the trending 'mimi nlikuambia' meme.
'Mimi nilikuambia...'
I just had to start with this one after having a crazy outburst of laughter. Kenyans on Twitter Instagram, Redit, Snapchat and virtually any meme-sharing platform have gone crazy with the various versions of this meme.
"Mimi nilikuambia napenda madem wanavaa Kamisi, mimi?" "Mimi nilikuambia nitakuweka WCW,mimi?", "Mimi nikasema upewe Moet na nakunywa KC coconut mimi?", "Mimi nikasema madem waluhya wananyamba unga,mimi?", "Mimi nikasema ukuje na mchele kwa club ?", are some of the best and most hilarious meme captions.
Kenyans have gone ahead to intelligently hit at, which is brought out using the meme. "Safaricom: sisi mnasema tunakulanga bundles, sisi?", "KCB: sisi tukakuambia uchukue loan na usilipe, Sisi?"
The meme originated from Saitama who is a cartoon character from the one man punch anime series and by Jove are Kenyans creative!
'Salt Bae'
In January, Turkish chef Nusret Gökçe captured the public's attention with an Instagram video that showed him applying salt to a steak like it was some kind of shimmering fairy dust. The butcher whose looks got ladies wild was soon dubbed "Salt Bae", and he used his fame to expand his business into Britain and the United states. The Salt Bae sprinkling image can be used to indicate that you're either adding a little extra flair to something, or you're completely overdoing it. Kenyans on the other hand took it to the next level with twenty one year old Seth Gor making a parody of the video where he used an Avocado and this not only left hearty laughs but also earned him worldwide recognition with over a million YouTube views.
The Salt Bae memes got a new lifeline after Beyoncé announced her twin pregnancy and boy did Jay Z get trolled using the same with his head being cropped onto salt bae's face and instead of salt, he was sprinkling newborns. This was one among the plethora of them. And just so you know, salt Bae has another Instagram video where he is not only salting, but we see him but applying olive oil, which is equally captivating.
'Roll Safe'
Roll Safe was birthed by Kayode Ewumi's 2015 web series Hood Documentary, where he is portrayed as a streetwise guy from London who acts like he knows everything. In February, Twitter started using one picture of Ewumi pointing knowingly at his own head and the meme is used to show that he has it all figured out, but he also has it all wrong.
"You can't be broke if you don't check your bank account," "If you are already late...take your time...you can't be late twice...", and "You can't get cheated on if you don't get into a relationship," are some of the classic 'roll safe' memes.
'Cash me ousside how bout dat'
When teenager Danielle Bregoli appeared on Dr Phil's show, the last thing she and the world expected was that she would be at the centre of what was arguably February's most popular meme. On the show, Bregoli admitted to stealing cars and hitting her mom which obviously didn't sit well with the audience but the climax was when the audience challenged her on the same and she replied "Cash me ousside how bout dat".
"Cash me ousside how bout dat" is street lingo as interpreted by Bregoli to mean "let's go outside and fight it out" only that she said in a thick accent which made her fodder for one of the biggest memes.
"Mom: go do the dishes. Me: cash me outside how bout dat,?", "When a bully is low-key pestering you…cash me ousside how bout dat?"
If you get yourself in a tricky situation or object to someone's behavior, just tell 'em to cash you ousside!