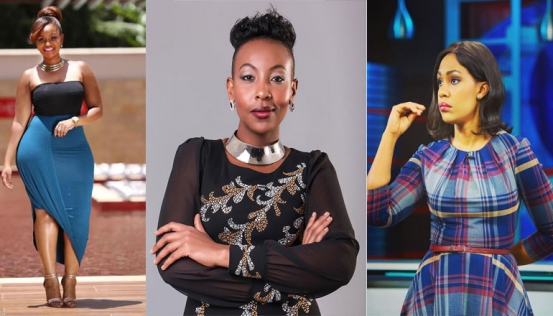 Victoria Rubadiri
The sassy NTV news anchor is a sight to behold. She has a killer look and big brains having graduated from Temple University in Philadelphia.
This 29-year-old TV beauty got pregnant at the age of 18 while studying at the university. She admits that she got desperate at the time, but her family stood behind her. She is a cocktail of beauty sharing Malawian genes from her father's sides and Scottish-Seychellois genes from her mother's side.
Victoria is the reason most men tune into NTV Weekend. Her seamless on-air chemistry with fellow anchor Larry Madowo is enviable.
Grace Msalame
Even Google agrees that this mamacita is a hot hourglass of chocolate. When you type her name on Google – it auto-fills it for you and adds 'hips'. The 31-year-old mother of twin girls continues to make heads turn and set tongues wagging.
Grace Msalame was once married to Easy Taxi boss Paul Ndichu, twin brother to Eddie Ndichu. (Janet Mbugua's husband). The trendy and sassy Kiss TV presenter is listed among the crème de la crème of the country's 'national treasures.' And since her teen years when she launched her TV career hosting a magazine show on KTN, men have continued to fantasise and dream about this slay. She has a killer smile and you know what else...
Betty Kyalo
The poster girl of composure, this TV siren recently separated from her NTV investigative reporter husband Denis Okari after a lavish wedding graced by A-list celebrities.
The Daystar University graduate who runs an executive salon, Posh Palace with a friend, is reportedly a tough lass to crack as she is very particular about who she hangs out with. She has the looks, the brains and yes, she likes machines, something any girl would fascinate a man with.
Brenda Wairimu
Brenda Wairimu is proof that a ghetto boy can dream – and that dreams do get validated. The wife to contemporary rapper Juliani (rumour has it that they have since gone separate ways), this admired actress has not changed a bit since she got hitched and gave birth.
The 27-year-old actress, who has been under the radar has managed to keep her private life well protected – and keeping everyone guessing whether as to she is available or not.
Sosuun
Kenrazy's wife, Sossun, is mother to their one daughter. Not one to be overshadowed, this mean rapper oozes with attitude and packs quite a lyrical punch. Sossun no doubt gets heads turning and men drooling wherever she goes. The Kufunikwa star will give Generation Z's hottest video vixens a run for their money with her well-toned body. Hardly do men care that Kenrazy has her locked.
Pierra Makena
If you thought Pierra Makena, arguably the 'illest' female DJ in the region, would lose her ratings after she took a maternity break, then you probably need some help. Baby or not, hitched or single, men are still drooling over Pierra like she still were 16. The all-round media personality has flattering killer look and the fact that she keeps her private life just that keeps men guessing.
Mashirima Kapombe
Looking at her flattering petite frame on TV as she hosts news on KTN, Mashirima Kapombe would pass for an 18 year old girl. She is beautiful and delivers news with a punch and her smile is probably the best sign-off anyone who watches Swahili TV news has experienced in the recent past. And as funny as it may sound, her admirers got a reprieve when rumours emerged that she is not living under the same roof with her baby-daddy, also a media personality. As long as it is just a baby she has, that can be negotiated, one supposes. Try run a poll on the men who would want to date this Daystar graduate and you will have yourself a day's job.
Talia Oyando
Talia has been in the industry like for the longest time. She is (was?) married to filmmaker and director Ezekiel with whom they have a son. The TV and radio presenter is media royalty, having started off as part of the group girl-group Talma, the daughter to renowned Maurice Oyando won an Emmy award before turning 20. Her bikini photos got the whole showbiz scene going gaga. Little wonder then, she calls herself The Night Nurse?
Miss Cheroo
Born Carol Oyowa, Miss Cheroo is the definition of classy beauty. She saves her chills for the fridge. Her confidence and uptown girl demeanour are the first thing that grab your attention when you meet her. The mother of one is in tip-top shape too, the ball of energy that she is. The truth is she occasionally has to remind us that she has a son who keeps her grounded. The KTN Str8-Up presenter tells it like it is and please, if ever she is to come over be aware she likes her coffee strong.
Mwalimu Rachel
Rachel Muthoni otherwise known as Mwalimu Rachel is a mother of one and is married to rapper K-Letta. She caused an Internet sensation when photos of her pregnancy bump surfaced online. The Homeboyz Radio presenter wears many hats. She dabbles as a TV presenter, MC, voice-over artiste, social media influencer and motivational speaker as well as CEO of her company- MRX Media Limited. Clearly, this is the kind of teacher any class would do with.
Petra
When Petra hit the scene, many dubbed this damsel from Mombasa as the Nicki Minaj of Kenya; she is luscious, delicious and mysterious. She is curvy and she is bold. Her photos are rare but when they do surface online – the meltdown is real. And so when news emerged that she got married to her producer, who could blame him.
Mwende
You should have seen how young university boys were jumping all over Mwende, the social Radio Maisha girl, when she attended a university gig in Thika the other day. How men just fall in love with Mwende is easy to understand. The proud mother of one who has a wild following on social media and is probably the most loved radio presenter in the country. For some years now, men have been knocking, but as far as we know, the waiting continues.
Amina Abdi
Don't we all love to love this Capital FM Hits not Homework presenter? She caught men by surprise after it emerged that she had gotten hitched to John Rabar, a trusted showbiz name. He was her boss then. They then got a son Tumi and since, Amina has gone back to her killer shape. Men fall in love with her for her on-air energy but, well...truth be told, Amina is that lady many guys still have a crush on, marital status notwithstanding.